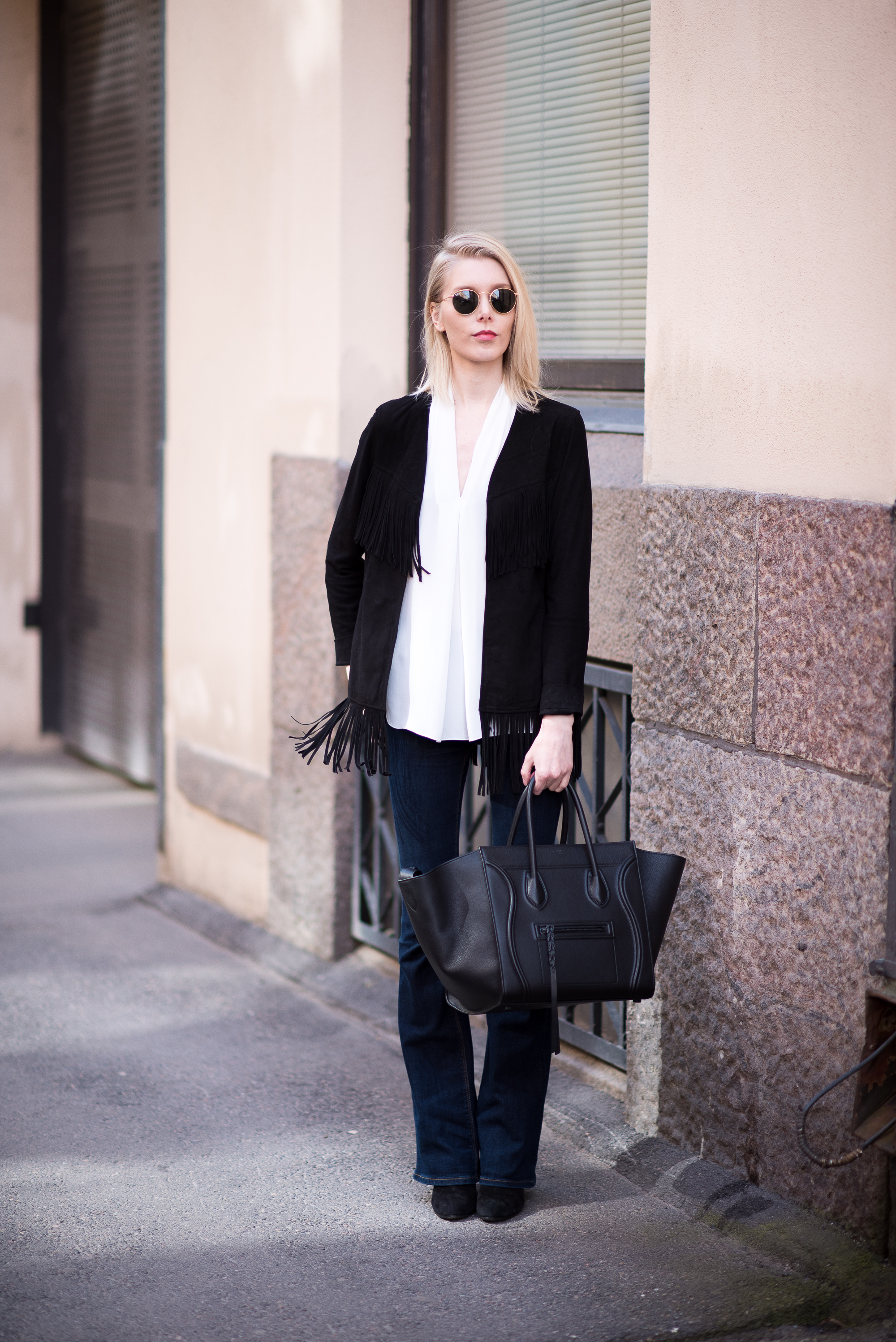 En malttanut olla kuvaamatta tätä mokkaista hapsutakkia, vaikka sää ei olisi sitä sallinut. Lämpöasteet olivat lähes nollassa, mutta ihmeen kaupalla näihin kuviin tallentui ihanan keväinen tunnelma. Todellisuudessa se keväinen tunnelma oli eilen kyllä kaukana, kun välillä lunta sateli ja kylmä pohjoistuuli piti huolen siitä, että toppatakki kuului tähän asuun. Saa nähdä, että mennäänkö tänä vuonna suoraan talvesta kesään… En voi uskoa, että poikaystäväni perhe tulee tänne kahden viikon päästä ja jos silloin on vielä näin pirun kylmä, niin uskon poikaystäväni palaavan takaisin Ranskaan heidän kanssaan. Voi olla, että itsekin lähden mukaan. "This country is too cold for me" on yksi poikaystäväni vakiolauseista nykyään ja voin itsekin yhtyä siihen täysin.
Täysin hulluksi tulemisen estää se, että kaapissa on muutamia ihania kevätjuttuja odottamassa käyttöä ja pakkohan niitä on pian päästä ulkoiluttamaan. Odotan etenkin, että voin oikeasti pukea tämän hapsutakin päälleni ilman sitä toppatakkia. Tämä on ihana ja etenkin liikkeessä todella kaunis hapsujen heiluessa. Jos se kevät ei sieltä nyt tule, niin tämä on täydellinen myös syksyllä. Paksumpi neule alle ja nahkahousut – yes!
I couldn't wait to shoot this fringe jacket, even though the weather was way too cold for it. We quickly shot these looks before putting my actual winter coat back on. I can't believe the mood in these pics is quite springy, because in reality it was +2 degrees and the freezing arctic wind made sure that spring was the last thing on my mind. My boyfriends most used sentence these days is "this country is too cold for me" and I have to agree with him. If I could, I would fast-forward time to June…
To see the bright side, at least I have such beautiful pieces in my closet waiting for spring. This fringe jacket is super cool and it looks so nice in movement, as the fringes live their own life. It also comes in light beige, but I chose this black one, as I can still wear it during fall. Imagine this with a chunky knit and leather pants…That's how I'll combine it next time. Have a great start to this new work week everyone!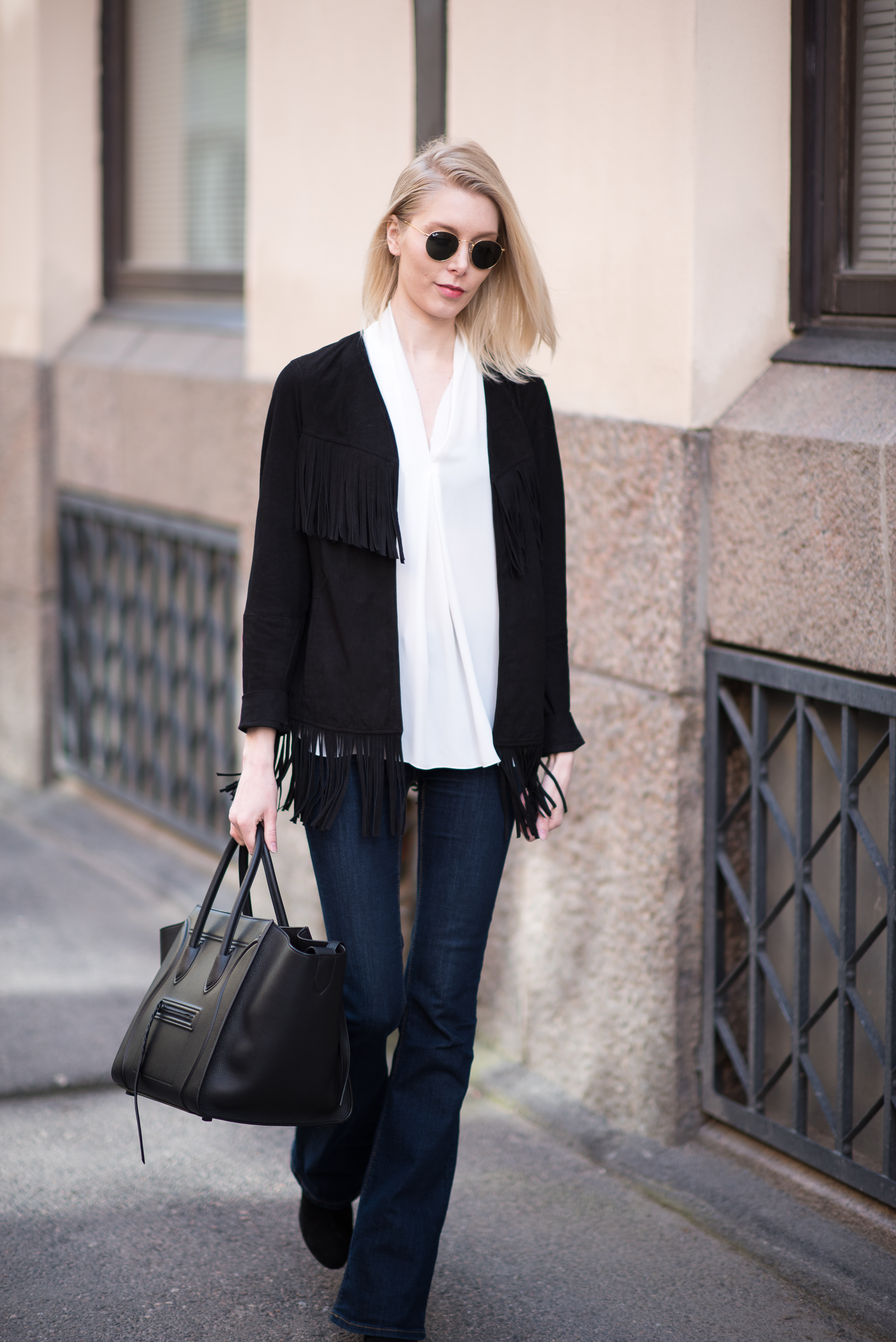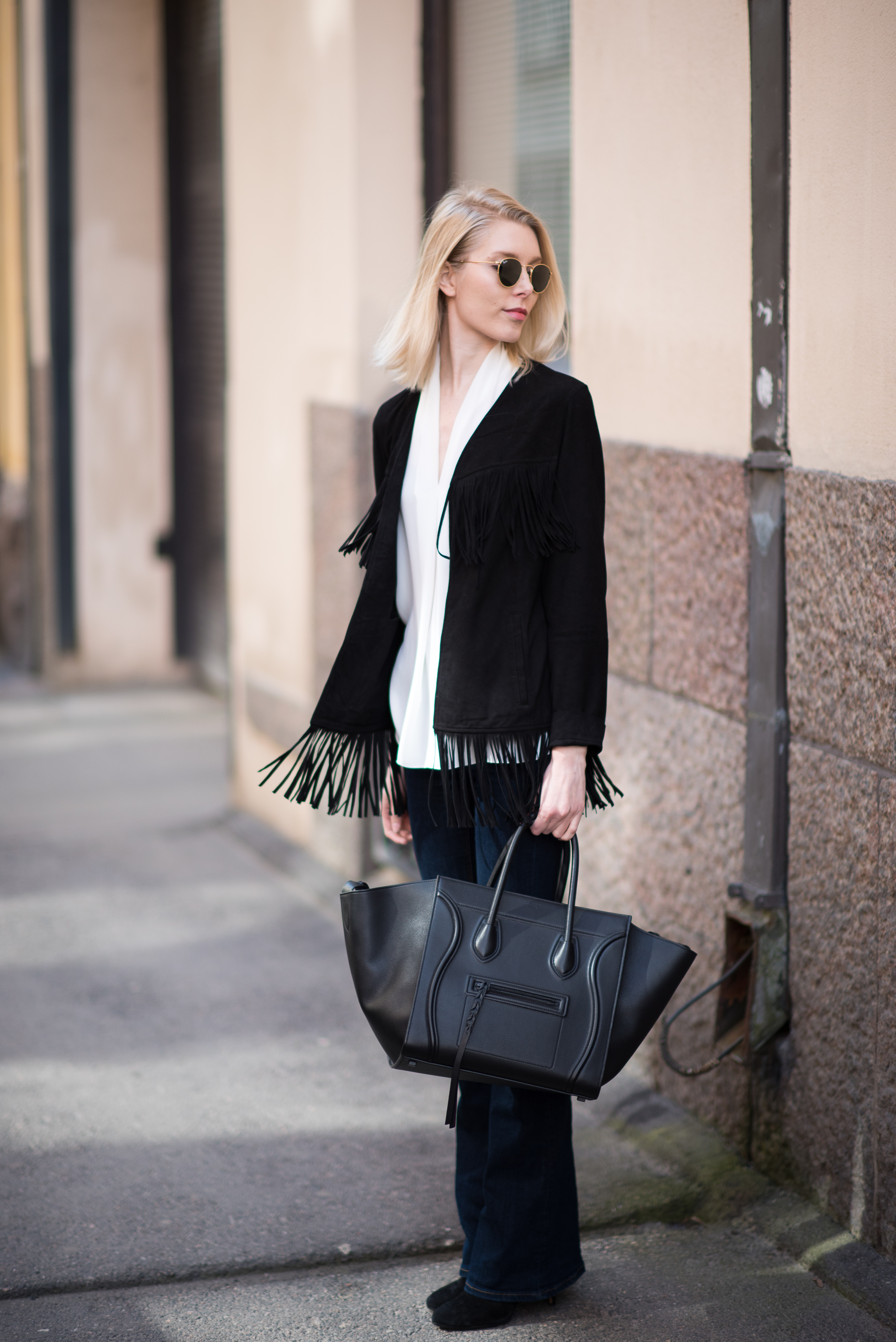 Photos/Thomas D.
Suede jacket / Andiata*
Top / Andiata*
Jeans / Lindex
Boots / & Other Stories
Sunnies / Ray Ban
Bag / Céline
*Commercial links/Gifted.
Save
Save
Save
Save
Save
Save
Save
Save
Save
Save
Save
Save
Save
Save
Save
Save
Save
Save
Save
Save
Save
Save
Save
Save
Save
Save
Save
Save
Save