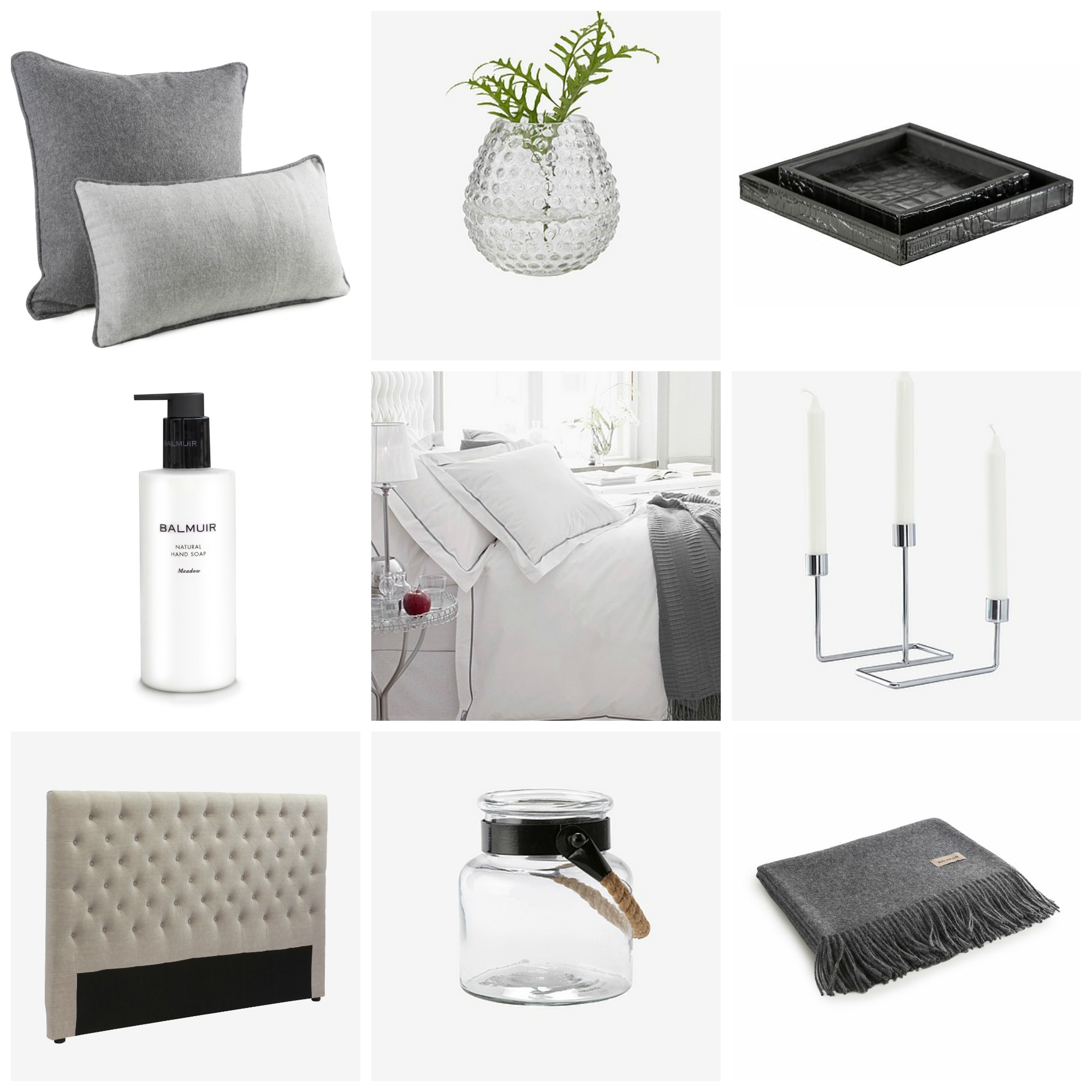 Pillows / Balmuir   Vase / Jotex   Trays / Balmuir
Hand soap /Balmuir   Bed sheets / Jotex   Candle holder / Jotex
Headboard / Jotex   Vase / Jotex   Blanket / Balmuir
Meidän kämppä on aika pommi tällä hetkellä ja normaalisti, kun lähden reissuun niin laitan kodin kauniiksi, että takaisin on sitten kiva tulla, mutta tällä kertaa se ei ollut mahdollista. Muuttokuormaa on vielä lattialla ja tosiaan olohuoneessa on vain sohva, joten sitäkään ei kauheasti voi vielä sisustaa. Kunhan saamme ruokapöydän, tuolit, yhden lipaston, sekä sohvapöydän, niin sitten voi jo puhua kalustetusta kämpästä. Yritetään myös saada Ranskasta meidän taulut tänne, niin niilläkin saisi jo kotoisuutta aikaan. Värimaailmaa olen miettinyt sen verran, että haluan mustalla/tumman harmaalla tuoda hieman särmää ja ilmettä muuten niin vaaleaan ympäristöön. Balmuirin baby alpaca huovat ovat maailman parhaita (olen valehtelematta käyttänyt omaani vuoden ajan päivittäin ja se on silti loistavassa kunnossa) ja nyt mietin samaa harmaassa sävyssä. Beigen jätin meidän "varamakkariin" vanhempieni luokse Espooseen.
Meidän omaan makuhuoneeseen ajattelin sitten hiekan sävyjä tehostettuna mustalla. Tuo Jotexin sängynpääty on ihana ja hyvä puoli siinä on se, ettei sitä tarvitse erikseen kiinnittää seinään. Haluisimme myös penkin makkariin, mutta voi olla, että tila kävisi sen jälkeen liian ahtaaksi. Sisustusajatukset ovat siis taas valloillaan ja en malta odottaa, että saadaan koti kuntoon!
Our home is quite the mess at the moment and normally when I go for holidays, I leave everything in order, so it's nice to come back. This time that wasn't an option, as we still don't have our home fully furnished. We have some boxes in the living room and bedroom is quite the horror, but after Easter I really want to get this project moving. We'll need a dining table, chairs, a drawer, mirror, headboard, carpets, coffee table…The list is quite long as you can see, but I'm confident we'll get all this done before my boyfriends family come here at end of this month. Fingers crossed!
Save
Save
Save
Save
Save
Save
Save