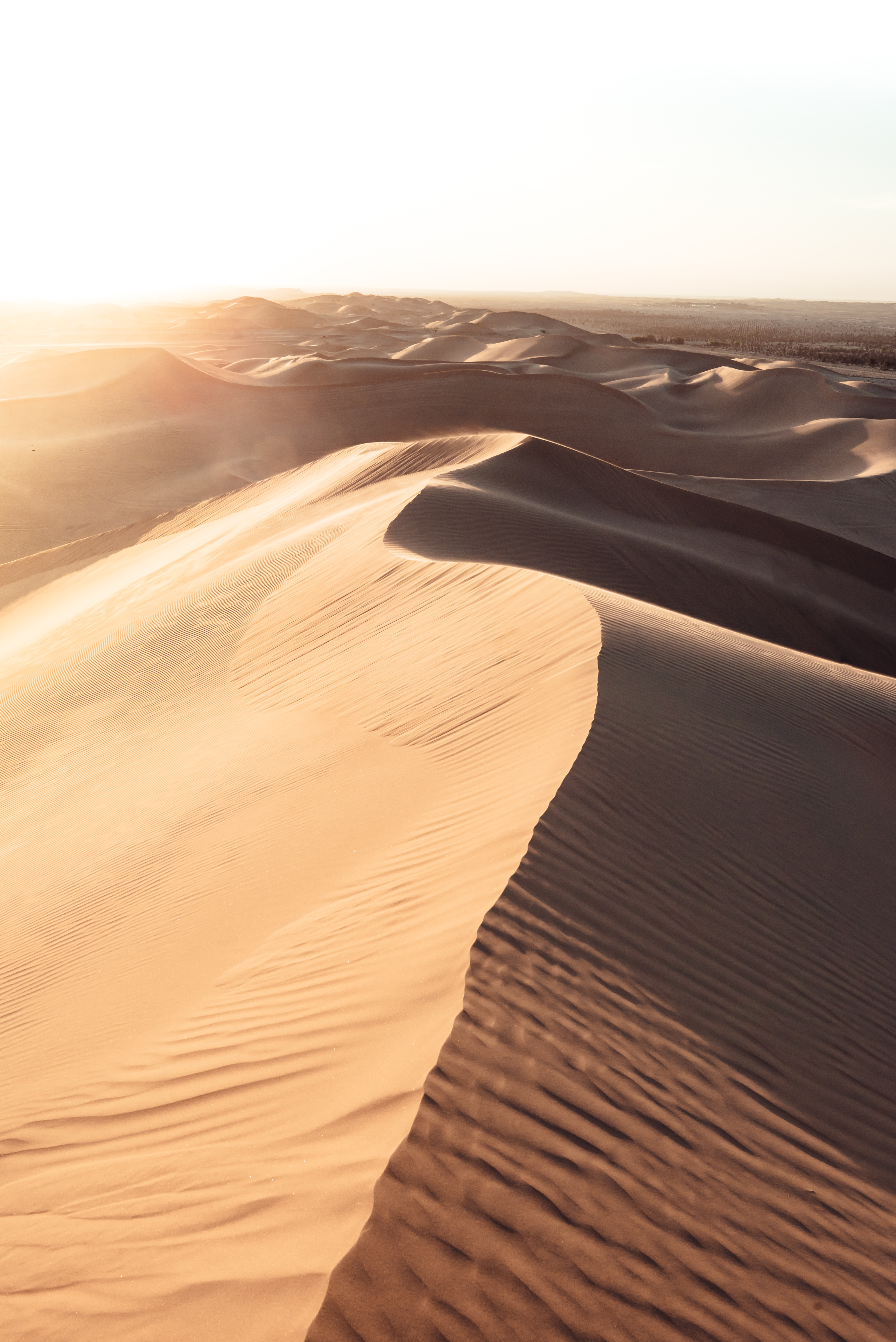 Noin viisi vuotta sitten pääsin elämäni ensimmäistä kertaa aavikolle. Kirjoitin siitä tänne blogiinkin aikoinaan ja se oli meidän Omanin matkan kohokohta. Meillä oli silloin oma opas, jonka kanssa ajoimme aavikolle kolme tuntia ja kun pääsimme perille, niin paikalla oli vain me ja hiekkadyynit. Oli ihan mieletön kokemus ja tuntui kuin olisi ollut yksin keskellä ei mitään.
Abu Dhabissa halusimme taas päästä aavikolle ja tällä kertaa menimme ns. ryhmän kanssa ja aavikko oli vain 50min ajomatkan päässä. Oli siis hieman erilainen kokemus, mutta aavikko oli ihan yhtä ihana kuin muistinkin. Se hiekan pehmeys ja ne täydelliset dyynit ja tuulen tekemät muotoilut tekevät aavikosta vaan niin kauniin. Tällä kertaa mukana oli myös vauhtia ja vaarallisia tilanteita, kun kuljettajamme lähti ajamaan rallia dyyneillä (olisi pitänyt googlata mitä dune bashing todellisuudessa tarkoittaa). Meininki oli oikeasti aika päätöntä ja Insta Storyn kautta osa teistä näkikin miten selfie stickit lentelivät auton sisällä. Ystävät lähettivät videot nähtyään viestejä, että miten siinä menossa ei tullut paha olo. Keskityin roikkumaan turvavyöstäni henkeni edestä, joten pahoinvointia ei siinä hetkessä tullut edes ajateltua, heh. Ajon jälkeen kylläkin…Oli kyllä makea kokemus kaiken kaikkiaan! Luin ja kuulin, että Abu Dhabin aavikkosafarit olisivat laadukkaampia ja dyynit parempia kuin Dubaissa, mutta tästä en voi sanoa mitään, kun vertailukokemusta ei ole. Olimme kyllä todella tyytyväisiä koko päivään ja voin ainakin suositella safaria Abu Dhabista käsin. Me varasimme retken tämän toimiston kautta ja kaikki meni juuri kuten piti. Meidät haettiin hotellilta sovitusti iltapäivällä ja tiputettiin takaisin retken loputtua. Suosittelut!
My first visit to the desert happened around five years ago when we visited Oman. We had our own guide back then who drove us three hours into the desert just in time for the sunset. I will never forget that moment when there was nobody else in sight and just these huge pillows of the softest sand. In Abu Dhabi we knew we wanted to do another desert safari and this time we went with a group of six people. We did some dune bashing (which was insane – I was literally holding on for dear life) and then did the "traditional" dinner in the camp fire. Even if this experience was more touristy, we still enjoyed it a lot. I just can't get over how breathtaking the desert is and can't wait to go back!