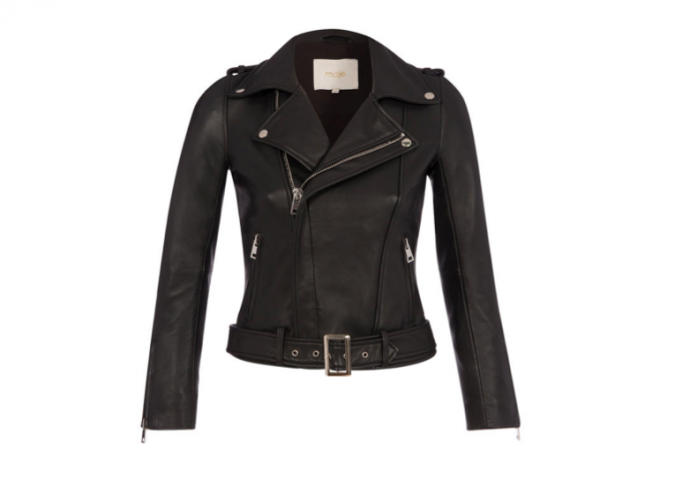 [dropcap custom_class="normal"]Rohkenin eilen helteiseen Pariisiin ja lounastapaamisen lomassa ehdin käydä kaupoissa (jessss!). Sovitin jo Deauvillen Majen myymälässä tätä nahkatakkia, enkä ole saanut sitä sen koommin mielestäni. Kävin sovittamassa sitä nyt taas ja täytyy sanoa, että olen löytänyt sen täydellisen nahkatakin.[/dropcap]
Istuvuus on täydellinen, nahka on ihanan pehmeää eikä takissa ole mitään häiritseviä yksityskohtia. Puhuimmekin myyjän kanssa, että tämä on harvinaisen hyvin onnistunut malli!
Ehkäpä syksyllä siis tämä löytyy kaapistani? I hope so!
Huomenna luvassa muutamia fiiliskuvia Pariisista. Ihanaa tiistaita kaikille!
P.S. Meidän lauantainen illanvietto ystävämme luonna siirtyikin hänen kaupunkikotiinsa, joten valitettavasti Solognen kuvat jäi nyt saamatta. Toinen kerta sitten!
I spent yesterday in Paris and had time to browse some stores. I tried on this leather jacket already in Deauville, but went back to Maje to try it on again. After the second try, I have to say it's the perfect fit.
The leather is so soft and none of the details are too much for me (that's a first)! We were talking with the sales adviser that Maje really got this one right.
Maybe it will find its way into my closet this Fall? Sure hope so…
Tomorrow I'll share some Paris shots with you. Enjoy your Tuesday everyone!