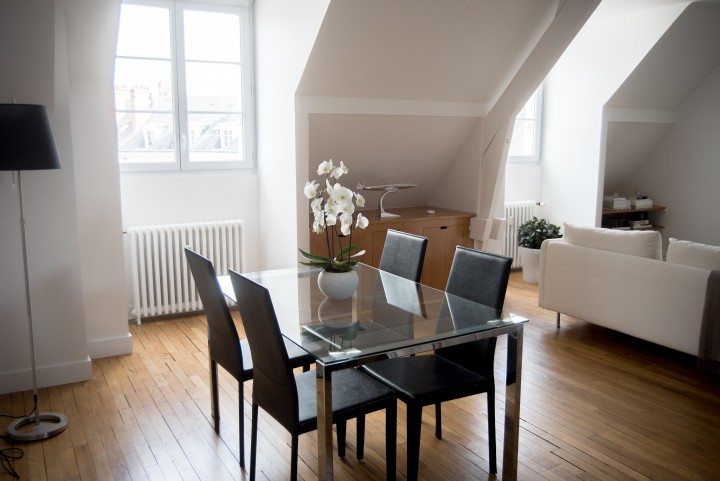 Valkoinen orkidea – Harvoin on sellainen hetki, että asunnossamme ei olisi kukkia ollenkaan, sillä minulle ne ovat todella tärkeä elementti. Tämän olen saanut äidiltäni ja lapsuuden kodissani oli lähes aina tuoreita kukkia. Hortensia on toinen lempikukkani ja niitä haen seuraavaksi. Hortensian oksat kestävät yllättävän pitkään, joten niistä riittää iloa pidemmäksi aikaa.
White flowers are something I have at home always. My mother used to buy fresh flowers frequently when I was young, so I got the love for flowers from here.
Balmuirin alpakka huopa – Oli sitten kesä tai talvi, niin vedän aina huovan päälleni kun istun sohvalla. Balmuirin peite on päälläni siis päivittäin ja ilman sitä en osaisi enää olla. Nyt meiltä löytyy myös samaa materiaalia oleva sohvatyyny (Ghost tuolin päällä) ja se sitoo kivasti tuon tilan yhteen.
Balmuir's baby alpaca blanket is something I can't live without. It's soft, keeps me warm and cosy!
Tilava keittiö – Monen vuoden jälkeen meillä on vihdoin kunnon keittiö! Pariisin asunnossamme keittiö oli niin pieni, että siellä ei todellakaan tehnyt mieli kokkailla. En ole ikinä ollut kiinnostunut ruoanlaitosta, mutta täällä huomaan kokeilevani yhä useammin uusia ruokia. Ja olen jopa alkanut nauttimaan keittiössä hääräämisestä…miracles do happen!
Having a good sized kitchen is pretty nice actually and now I've been started to enjoy cooking. So I guess miracles do happen!
Kappitila – Täällä on enemmän kaappitilaa kuin mitä meillä omaisuutta, eli osa kaapeista on edelleen tyhjillään. Ihanaa, että on näin päin, sillä olemme myös kokeneet, kun kahden ihmisen tavarat piti mahduttaa yhteen kaappiin (plus kaikki muut asiat imurista lähtien)…
We have so much storage space, that we actually can't even fill it all (which is a good thing). After sharing a tiny closet with my boyfriend in Paris, it feels amazing to have space for everything. 
Vaatehuoneen taulut – Poikaystäväni on kelloharrastelija, joten vaatehuoneen seinälle hän tilasi nämä kelloaiheiset taulut. Ei olisi ehkä ollut ensimmäinen valintani, mutta mielestäni ne sopivat sinne hyvin! Joskus tuntuu, että me naiset helposti päätämme kodin sisustuksesta, mutta onhan se tärkeää, että toisen puoliskon toiveet näkyvät myös kodissa. Olen siis muutamassa asiassa antanut siimaa, vaikka alkuun ajattelin, että ei ikinä (esimerkkinä tuo lentokone tuossa ensimmäisessä kuvassa, heh.
My boyfriend loves watches, so he got these prints for our dressing room. Maybe not something I would have chosen, but I think they fit well in there. I also think it's important to make the apartment fit both of our wants and many times women (me included) seem to be quite the dictators when it comes to decorating the house. It's good to compromise right? And talking about compromise,  the airplane in our living room – that's a compromise right there, heh…