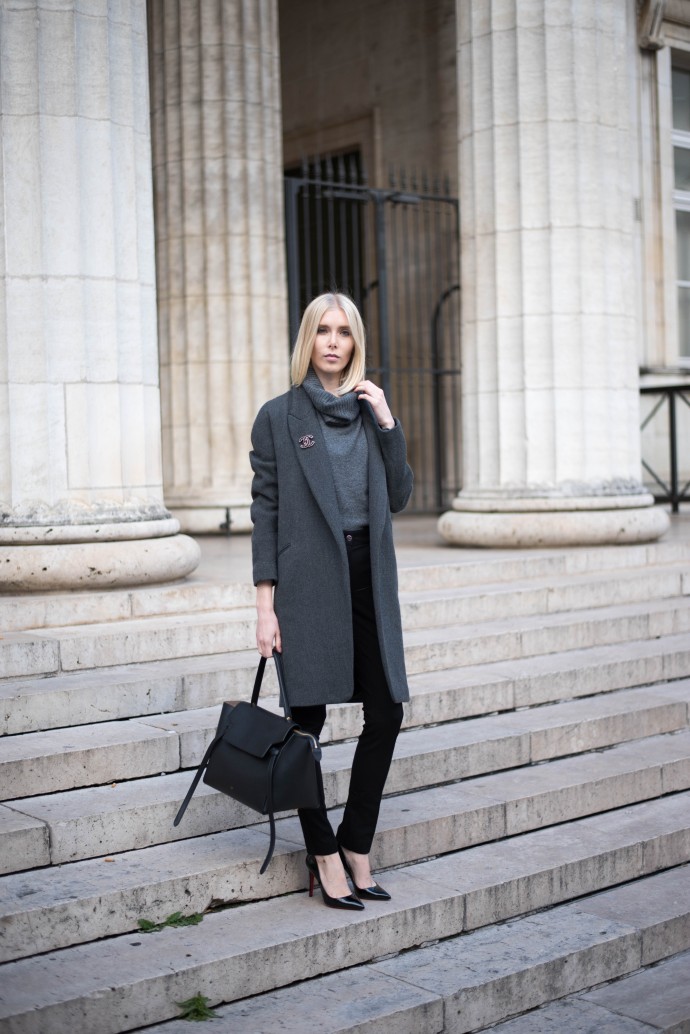 Chanelin rintaneula on ollut toivelistallani ties kuinka kauan ja meidän vuosipäivän kunniaksi poikaystäväni oli osannut valita jotain sellaista mikä ilahduttaisi. Täytyy kyllä myöntää, että paketin mukana tullut kaunis kirje oli jotain niin paljon merkityksellisempää, että Chanelin pussi unohtui heti sen luettuani. Poikaystäväni  vitsaili, että hän voi kyllä palauttaa kassin sisällön jos lahja ei enää kiinnosta, heh. Pakkohan sinne oli kuitenkin kurkata…
Sisältä paljastui upea musta rintaneula ja mieleeni tuli heti monta tapaa yhdistää se asuihini. Tällä viikolla onkin tulossa kolme asupostausta missä kaikissa  näkyy rintaneula käytettynä hieman eri tavalla. Ensimmäisenä aloitetaan sillä perinteisimmällä tavalla, eli kiinnitettynä kauluksen pieleen. Mielestäni rintaneule sopii hyvin takkien pariksi, mutta myös neuleiden kanssa ne näyttävät varsin hyvältä!
Itselläni alkaa tänään viimeinen kouluviikko ennen syyslomaa. Lennän tietenkin Suomeen viettämään aikaa perheeni ja ystävien kanssa, joten olen todella innoissani ensi viikosta. Sen lisäksi olen sopinut muutamia työtapaamisia, joten kiireinen, mutta mielekäs viikko varmasti tulossa. Ja ihan rehellisesti sanottuna, pieni tauko ranskan kielen opiskelusta tulee enemmän kuin tarpeeseen. Tuntuu, että mitä enemmän kieltä opiskelee, sitä vaikeammaksi se muuttuu. Aivot käyvät ihan ylikierroksilla, joten pieni hengähdystauko tekee varmasti hyvää.
Hyvää alkanutta viikkoa kaikille!
P.S. Lisäsin eilen huuto.nettiin vielä Chanelin espadrillokset pitkän harkinnan jälkeen…
A Chanel brooch has been on my wish list forever and now I finally have it in my closet. Such a beautiful piece and it has a lot of sentimental value for me (as it was a gift). A brooch is usually worn on the lapel of a coat, but there are so many other ways of wearing it. This week I'll post three outfits with each look the Chanel brooch added in a different way.
I wanted to start with the classic way of wearing it. A brooch can make a coat look so different. I also think they work well with knits. Something I have to try next! What do you think of this look?

I'm so happy that this is the last school week before Fall break. I'll be flying back home to see my family and friends, which I'm so excited about. Besides that, I have some work meetings so I think I'll have a busy week ahead! And in all honesty, I desperately need a break from French. My brain is working like crazy, so I definitely need a break. Can't wait…
Enjoy this new week everyone!
Coat / Zara
Knit / Andiata (gifted)
Pants / Andiata (gifted)
Heels / Christian Louboutin
Bag / Céline
Brooch / Chanel
Save