On repeat, indeed. Tämä Balmuirin huivi on ollut päälläni valehtelematta lähes jokainen päivä. Tunneilla se lämmittää mukavasti ja matalien lämpötilojen takia sitä on todella tarvittu ulkona viimeisten viikkojen aikana (tällä viikolla tosin lämpötilat ovat kuulemma nousseet kohisten Ranskassa). Huomasin juuri, että tätä huivia saa nyt myös vaalean harmaana ja upea sekin.
Suomen lomallani sain hoidettua muutamia työjuttuja ja kävin mm. Andiatan pääkonttorilla ja Balmuirin showroomilla. Pakko sanoa, että olen ihan mielettömän kiitollinen siitä, että saan tehdä yhteistyötä näin hienojen suomalaisten merkkien kanssa. Andiatalla on todella vaikuttava mallisto ja laatu aivan priimaa. Balmuirin asusteilla ja sisutustuotteilla voisin taas täyttää kotini ja vaatekaappini kokonaan. Ensi viikolla onkin tulossa juttua Balmuirin baby alpakka-tuotteista (joihin ihastuin saman tien). Löysin myös aivan mielettömän upeat asukokonaisuudet Andiatan valikoimasta, joten niistä asukuvia muutaman viikon sisään!
Lomani on nyt siis päättynyt ja olen matkalla lentokentälle. Pariisin kautta sitten kotiin Orléansiin! Ihanaa, että on vielä viikonloppu edessä niin saan muutaman ekstra vapaapäivän ennen opiskeluiden alkua. Suomessa aika hurahti eteenpäin niin nopeasti, että ihan kaikkeen ei jäänyt aikaa, mutta jouluna sitten uudemman kerran.
Nyt siis nokka kohti Pariisia. Hyvää viikonloppua kaikille!
On repeat, indeed. This Balmuir cashmere scarf has been around my neck daily. It's the most perfect accessory for Fall and so comfortable. Now it is also available in light grey, which is very beautiful as well. You can find it here!
My holiday in Helsinki has come to an end, but I'm happy I got so much done and had time to see all my dearest ones. I had a few work meetings as well. I visited Andiata's headquarters and Balmuir's showroom. I'm very honored to have the chance to work with such great Finnish brands. Andiata has an amazing fashion selection (high quality and great cuts) and I could honestly buy Balmuir's entire product offer. Great Finnish brands that you want to keep your eye out for!
My vacation here is now over and I'm on my way to the airport. First to Paris and then back home to Orléans. I'm so happy I have a few more days to relax before my studies start again on Monday. I think I'll catch up on my sleep and work as much as possible!
Enjoy your weekend everyone!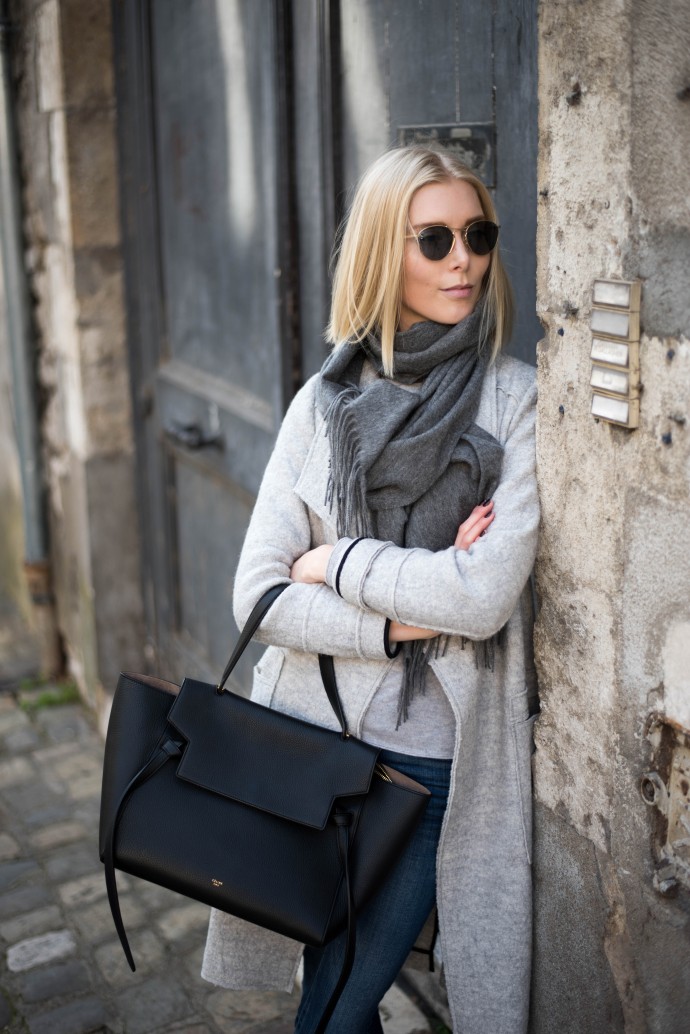 Coat / Zara (similar here*)

Knit / Magaschoni (similar here*)

Jeans / Mango (similar here*)

Boots / Zara
Bag / Céline
Scarf / Balmuir (gifted)
Sunnies / Vintage Luxottica
*Mainoslinkkejä.