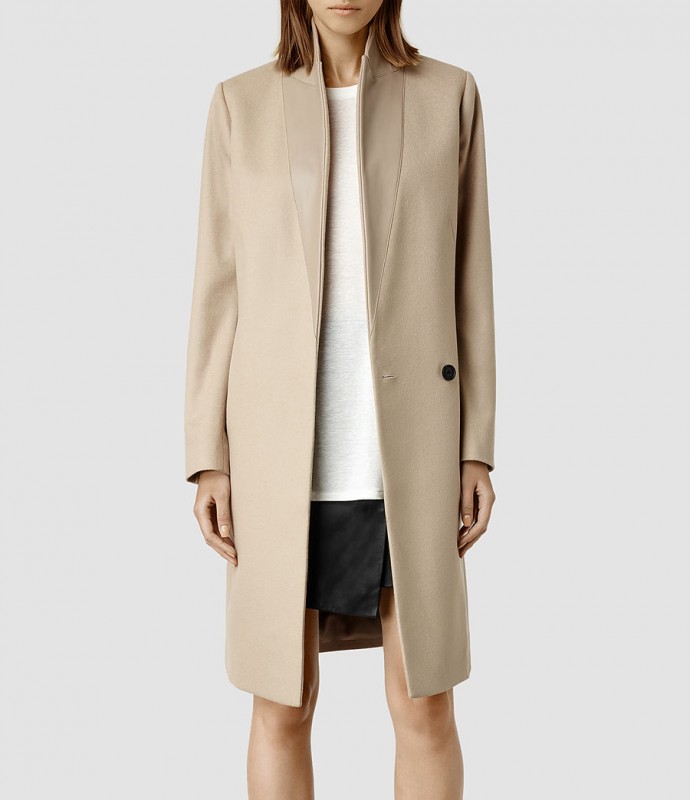 Helteinen heinäkuu Ranskassa ei ehkä ollut se otollisin aika sovitella villakangastakkeja, mutta lämpöhalvauksen uhalla sovitin tätä All Saintsin Inez-takkia ja ihastuin. Takissa ei ole mitään liikaa ja nahkaiset kaulukset tuovat siihen hitusen potkua. Vielä kun sain sen puoleen hintaan niin en voinut muuta kuin kävellä kassan kautta ulos se paperikassissa.
Kotiin palaaminen kesän jälkeen on hitusen helpompaa kun tiedän mikä upeus vaatekaapissani minua odottaa, heh. Tässä kuussa kauppoihin alkaa tulvimaan syksyn uutuuksia ja kannattaa pitää silmällä etenkin neuleita ja takkeja. Parhaimmat viedään käsistä jo ennen kun ilmat ehtivät edes viilentyä.
Syksy on lempiaikaani pukeutumisen kannalta ja sen myötä itsehillintäni kaupoissa tähän aikaan vuodesta on koetuksella. Kauppojen hyllyt täyttyvät mitä ihanimmista neuleista, takeistä ja nahkasaappaista. Täytyy vaan pitää järki päässä ja muistaa, että vaatteita voi ihastella kauempaakin, eikä niiden aina tarvitse juuri sieltä omasta kaapista löytyä. Tähän pitäisi ehkä todeta, että "helpommin sanottu kuin tehty"!
A super hot day in Paris last month was probably not the most ideal day to start trying on wool coats, but that's what I did. I had seen this Inez coat in the All Saints online store and wanted to try it on. So during my Paris visit, that's what I did. The coat was even better than I thought, which is why it's now hanging in my closet in Orléans.
At least my return to France will be a little softer now that I know this beauty is waiting for me (and not to forget about my boyfriend heh). This month stores start getting fall deliveries and I can't wait to see all the knits, coats and leather boots. The best items are usually sold out even before the temperatures are low enough to wear them, so if you see something you like, you should get it. Even if it's +30 degrees outside and you're buying a winter coat.
Needless to say, fall is my all time favorite season of the year. I love the fashion, I love the darker evenings and I love the cooler temperatures. Not to say I don't like summer (I do), but the beginning of September is even better.
Save