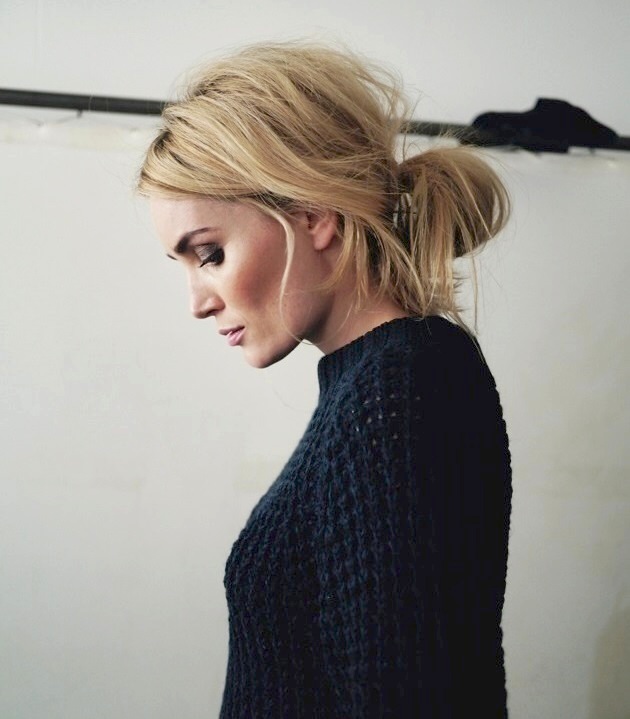 [dropcap custom_class="normal"]Tykkään tosi huolettomista hiuksista ja liian sliipatut kampaukset (etenkin nutturat) ei ole mun juttu. Ihastuin tähän matalaan ja hieman sotkuiseen kampaukseen Pinterestissä. Täydellinen arkipäivän (ja miksi ei myös illan) pelastus. Kuivashamppoolla saa hyvin pitoa, jotta tämä kyseinen kampaus onnistuu omiin hiuksiini jotka on tosi liukkaat ilman mitään tököttiä.[/dropcap]
Mulla on tällä hetkellä pieni hiuskriisi taas meneillään ja täytyykin varata kampaaja-aika helmikuun lopulle. Väriä pitäisi kirjastaa ja mietin jos kasvatan hiuksia taas vähän lisää. Liian pitkiksi en niitä halua, mutta puoli-pitkät voisi vielä toimia tällaisen laiskan hiustenlaittajan käsissä. Eteen vielä hitusen kerroksia niin sillä pärjää! Tosin voi olla, että mielikin muuttuu vielä monta kertaa ennen kuin edes pääsen sinne kampaajan penkille, heh.
I love this kind of effortless hairdos. I'm very lazy when it comes to my hair and rarely fix it up in any way. That's probably why I love this look, because it's easy to do and doesn't look too overdone. Perfect for night and day. All I would need is a bit of dry shampoo as my hair is super slippery and voila.
At the moment I actually have a bit of a hair crisis as it just seems to be hanging there. I don't want to have it done before my trip next month (as the sun will only make it worse), but after that for sure! I think I'm going to grow it a bit longer (but not too long) with some layers and a brighter color. I might change my mind a million times before then, but this is my plan at the moment, heh.
Image: Pinterest.