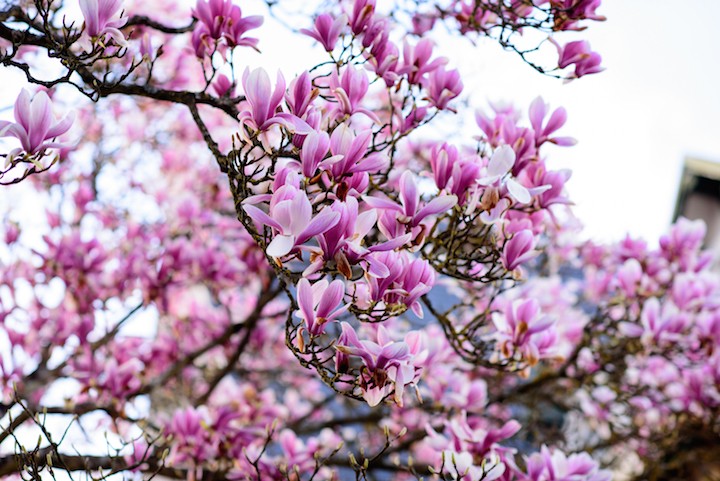 Meidän pääsiäisviikonloppu on mennyt todella leppoisissa tunnelmissa ja onneksi ilmatkaan eivät ole olleet ihan niin huonoja kuin mitä aluksi luvattiin. Paljon on satanut, mutta aina hetkittäin aurinko on paistanut pilvien läpi ja lämpötila on kohonnut sinne +14 asteeseen. Ei voi siis valittaa! Ensi viikko on vielä sateinen, mutta ensi viikonlopuksi povataan sitten jo +20 asteen lämpötiloja. Se olisi jo aikamoista luksusta!
Viikonloppuna olen ihaillut etenkin magnolia puiden kukintaa ja nauttinut niiden huumaavasta tuoksusta. Harmi, että kukinta-aika on suhteellisen lyhyt, sillä näitä kaunottaria voisi ihailla loputtomiin. Omaan pihaani istuttaisin valkoisen magnolia puun (yllätys, yllätys…).
Tämän päivän ohjelmassa on hieman töiden tekoa, ulkoilua ja illalla suuntaamme illalliselle poikaystäväni perheen kanssa. Hyvä lopetus tälle pääsiäisviikonlopulle!
Our Easter weekend has been very chill and we've even had some sun, despite the grim looking forecasts. But now I don't even mind the rain showers, as they are promising +20 degrees for the next weekend. That would be pretty amazing! It definitely starts feeling a lot more like Spring and the beautiful Magnolia trees are just the icing on the cake.
Today I need to get some work done, try to do some sports and then tonight we are heading out for dinner. What are your plans? Have a great Easter Monday!