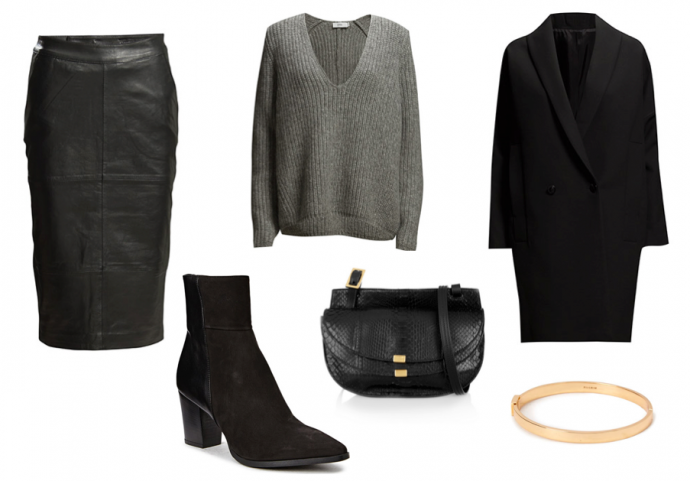 [spacer]
Leather skirt / Gestuz     Knit / Closed     Coat / Samsoe & Samsoe
Boots / Apair     Bag / Chloé     Bracelet / Pilgrim
[dropcap custom_class="normal"]Nyt alkaa olemaan se hetki vuodesta kun syksyn uutuuksia alkaa tulvimaan liikkeisiin. Löysin kolme niin kaunista takkia, että yksi kollaasi ei enää riittänyt, joten rakensin yhden asun jokaisen ympärille. Tämän ensimmäisen asun nahkamekko on oikeastaan se minkä valitsisin näistä ylläolevista tuotteista kaappiini kauniista takista huolimatta. Kynämallinen nahkahame on jotenkin niin pukeva, mutta samalla rento. Juuri näillä kahdella sanalla kuvailisin tyyliänikin. Tässä Samsoe & Samsoen takissa ihastuin taas sen malliin ja kaulukseen.[/dropcap]
This is the moment of summer when stores start getting their first fall items. My favorite fashion time of the year! I found three amazing coats and decided to build one look for each. Besides the black coat in this first outfit, I also fell for the leather pencil skirt. The cut looks great and the length is very flattering. A great piece for fall!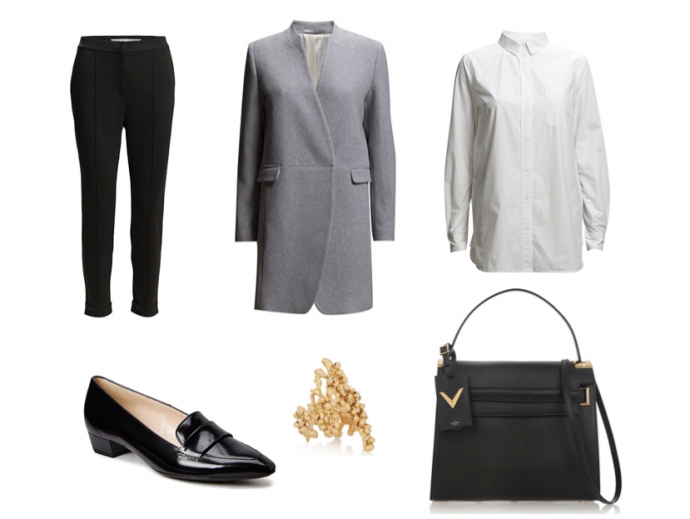 [spacer]
Pants / Tiger Of Sweden     Coat / Tiger Of Sweden     Shirt / Ganni
Shoes / Peter Kaisler     Ring / Rosantica     Bag / Valentino
Tämä Tiger of Swedenin harmaa villakangastakki on näistä kaikista takeista suurin suosikkini. Yksinkertainen leikkaus, täydellinen harmaan sävy ja laadukas materiaaliltaan. Mitä muuta sitä voisi enää villakangastakilta pyytää? Upea niin suorien housujen kuin farkkujenkin kanssa. Tämä takki kiilasi toivelistani kärkeen!
Out of these three coats, this is my favorite. The simple cut, the perfect shade of grey and the luxurious material makes it perfect. What more can you ask from a wool coat than this? It would look great with anything. This coat just jumped to the top of my wish list!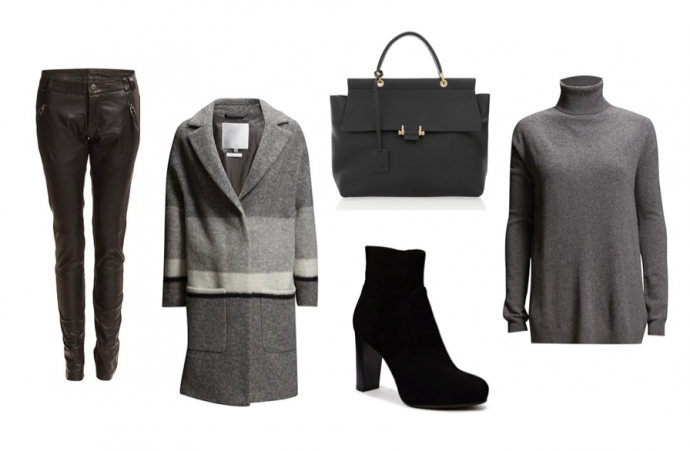 Leather pants / Gestuz     Coat / InWear     Bag / Lanvin
Cashmere knit / Day Birger et Mikkelsen     Boots / Apair
[spacer]
Ihastuin myös tähän InWearin raidalliseen takkiin ja koska olen hulluna harmaaseen niin ei varmasti tule yllätyksenä, että miksi. Jotenkin todella tyylikäs takki ja näen sen sopivan parhaiten todella yksinkertaisten asujen pariksi. Se olisi siis täydellinen lisä yksisävyiseen vaatekaappiini!
[spacer]
I also love this grey striped coat by InWear. I'm a sucker for grey, so it probably doesn't come as a surprise that I chose this one. I think it's a very elegant coat and gives a little extra to the most simplistic outfits. Easy to wear for sure!
[spacer]
*Commercial links/Mainoslinkkejä.