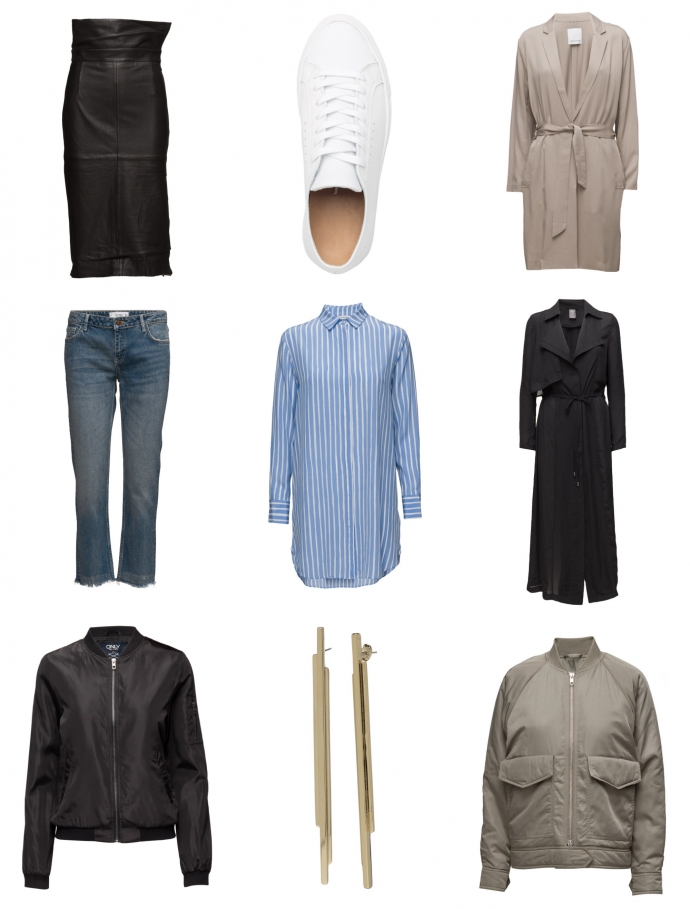 Skirt / Bruuns Bazaar     Sneakers / Filippa K     Coat / Samsoe & Samsoe
Jeans / Mango     Shirt / Marimekko     Coat / Twist & Tango
Bomber / Only     Earrings / By Malene Birger     Bomber / Filippa K
Vihdoinkin vähän keväisempiä valintoja tässä joka viikkoisessa postauksessani! Valkoiset tennarit ja bomber takki ovat sellaiset jutut mitä pidän silmällä ja tuo Marimekon silkkipaita ihastuttaa edelleen. Huomasin muuten, että hinta Booztin kautta on 30€ edullisempi kuin Marimekon verkkokaupan kautta ostettuna. Aika outoa eikö? Ei siis tarvitse kauaa miettiä kummasta verkkokaupasta sen hankkisin!
Täällä viikonloppu on mennyt leppoisasti ja asukuviakin ollaan saatu kasaan (niitä siis luvassa ensi viikolla). Kerroinkin, että kaappiini on muuttanut vaikka mitä ihanuuksia ja pian pääsen jakamaan niitä täällä teidän kanssanne. Naurettiin poikaystäväni kanssa, että minusta pitäisi tulla joku Finnish Fashion Ambassador in France, sillä lähes kaikista asuistani löytyy nykyään jotain kotimaista. Tämähän on tietenkin vain positiivinen asia!
Tänään ajattelin avata suomalaisen Elle-lehden, jonka toin mukanani Helsingistä ja laittaa tilaukseen Kristina Bazanin viime vuoden lopulla julkaiseman kirjan. Se on saatavilla toistaiseksi vain ranskaksi, mutta ilmeisesti se käännetään englanniksi jossain vaiheessa. Leppoisaa sunnuntaita kaikille ja terveisiä aurinkoisesta Orléansista!
Bomber jackets and white sneakers are something on my mind right now. I have been trying to find the perfect pair of simple white sneakers for ages now, but they seem to be impossible to find. Or then I'm just too picky, which might be the case. Besides bombers and white sneakers, I love this silk blouse from Marimekko. The blue/white stripes are fresh and I love the length (and of course the material).
This weekend I've been taking it easy after all the traveling. We also managed to shoot some outfit pictures, which I'll share with you next week. It seems that all my outfits nowadays have something Finnish in them, so I should be called the Finnish Fashion Ambassador in France, or something like that, heh. But I love the fact that I can wear beautiful Finnish design!
Wishing you all a relaxing Sunday!
*Commercial links/Mainoslinkkejä.