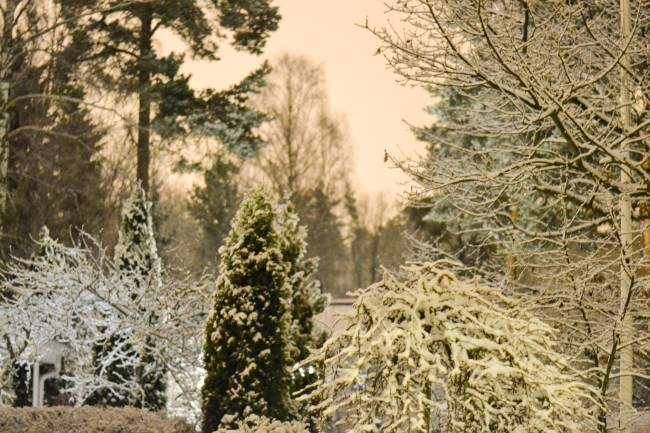 Eilinen ilta meni kotosalla fiilistellessä lumen peittämää maata. Tuli muutenkin niin jouluinen fiilis, että joululaulut pyöri päässä ja kynttilöitä tuli sytytettyä koti täyteen. Mä olen oikeesti aikamoinen kotihiiri nykyään ja nautin rauhallisista illoista tehden niitä juttuja mistä nautin. Sauna, hyvä ruoka, takkatuli ja lasillinen viiniä on ihan täydellinen tapa aloittaa viikonloppu. Tänään on luvassa sitten girls night out, joka on hyvää vastapainoa näille rauhallisille koti-illoille. Ihanaa valmistautua rauhassa iltaa varten ja päästä ulos juhlimaan mahtavan tyttöporukan kesken!
Oikein ihanaa lauantaita kaikille!
//
Yesterday I had a proper relaxed evening at home. It started snowing during the day and it continued until the night. I'm not the biggest fan of snow and cold, but I have to admit that it was super beautiful to have everything turn white all of a sudden. Perfect time to start waiting for Christmas. A calm evening in my case involves the following things; good food, sauna, fireplace, tons of candles and a glass of wine.
Today I'm then going to party with some amazing girls, which balances these quiet evenings at home perfectly. Have a great Saturday everyone!
Save