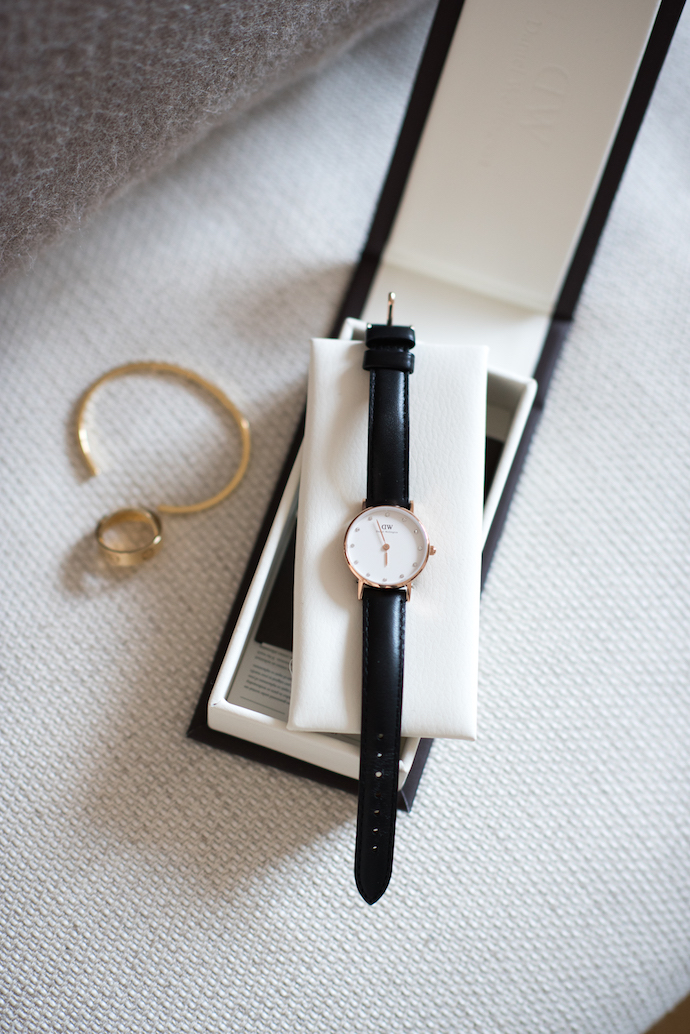 Olen jo pitkään etsinyt sopivaa "korukelloa" ja Daniel Wellingtonin kellot ovat olleet korkealla listallani. Olen nähnyt niitä niin monen bloggarin ranteessa, että väkisinkin DW kellot alkoivat tuntua oikealta vaihtoehdolta (heh) ja tykkään muutenkin merkin yksinkertaisista malleista. Kun lomallani sain Daniel Wellingtonilta yhteydenoton, niin tartuin saman tien tarjoukseen. Valitsin tämän Classy Sheffieldin pienemmissä koossa ja se sopii kapeaan ranteeseeni kuin nakutettu. Tiedän, että suuret kellot ovat tällä hetkellä pinnalla, mutta halusin hillityn kokoisen kellotaulun, jolloin voin käyttää sitä muiden rannekorujeni kanssa ilman, että kello vie kaiken huomion. Ranteeni on tosissaan niin kapoinen, että liian iso kello näyttäisi suoraan sanottuna hölmöltä.
Poikaystäväni on varsinainen kellomies ja jos itselleni suurin materialistinen intohimo ovat laukut, niin hänelle se on kellot. Itselleni ei ole vielä tullut sitä fiilistä, että laukun sijaan satsaisin arvokelloon (sekin vaihe varmasti tulee vielä), joten olen enemmän kuin tyytyväinen tähän edullisempaan vaihtoehtoon tällä hetkellä. Viimeistään ensi viikoksi yritän saada asukuvia kehiin, jotta näette kellon in action!
P.S. Jos joku teistä kiinnostui Daniel Wellingtonin kelloista, niin koodilla STYLEPLAZA saatte -15% merkin valikoimasta aina maaliskuun loppuun asti.
I have been eyeing many affordable watches and Daniel Wellington has been on top of my list. When I got an email from them asking if I wanted to try out one of their watches, I couldn't refuse. Clearly me and a DW watch was meant to be, heh. I had a chance to pick one model from their website and I chose the Classy Sheffield in the smallest size. I know big watches are very trendy at the moment, but my wrist is ridiculously small, which is why I chose the smallest size. It fits me perfect and works also with all my bracelets on.  I'll try to get some outfit pics soon (latest next week, when we have more time to shoot) so you see the actual size!
Daniel Wellington also wanted to offer all my readers a discount code, so with STYLEPLAZA you can get -15% off all their selection until the end of March. Happy shopping!