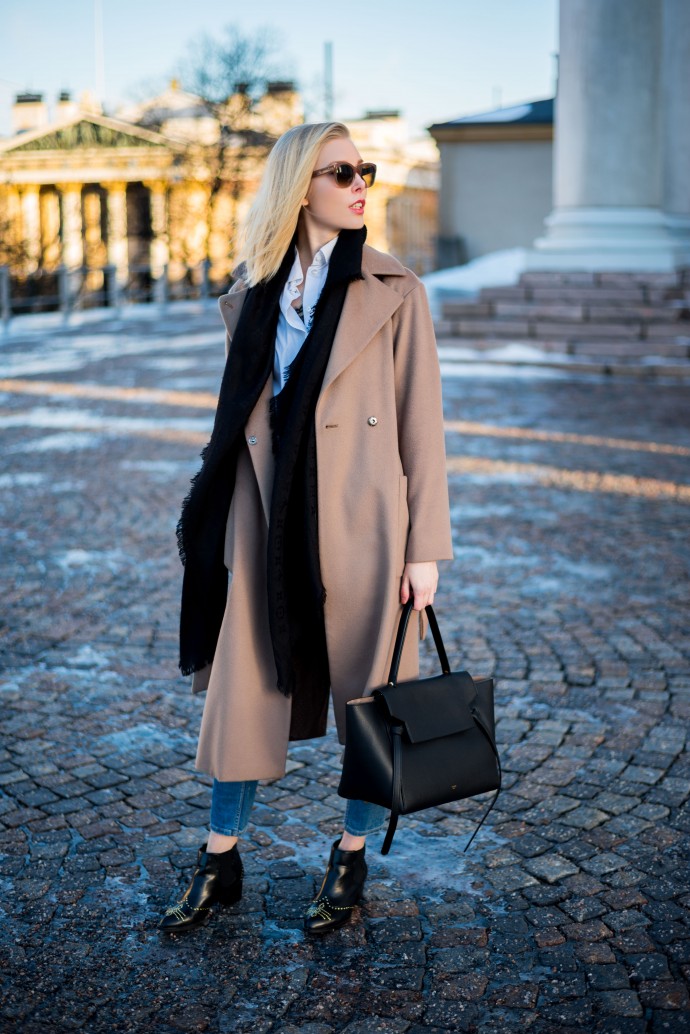 Ostin joulun aikaan Pariisista ihanan pitsitopin ja ajatus oli, että käyttäisin sitä kauluspaidan alla. Silloin napit voi olla hieman rohkeammin auki eikä tarvitse pelätä mautonta vaikutelmaa. Nyt keväällä haluan kokeilla samaa asua, mutta farkkujen sijaan valitsisin nahkahousut. Jalkaan myös sirommat kengät. Voisi toimia? Illanviettoon tämä pitsi+kauluspaita-kombo sopiikin parhaiten. Se ei ehkä olisi kuitenkaan tarpeeksi sovelias työpaikalle! Vai mitä sanotte?
Ja taas sitä on viikonloppu edessä! Heti kun yksi arkipäivä on pyhä niin tuntuu, että viikko menee ohi ihan hetkessä. En kuitenkaan valita, sillä tämä viikonloppu on varattu ihanille ystävilleni ja odotan innolla kunnon girl talkia. Se tulee tarpeeseen!
Ihanaa viikonloppua kaikille!
A few months back I bought this lace top in Paris as I wanted a beautiful top to wear under a collar shirt.  I love when you can see a bit of lace underneath a shirt. Just a hint of lace makes the outfit a bit more special. Next I'll have to try this combo with leather pants and heels. Would be a great outfit for an evening out or what do you think?
And yet again it's the weekend. Easter went by so fast and now we are approaching mid-April soon. Before we know it it's May! Time just keeps on rolling by. I love Spring so I'm hoping it doesn't go by too fast. This weekend I'm hanging out with my girls and that's exactly what I need right now. A glass of wine and a conversation with a good friend = perfect!
Enjoy your weekend babes!
Coat / Max Mara
Shirt / Stella McCartney
Lace shirt / Oysho
Jeans / Zara
Bag / Céline
Shoes / H&M
Sunnies / Céline
Scarf / Louis Vuitton
Save