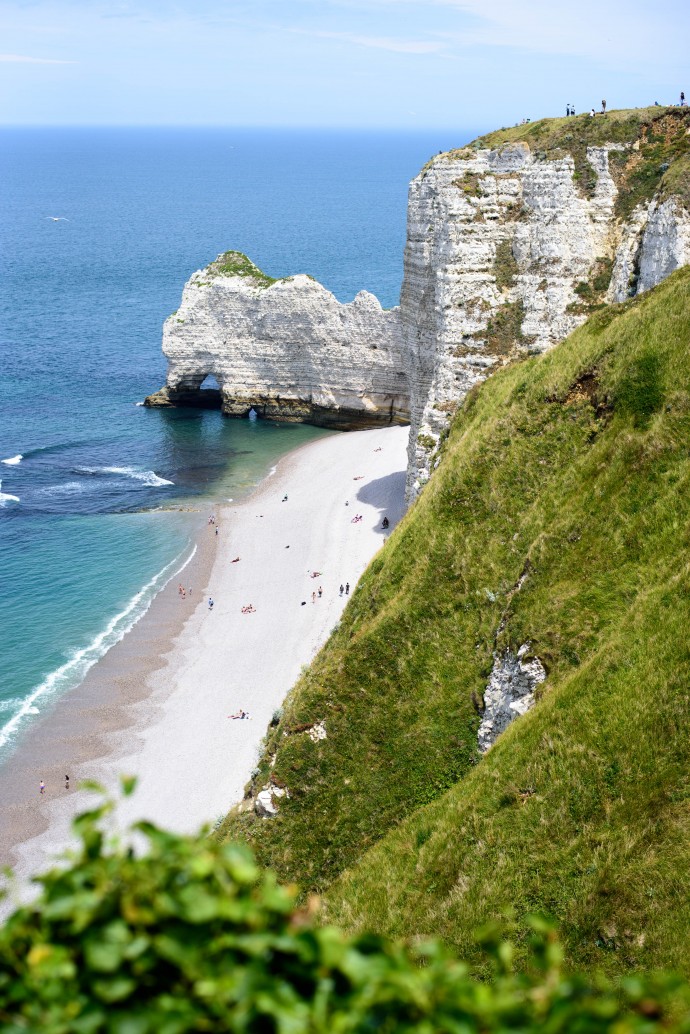 Étretat – vau mikä paikka! Viime sunnuntain vietimme ihastellen näitä henkeäsalpaavan kauniita maisemia. Pohdimme mitä haluisimme vielä nähdä ennen kotiinpaluutamme ja päätimme ajaa tunnin matkan päähän tähän kauniiseen rantakaupunkiin (kiitos lukijani Christinen vinkin!).
Olin ihastellut näitä kallioita kuvista, mutta livenä ne olivat vielä noin tuhat kertaa upeammat. Kallioiden päällä pystyy kävelemään pitkänkin matkan, mutta varoitan, että liian lähelle reunaa ei kyllä kannata mennä. Reitin varrella ei nimittäin ole kaiteita missään, joten pieni liukastuminen ja…Sanoinkin juuri poikaystävälleni, että pienten lasten kanssa nuo kalliot olisivat pahin painajainen, mutta aikuisten kesken tuo paikka on kuin pala paratiisia. Näkymät merelle ja rannikolle ovat nimittäin sellaiset mitä ei ihan hevillä unohda!
Ennen kotimatkaa pysähdyimme vielä drinkeille Hotel Dormy House:n terassille ihailemaan maisemia. Hotelli vaikutti muutenkin todella sympaattiselta, eli se kannattaa pitää mielessä jos suunnittelee matkaa kyseiseen kylään. Étretat on alle kolmen tunnin ajomatkan päässä Pariisista, eli Pariisin loman yhteydessä se olisi helppo kohde. Muutama päivä Pariisissa ja muutama päivä näissä maisemissa. Ei hullumpi yhdistelmä!
Étretat – what a place! Last Sunday we drove there before heading back home from Deauville. We were contemplating on what to do on the last day of our mini holiday and I remembered a tip from my reader. Étretat is only an hour away from Deauville so we turned the car and took off.
I had seen pictures of these beautiful cliffs before, but they were a hundred times more impressive in reality. You feel so small when you're in a place like this! The views were just breathtaking. The only thing is that you have to be really careful, because there are no fences anywhere. It's also not the best place for someone who is scared of heights, heh. Or for someone with small children. However, the views are just too perfect to miss, so if you're ever in Étretat I do recommend you driving all the way up to  this viewpoint.
Before heading back to Orléans, we stopped for a drink at Hotel Dormy House. This place looked really charming and had great views, so it's a hotel to keep in mind.