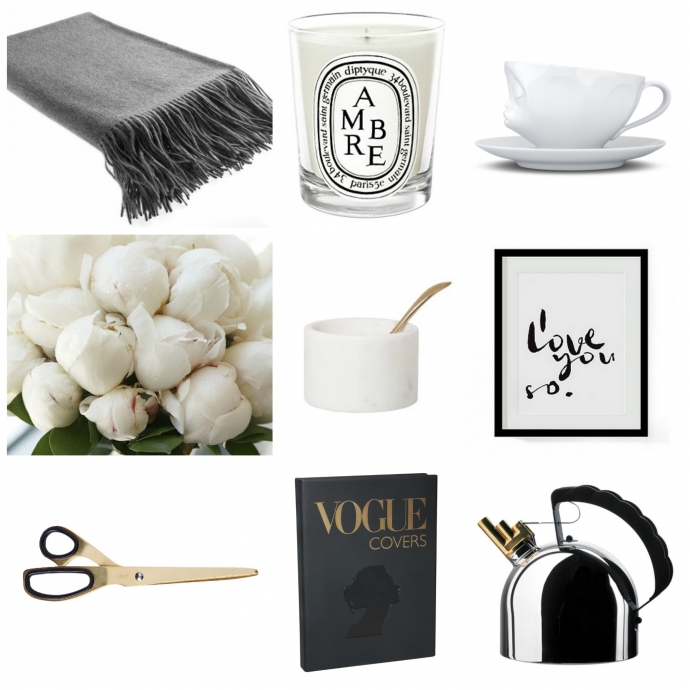 Olen huomannut, että yksityiskohdat tekevät kodista kodin. Isot huonekalut on tietenkin tärkeä saada paikoilleen, mutta mielestäni loppusilaus on se kriittisin vaihe. Silloin luodaan kotiin henki, jossa asukas itse viihtyy parhaiten. Meillä on onneksi miehen kanssa sama maku (muuten voisi mennä aikamoiseksi kädenväännöksi), joten tappeluilta ollaan vältytty. Toki tykkään säheltää ja somistella häntä enemmän, mutta ainakaan vielä ei ole kuulunut valitusta (knock on wood…). Kunhan hänen kello- ja autokirjansa ovat näkyvillä, niin rauha pysyy maassa, heh.
Itselläni on nyt vuodenvaihteen jälkeen taas sisustuskuume ja toivon, että kevääseen mennessä meidän makuuhuone ja työhuone olisivat täysin valmiit. Haluisimme makkariin vielä yhden tuolin, jotta siellä voisi lukea rauhassa, joten se on etsinnässä. Työhuoneeseen etsimme myös mattoa ja penkkiä/rahia, sekä kattovalaisinta.
Meidän ystävämme äiti on tehnyt Orléansin sisutusmarkkinoilta ihan mielettömiä löytöjä (mm. vanhoja Hermèsin astioita pilkkahintaan) ja mietin, että minunkin pitäisi alkaa käymään niissä. Sitä ei ikinä tiedä mitä niistä voisi löytyä (kattokruunu…anyone?)! Täytyy vain kysyä parhaat paikat ja olla valmiina aikaisiin aamuherätyksiin jos haluan olla ensimmäisenä apajilla.
Juon muuten nykyään aamuteeni tästä suloisesta 58productsin suukko-mukista ja sen toverista (kulhosta) nautin aamumuroni. En siis ole aamuisin täysin yksin, vaikka poikaystäväni olisikin ehtinyt jo lähtemään töihin!
I've noticed that details really make a home. Of course it's important to have all the big furniture in place, but in the end, it's the details that count. These details bring the homeowners style and personality through and give the place a finishing touch. Luckily me and my boyfriend have a very similar taste, so we haven't had to battle on what goes where. I've noticed that as long as I keep his car and watch books on display, I can get away with many things, heh (well, now I blew my cover).  
As it's a new year, I want to finish the bedroom and dressing finally. We want to make a little corner in the bedroom for reading, so we are looking for a comfortable,  but good looking armchair. We also need a bench, a ceiling lamp and a carpet for the dressing. I also think I need to start going to the furniture markets in the area, as our friends mom has made some amazing finds from them (hello vintage Hermès trays…).
Nowadays my companion for the morning is this adorable kiss cup from 58products. I mean how can my morning not start well after enjoying my green tee from this little one?