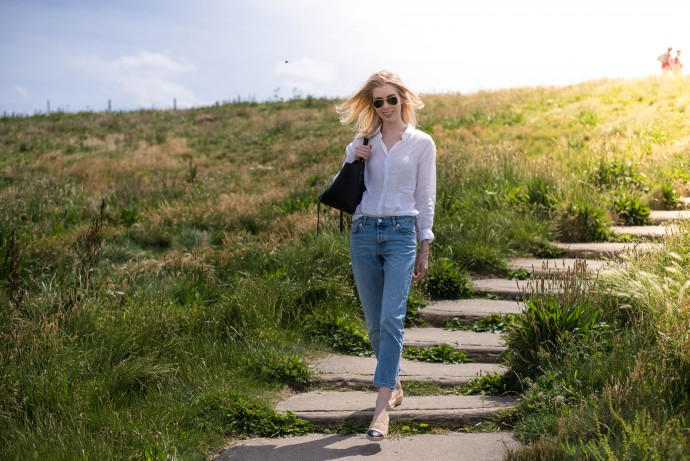 [dropcap custom_class="normal"]Huh mikä helle! Orléansissa on täksi päiväksi luvattu +40 astetta ja samat lämpötilat pitäisi olla myös Pariisissa. Tämän takia siirsin reissuni ensi viikolle. Voi olla, että me paetaan tätä kuumutta poikaystäväni vanhempien luokse, sillä meidän ylimmänkerroksen asunto on kuin sauna tällä hetkellä. Nukkumisesta ei mahda tulla mitään, joten yö viileämmässä talossa kuullostaa erittäin hyvältä! [/dropcap]
Huomenna vihdoinkin juttua Deauvillestä, mutta tässä pieni katsaus viime viikonlopun asuun. Pellavapaita, vaaleat farkut ja espadrillokset toimivat hyvin.
The weather right now is so warm (or I should say hot) in Orléans and Paris! Today the temperature should go up to +40 degrees, which is why I decided to postpone my trip to Paris. Being there in this heat would be a little too much for me.
This outfit is something I wore last weekend. A linen shirt, blue jeans and espadrilles were the perfect easy choice for a weekend in Deauville. Tomorrow I'll tell you more about  this beautiful coastal town!