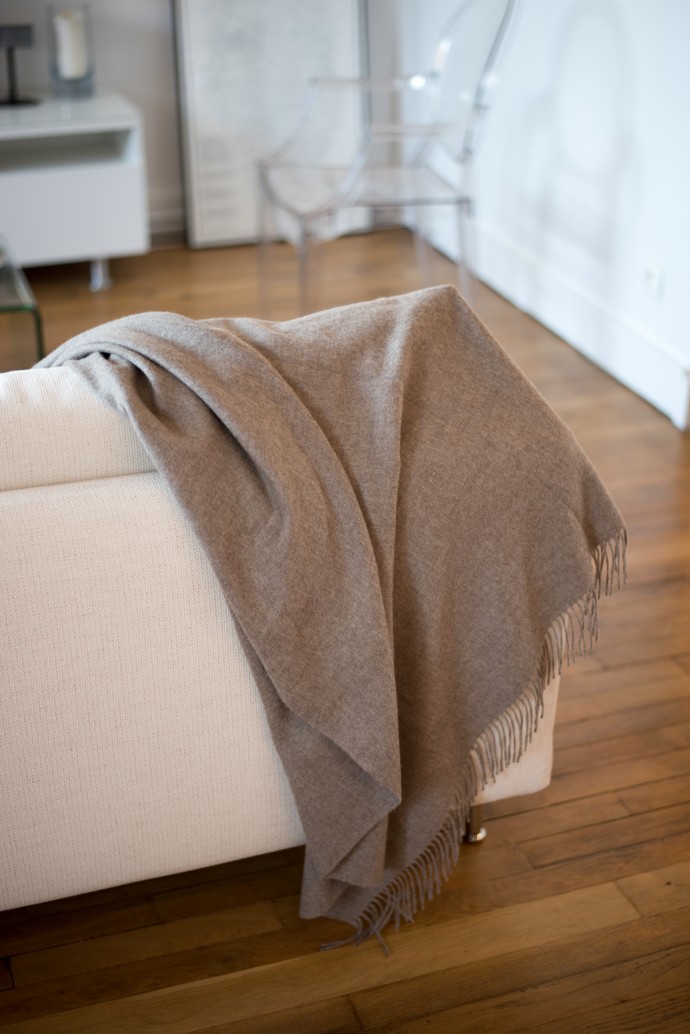 Olen aikamoinen kotihiiri ja sen takia tykkäänkin sisustaa ja laittaa kotia kauniiksi. Kotona kun tulee vietettyä paljon aikaa! Yksi suurin toiveeni tänne oli Balmuirin huopa ja sitä olenkin himoinnut vaikka kuinka kauan. Tänä vuonna ajattelin laittaa sen joululahjalistalleni, mutta sain mitä ihanimman yllätyksen muutama viikko sitten.
Joulupukki taisi kuulla toiveeni hieman ennakkoon, nimittäin kuriirin tuomasta paketista paljastui Balmuirin baby alpakasta tehty huopa. Otin sen saman tien käyttööni ja nyt siitä on tullut melkeinpä välttämättömyys. Vedän sen harteille aina heti kun tulen kotiin (meillä ei vieläkään lämpö pelitä kunnolla – raivostuttavaa!). Huovasta tuli siis saman tien meidän talouden tärkein sisustustekstiili. Nyt odotan jo seuraavaa viikonloppua, jotta pääsen käpertymään sohvalle viltin alle. Olen siis todellinen party queen, heh (ne ajat on onneksi jo eletty).
Marraskuu on kyllä mitä parhainta aikaa viettää tunnelmallisia iltoja kotona. Ei muuta kuin kynttilät palamaan, hyvää ruokaa ja rakas vierellä. Ei sen tarvitse olla mitään sen kummoisempaa! Muutaman viikon päästä alan varmasti fiilistelemään jo joulua, mutta sen aika on vasta sitten myöhemmin…
I love spending time at home and "party queen" is not a name my friends call me by (unless they only knew me first year of Uni, heh). Because I love having cosy nights in, I'm really into interior design and making our home as "homey" as possible.
When I knew we were moving into this apartment, I made a wish list of the "must have"-items and on top of the list was a luxurious blanket. I love wrapping myself in one when watching my favorite shows, taking naps or just reading something on the couch.
As I'm Finnish, I tend to favor Finnish brands whenever I can (whenever they are better than anything else). One of my favorite brands is Balmuir (I'm sure you've figured that out by now) and they had my dream blanket. I guess Santa heard my Christmas wish in advance, because now I'm the lucky owner of the coziest blanket. Made from baby alpaca, it keeps me warm and comfortable. What more can I ask for?