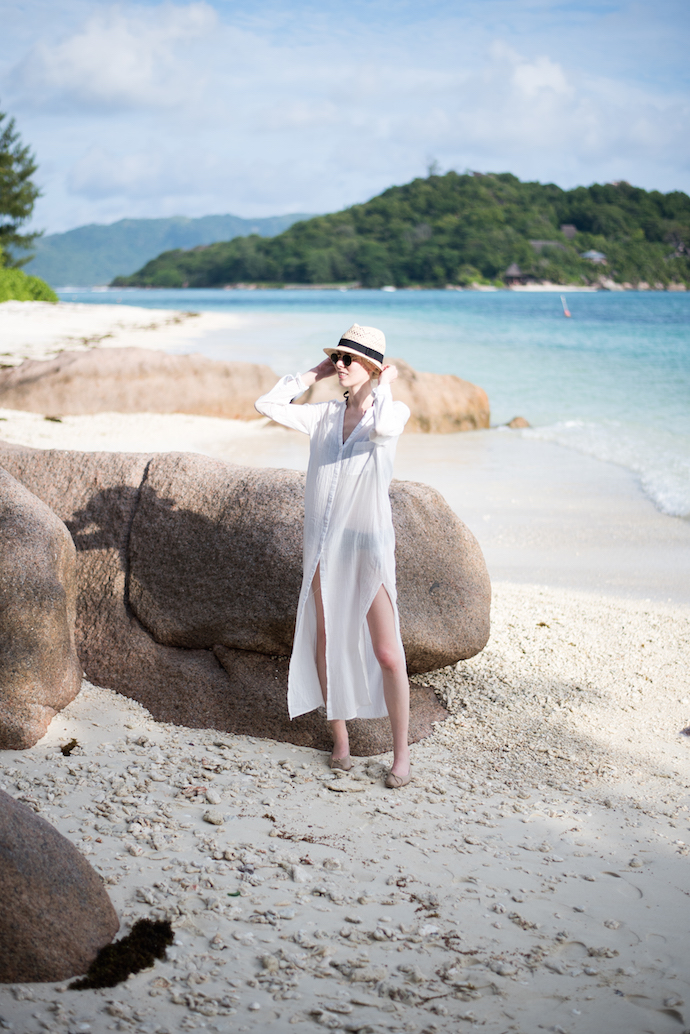 Viime kesänä ostin tämän valkoisen pitkän tunikan Lindexiltä ja se on ollut reissussa ihan korvaamaton. Kerroinkin, että yritän olla mahdollisimman varovainen auringon kanssa, joten tämä viileä, mutta peittävä maksimekko on aivan mahtava vaate. Sen lisäksi ostin ennen reissua H&M:stä tämän hellehatun, joka sekin on ollut yllättävän hyvä hankinta ja oikeastaan pakollinen täällä polttavan auringon alla.
Lomalla kun olen niin päivät tuntuvat vierivän turhankin nopeaa tahtia eteenpäin. Täytyy kyllä myöntää, että täydellinen maisemanvaihdos tuli oikeaan hetkeen. Täällä voi rentoutua sataprosenttisesti kun on täysin eri ympäristössä. En tiedä teistä, mutta itselläni on välillä vaikea rentoutua kotiympäristössä aivan täysin. Siksi matkustaminen onkin lähes henkireikä!
Huomenna vaihdamme taas paikkaa ja menemme Mahén lähellä sijaitsevalle Silhouette Islandille. Siellä on vain yksi hotelli, mutta alue on ilmeisesti suhteellisen iso, eli eiköhän sielläkin ole tekemistä riittävästi!
Kiinnostaako teitä muuten reissuvinkkejä hotelleista jne? Ainakin seuraavasta hotellista ajattelin tehdä vähän kattavamman postauksen, sillä se on tosissaan ainut hotelli Silhouette saarella, eli jos joku teistä miettii sinne menoa, niin saatte vähän osviittaa, että kannattaako se.
Hyvää alkanutta viikkoa kaikille!
This white tunic dress that I bought last summer has been such a useful piece here. It protects from the sun, but is light enough. Perfect to throw over a bikini when walking around the resort. I'm also happy that I bought this sunhat, as it's necessary here and actually the fit is really good considering I bough it for less than ten euros. Money well spent!
The days seem to roll by in an instant, but I have been enjoying myself and I feel like here I can relax 100%. I don't know about you, but sometimes I find it hard to relax completely at home, so that's why I love traveling so much. When you're in a different surrounding it's easier to forget about the stress at home and just enjoy life to the fullest!
Tomorrow we are changing islands again and this time we are heading to Silhouette Island. I'll post more about that hotel (as it's the only one there) so you get some tips if it's worth going to if you ever come here!
Enjoy this new week everyone!
Maxi dress / Lindex (similar here*)
Hat / H&M (similar here*)
Sunnies / Ray Ban
*Mainoslinkkejä.