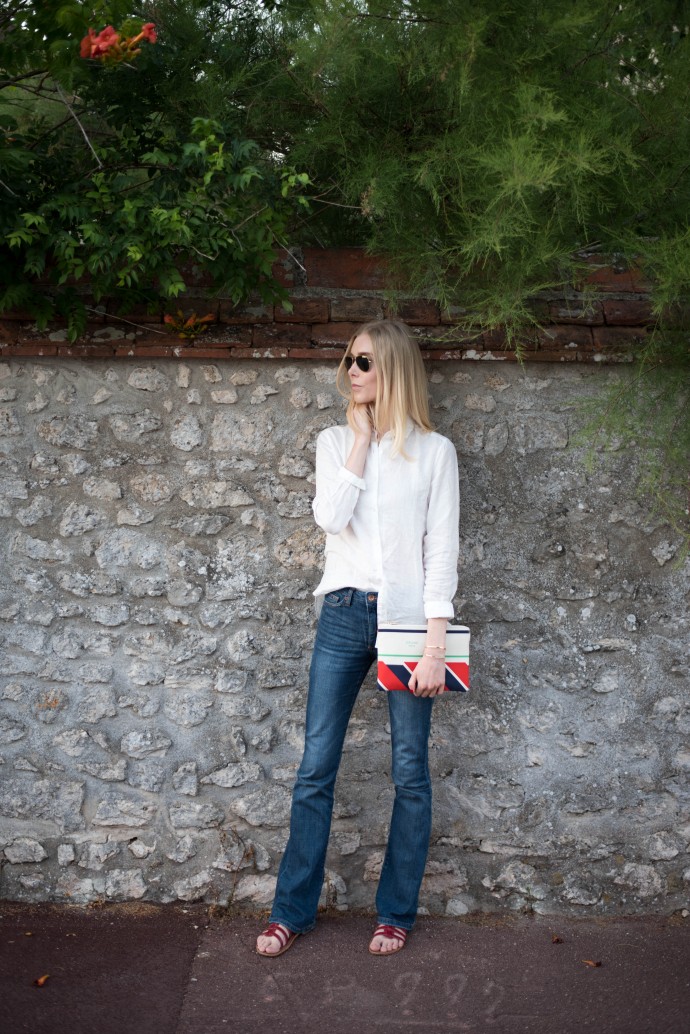 Te tiedätte hyvin, että kirkkaiden värien käyttö pukeutumisessani on lähes olematonta. Asuni ovat hyvin usein tummanpuhuvia, mutta pienet piristysruiskeet ovat tervetulleita aina silloin tällöin. Olivat ne sitten kynsilakan, sandaalien tai asusteiden muodossa. Kesäisin suosin punaista kynsilakkaa ja aika ajoin myös nämä punaiset sandaalit pääsevät ulkoilemaan. Melkeinpä naurattaa kun mietin, että tämä on "rohkein" asuni värien suhteen pitkään aikaan, heh. Värit ja minä – lähes tuntematon käsite.
Sain poikaystävältäni tämän Célinen pikkulaukun joululahjaksi ja alkuun mietin, että osaisinko käyttää sitä ollenkaan. Olen kuitenkin huomannut, että laukku on täydellinen niihin päiviin kun haluan vähän väriä asuun. Se toimii hyvin myös isomman laukun sisällä ekstra pussukkana, mutta materiaalinsa takia (silkki) en raaski heitellä sitä laukun pohjalle kovinkaan usein. Kesälaukkuna tämä on kuitenkin ihan mainio!
Poikaystävästäni puheenollen – nämä molemmat käsikorut ovat hänen antamiaan lahjoja ja ne ovat nyt liimaantuneet ranteeseeni. Ehdoton lempikoru-komboni. Tämä kaksikko tulee siis näkymään monissa tulevissa asukuvissa. Teitä on nyt varoitettu, heh! 
As you know, I rarely wear any bright colors. I love grey and black, but every now and then it's nice to wear a hint of color. Whether it's nail polish, colorful shoes or accessories. During summer I normally always wear red nail polish, but these sandals are also a great way to bring color into any outfit. It almost makes me laugh when I think that this outfit is the most "daring" colorwise in a long time. Bright colors and me – not a familiar concept.
My boyfriend gave me this little Céline bag for Christmas and it's a great way to add color easily to even darker outfits. It also works great as a "pochette" inside bigger bags. The only thing is that the fabric is delicate (silk) so I rarely throw it inside other bags. However, it's the perfect little summer clutch!
And talking about my boyfriend – he gave me these two bracelets as gifts and now this combo is basically glued to my wrist. My all time favorites! So you'll see them in many outfits to come. You have be warned, heh!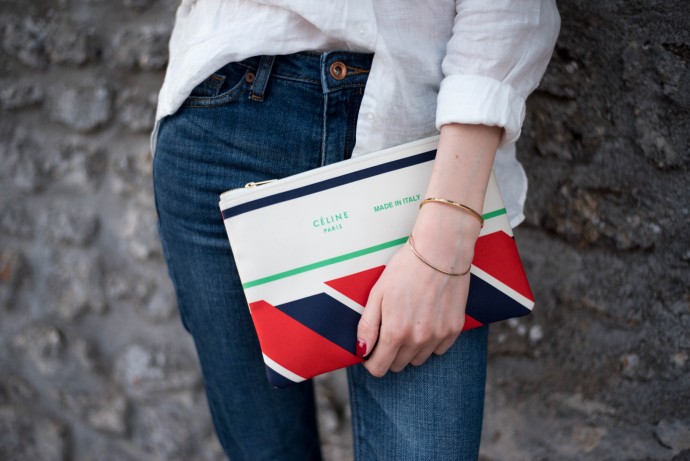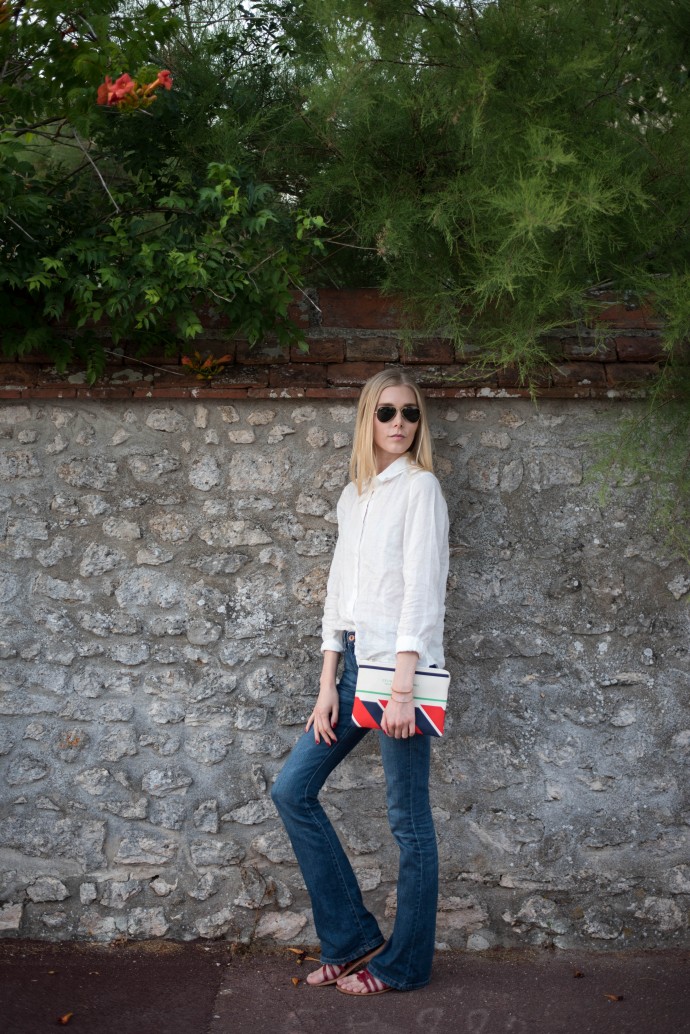 Linen shirt / Uniqlo (similar here*)
Jeans / Mango (similar here*)
Clutch / Céline
Sandals / Les Tropeziennes (similar here*)
Bracelets / & Other Stories and Saint Laurent
Sunnies / Ray Ban
*Mainoslinkkejä.