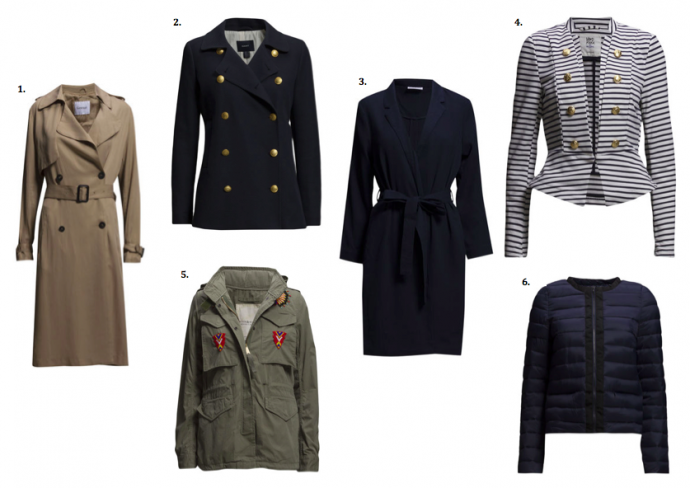 4. Vila     5. Denim & Supply Ralph Lauren     6. Vila
[dropcap custom_class="normal"]Miten upeat ilmat onkaan hellinyt meitä pääkaupunkiseutulaisia! Me suomalaiset tunnumme muuttuvan aikalailla kun aurinko paistaa ja lämpöasteet kohoavat lähemmäs kymmentä astetta. Itsekin huomaan, että olo on jotenkin pirteämpi ja iloisempi. Ei ihme, että kevät on lempivuodenaikani syksyn lisäksi! Toki monille tämä kausi on myös hankala allergioiden ja katupölyn takia, mutta ainakin aurinko antaa energiaa selvitä siitäkin jos ei muuta.[/dropcap]
Kevään tullen takit on taas ajankohtaisia kun voi vihdoin jättää varastoon ne järeimmät talvitakit (koputan puuta). Trenssit, parkat ja kevyemmät untuvatakit on ne mitä tulee nyt käytettyä. Te tiedättekin, että olen trenssityttö henkeen ja vereen, mutta kyllä muutkin mallit kolahtaa. Parkat on myös niin ajattomia, että niitä voi käyttää vuodesta toiseen. Kevytuntsikoista puhumattakaan.
Onko teillä mitään tiettyä kevättakkia hakusessa vai löytyykö se jo valmiina kaapista? Ja kuten sanottu, takki kiintiöni on nyt täynnä, eli itse yritän vältellä ihan viimeiseen asti mitään uusia hankintoja…
P.S. Lukijatutkimus ja Ladurée teepaketin arvonta on edelleen käynnissä ja pääsette osallistumaan siihen tästä!
Oh my – the weather in Helsinki has been amazing the last few days! Sunshine and almost +10 degrees. I can tell you that that's great considering it could still be snowing and icy. I much more prefer it this way!
As Spring is now here I always start thinking about Spring coats. Wearing lighter coats and jackets after winter feels so nice! These ones above are all my favorites and they are great for different purposes. A trench suits the city, a parka is great for a relaxed weekend and a light down jacket is perfect for those colder Spring days.
* Mainoslinkkejä/Commercial links.