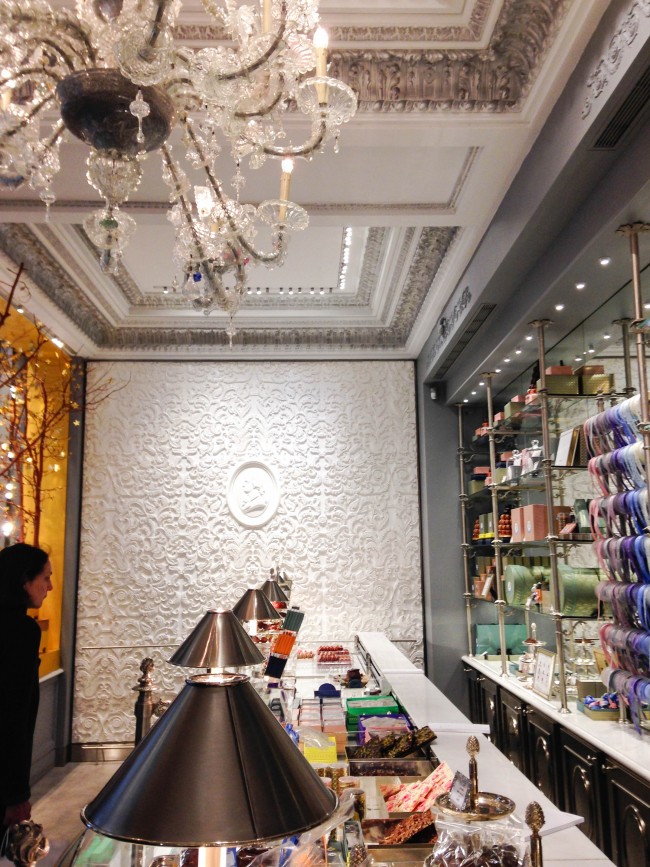 Laduréen macarons-leivokset on tunnettuja ympäri maailman, mutta Laduréen suklaat ehkä vähemmän niin. Heidän oma suklaapuoti, Les Marquis de Ladurée, sijaitsee Place Vendomen ja Jardin des Tuileriesin välissä. Mä olen suuri suklaa fani, joten muhun uppoaa nämä herkut enemmän kuin macaronsit. Ladurée on yksi niistä ranskalaisista merkeistä joiden suosio piiloo merkin historiassa, pakkauksissa ja mielettömän kauniissa myymälöissä. Yhtä hyviä (tai jopa parempia) herkkuja löytyy Pariisista muualtakin, mutta Ladurée on Ladurée.
Täältä tuli hankittua joululahjoja ja ainakin mä itse ilahdun pienestä yllätyksestä kauniissa rasiassa paljon enemmän kuin jostain "turhasta" tavarasta joka jää kotiin pyörimään ja keräämään pölyä. Siksi suklaa, tee ja muut herkut on mun mielestä ihan mahtavia lahjaideoita! Suosittelen vierailemaan tässä Laduréen suklaamyymälässä kun olette Pariisissa! Hyvä uutinen on myös se, että täällä on harvoin samanlaisia jonoja kuin mitä Laduréen muissa myymälöissä.
Ladurée macarons are known around the world, but their chocolates maybe less so. The store, Les Marquis de Ladurée, is dedicated only to chocolate and is located between Place Vendome and Jardin des Tuileries. I am a chocolate lover and choose chocolate over macarons anytime. Ladurée is a good example of a great French brand that has really utilized story telling, heritage, packaging and their beautiful stores to make it such a success. In Paris you can easily find chocolate and macarons that are as good (or even better) than the ones from Ladurée, but Ladurée is Ladurée.
I bought some Christmas presents from here and I think chocolate, tea and other treats make great gifts. So next time you're in Paris, check this store out…it's beautiful! And there are way less people than in Ladurées other stores, which makes the shopping experience much more comfortable and fast.
14 Rue de Castiglione, 75001 Paris
Téléphone :01 42 60 86 92