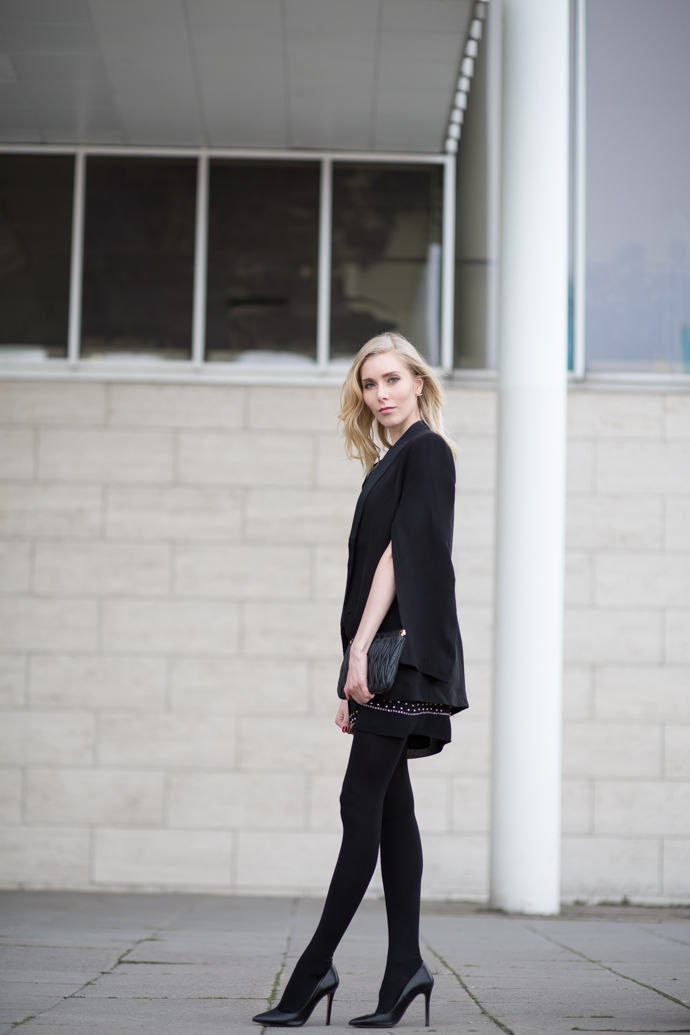 [dropcap custom_class="normal"]Olen aina ollut hieman outo siinä suhteessa, että rakastan sukkahousuja. Etenkin tummia ja paksuja sellaisia. Kun sain postissa nämä Wolfordin kashmir/silkki-sukkahousut tiesin heti, että haluan yhdistää ne siihen kaikista juhlallisempaan vaatekappaleeseen, joka kaapistani löytyy. Tämä H&M:n paljettimekko on jo lähes viisi vuotta vanha enkä käytä sitä kovin usein, mutta se on sitäkin tärkeämpi.  Mustat paksut sukkahousut ovat oikeastaan ainoa vaihtoehto tämän mekon pariksi koska se on malliltaan sen verran lyhyt, että kokonaisuus menisi helposti halvan puolelle. Olen kyllä käyttänyt sitä ihonväristen sukkahousujen kanssa, mutta se oli silloin nuorempana, heh.[/dropcap]
Jos teillä on muuten juhlia tiedossa ja vierastatte sukkahousuja niin suosittelen kääntymään Aleksanterinkadun Wolford-myymälän puoleen. Hyvä myyjä osaa suositella ja ehdottaa oikean sävyisiä sukkahousuja, jotta kokonaisuus olisi mahdollisimman toimiva.
Nämä kuvat ovat Karoliinan käsialaa (tuttu mm. Kiran blogista). Olen niin tottunut kuvaamaan poikaystäväni kanssa, että jännitin näitä kuvauksia aika lailla etukäteen. Onneksi Karoliina on ihan mahtava tyyppi ja niin taitava, että hänen kameransa edessä oli ihana olla. Kiitos vielä Karoliinalle kuvaushetkestä!
Tämän asun kautta haluan toivottaa kaikille oikein ihanaa viikonloppua!
I have always been a bit weird in the sense that I like tights. I know most people find them uncomfortable, but I think a pair of thick black tights is so useful. When a delivery guy dropped this special package from Wolford, I was so happy. These cashmere-silk tights are super luxurious and perfect for the upcoming Fall or why not even a colder summer night. I rarely wear dresses, but there's one special dress in my closet, which I don't wear often, but which is probably the most festive of all my clothes. I knew I wanted to combine these tights with this loose short dress and a blazer.
As summer is full of parties and see-through tights are a must for some events, I recommend you to go to your local Wolford store and let the sales assistants help you find the perfect color and fit. I think tights can make or break a look, which is why it's important to get it right. In Helsinki you can find a Wolford store on Aleksanterinkatu as well as online here.
Enjoy your weekend everyone!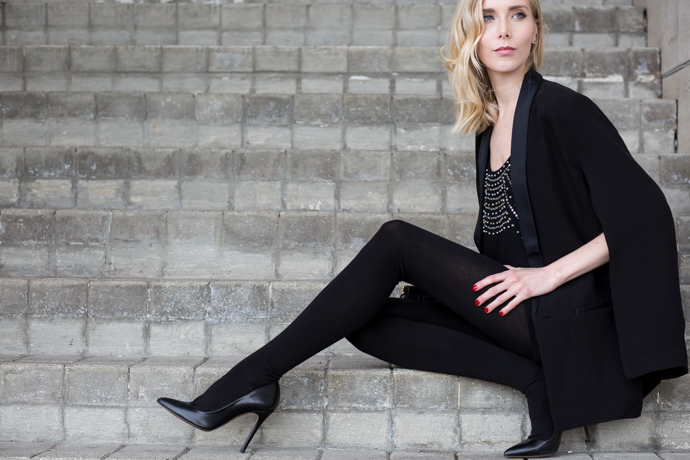 Photos – Karoliina / Valoon.fi.
Tights / Wolford (giveaway)
Dress / H&M
Blazer / H&M Conscious Exclusive
Heels / Zara
Clutch / Miu Miu