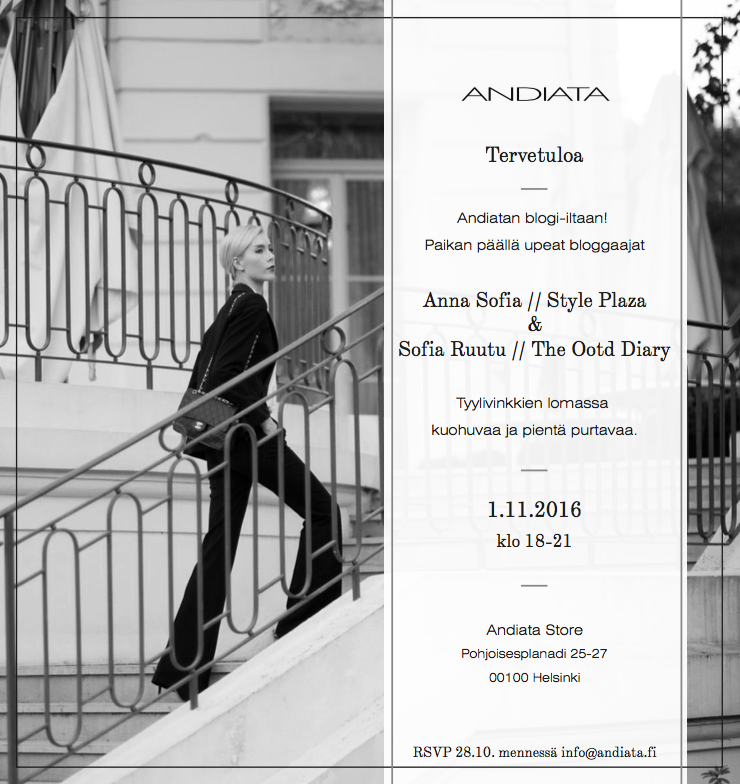 Vihdoin saan kutsua teidän kaikki lukijailtaan, joka järjestetään tiistaina 1.11. klo.18-21 Andiatan myymälässä! Olemme siellä upean Sofian kanssa teitä vastassa ja olisi mielettömän ihana tavata mahdollisimman montaa teistä.  Luvassa rentoa yhdessäoloa kuohuvan ja pienen syötävän kanssa, ja samalla voitte tietenkin tutustua Andiatan syysmallistoon.
Olisi tosissaan aivan ihana tavata teitä, joten jos pääset paikalle, niin muistathan ilmoittautua 28.10. mennessä osoitteeseen info@andiata.fi.
Kieltämättä hieman jännittää tämä blogini ensimmäinen lukija-ilta, mutta pelkästään hyvällä tavalla. Tiedän, että siellä ruudun toisella puolella on upeita naisia, joten olisi kunnia tavata teitä ihan kasvotusten ja höpötellä ajan kanssa. Toivottavasti siis nähdään ja sydämellisesti tervetuloa!
I can finally invite you all to a meet & greet, which will be organized on Tuesday 1st of November at the Andiata store in Helsinki! I'm co-hosting this evening with lovely Sofia, so we would love to see as many of you there as possible. Obviously I know that not many of my foreign readers actually live in Helsinki, but if you happen to be around, I would love to meet you! It's going to be relaxed evening with a bit of bubbly and some food and of course fashion.
So if you're in town and want to join us, please r.s.v.p. by 28th of November to this address: info@andiata.fi.
I'm quite nervous actually, but in a good way. I know there's so many gorgeous women behind those screens, so it would be an honor to mee you guys in person and have time to actually talk and get to know each other. So welcome and I'm so excited to meet you!
Save
Save
Save