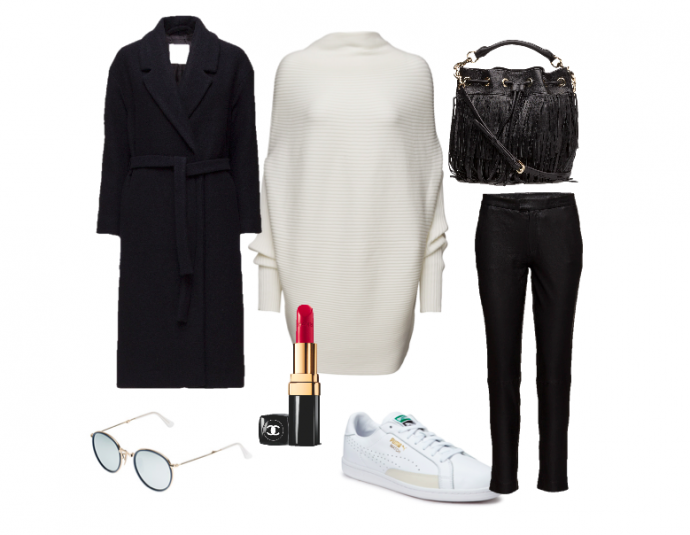 Coat / Mango     Knit / Designers Remix     Bag / Rebecca Minkoff
Sunnies / Ray Ban     Sneakers / Puma     Leather pants / Designer Remix
Tämä viikonloppu meni nyt suoraan sanottuna aivan penkin alle, sillä eilen sain tämän silmäluomen tulehduksen lisäksi vielä jonkun ihmeen päivän kestävän kuumekohtauksen (poikaystävälläni oli sama kaksi viikkoa sitten), joten illallinen jäi sitten omalta osaltani välistä. Harmi, sillä tarkoitus oli juhlistaa omiani, sekä poikaystäväni siskon syntymäpäiviä hieman jälkijunassa, mutta ei voi mitään! Nyt näyttää olevan liikenteessä vaikka minkälaisia pöpöjä, joten pitää olla tarkkana. Ainakin tyynyliinoja ja pyyhkeitä kannattaa vaihtaa ahkeraan!
Tänään meidän olisi pakko saada edes muutamat asukuvat purkkiin, sillä lähden jo torstaina reissuun ja palaan Ranskaan vasta reilun kahden viikon päästä. Yrittäjyyden huono puoli on nimenomaan se, että oli sitten kuinka kipeä tahansa, niin työt on silti tehtävä. Kukaan kun ei niitä puolestani hoida puhumattakaan siitä, että joku maksaisi sairausajalta palkkaa. Ei siis muuta kuin aurinkolasit päähän  ja sateeseen kuvailemaan, heh!
Hyvää sunnuntaita kaikille!
This weekend was a big fail to be honest, as I got the flue and fever (on top of my infected eye), which meant cancelling all my weekend plans. Sucks, but what can you do…it could be way worse of course, so I shouldn't complain. Now I'm determined to get 100% healthy again, as I definitely don't want to be sick on my vacation. I also have exams next week, so it's time to get back on track…
I hope you guys had a better weekend!
*Commercial links/Mainoslinkkejä.