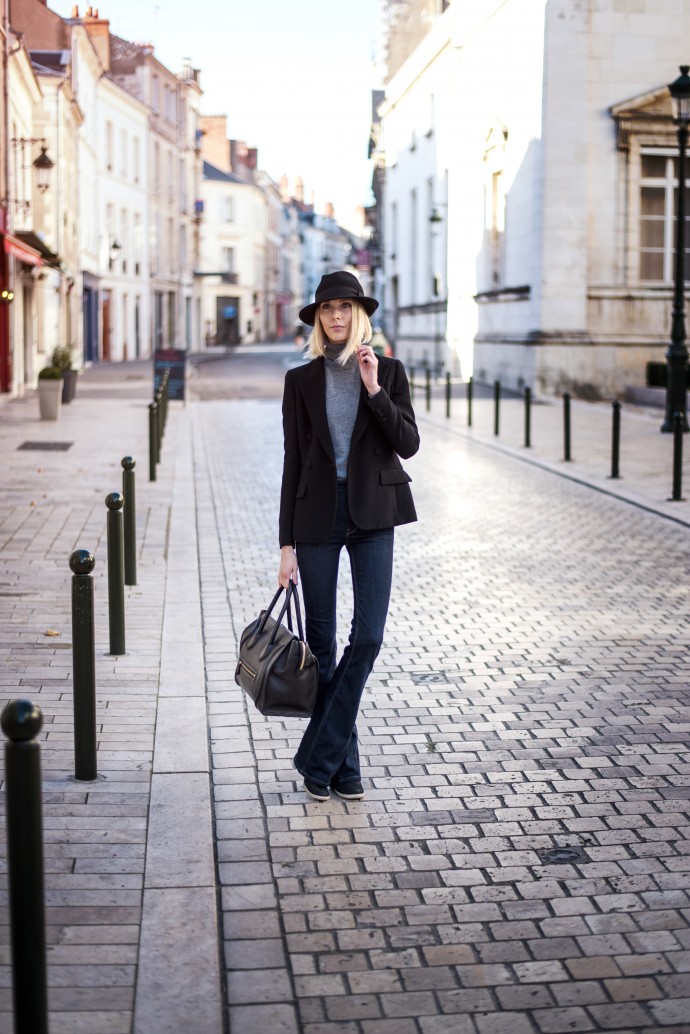 "I swear it was Friday like five minutes ago". Tämä on se ensimmäinen ajatus aina maanantaina herätyskellon soidessa, heh. Tykkään kyllä arjesta ja heräämisistäkin on nyt tullut helpompaa, mutta viikonloppu on aina liian lyhyt. Onneksi joulu häämöttää jo horisontissa, joten sitä odotellessa nämä vuoden pimeimmät päivät eivät tunnu yhtä vaikeilta. Paljon jouluvaloja ja koristuksia kehiin, niin kyllä se siitä! Oletteko te huomanneet tämän pimeyden vaikutuksen energiatasoonne vai onko teillä jotain hyviä kikkoja selviytyä tästä vuodenajasta?
Nämä tummanpuhuvat asuni eivät ainakaan lisää omaa energiatasoani, mutta toisaalta niissä on kaikista kotoisin olo. Ja sehän on pukeutumisessa tärkeintä! Hattu on muuten täydellinen asuste piilottamaan väsyneet (ja kalpeat) kasvot ja se on myös huonon hiuspäivän pelastaja. Tärkeä asusta siis! Jos teillä on Pariisin reissu edessä ja etsitte hattua, niin suosittelen kurkkaamaan Le Bon Marchén-valikoiman. Sieltä löytyy hattuja joka lähtöön ja budjettiin. Viime kerralla sain myös niin hyvä palautetta, että voin lämmöllä suositella tämän tavaratalon hattuosastoa!
Tänään starttaa viimeinen kouluviikkoni ennen varsinaisia koeviikkoja, joten viimeistä viedään. Tällä viikollakin on toki kokeita, mutta ne suurimmat ovat sitten reilun viikon kuluttua. Kiireiset viikot siis taas edessä, mutta mukavat sellaiset! Nyt kun olen taas päässyt opiskelun makuun, niin siitä osaa nauttia ihan eri tavalla. Täysillä siis eteenpäin!
Energistä viikkoa kaikille (pimeydestä huolimatta)!
"I swear it was Friday like five minutes ago". That's my first thought every Monday when my alarm rings and a new week starts, heh. The weekend is just always too short! Especially now that the days get dark so early. Luckily December is just around the corner, which means Christmas lights and everything nice. That gives energy if anything!
My dark outfits are perhaps not lifting anyone's energy, but at least I feel comfortable in them all year. Hats are also great accessories for winter, as they hide tired faces (and pale faces like mine) and keeps the hair in tact even if it's cold or rainy. If you're going to Paris and need a new hat, I can recommend visiting Le Bon Marché. The service is great and there's a lot options (for every budget)!
Today my last week of classes start and then it's exams. Busy weeks ahead, but Christmas is approcahing fast and then it's time to relax a bit. Can't wait for that!
Wishing you all an energetic week (despite the darkness)!
Blazer / Prada
Knit / Massimo Dutti
Jeans / Lindex
Hat / Le Bon Marché
Sneakers / Paul Green
Bracelet / Saint Laurent