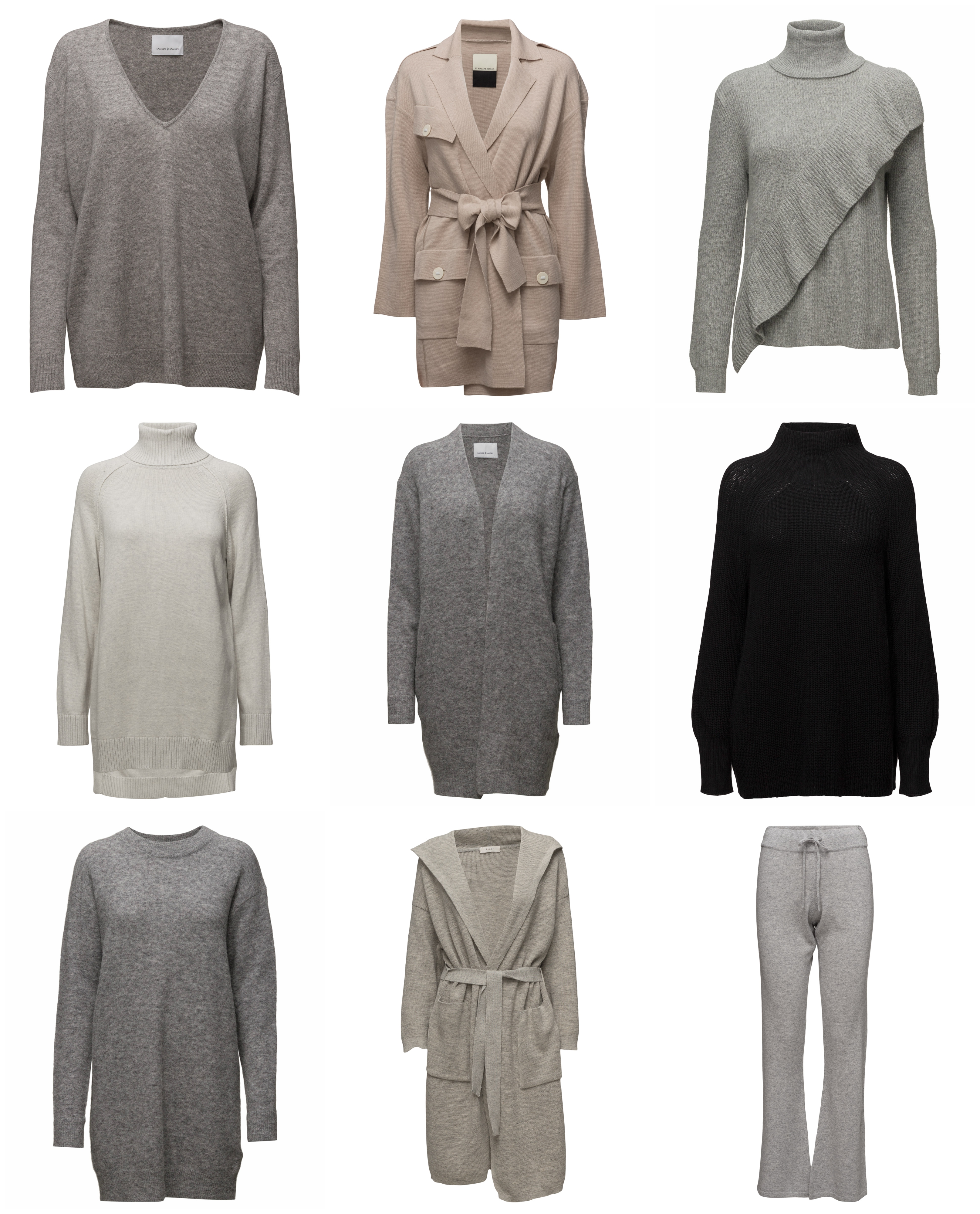 Cashmere knit / Samsoe & Samsoe   Cardigan / By Malene Birger   Polo / Marella
Polo / Filippa K   Cardigan / Samsoe & Samsoe   Polo / Filippa K
Knit dress / Samsoe & Samsoe   Cardigan / Áeron   Pants / Davida Cashmere
Ihana viikonloppu takana landella! Syksy on oikeasti aika maagista aikaa olla täällä metsän keskellä ja luonto on nyt alkanut valmistautumaan talven tuloon. Lehdet tippuvat jo maahan ja värit ovat osittain vaihtuneet. Ei ollenkaan hullumpi aika siis mökkeillä, vaikka pimeä tulee jo aivan liian aikaisin. Saunaan mennäänkin jo siis hyvissä ajoin, että uimaan ehtii ennen pimeän tuloa. Oikeastaan on kyllä ihan sama näkeekö sinne veteen yhtään mitään, sillä siellä tulee vietettyä tasan se kolme sekuntia, heh. Niin kylmää vettä (13 asteista), että meikäläinen ei siellä paljon polski. Yksi dippi ja äkkiä takaisin saunaan. Sen jälkeen fiilis on kyllä niin hyvä, että se on sen arvoista.
Tänään takaisin stadiin ja valmistautumaan uuteen työviikkoon. Ihanaa sunnuntaita kaikille!
P.S. Tämän päivän ehditte vielä osallistumaan Andiatan arvontaan!
What a relaxing weekend so far! We came to the countryside on Friday and have been here since. Fall is actually a beautiful time here, as nature is changing so fast. Leaves are changing color and the air is super fresh. We even went swimming (or more like dipping) in the lake and the water was really cold (13 degrees), but so worth it. After you feel so amazing! Today we head back to the city and prepare yet again for another week.
Have a relaxing day everyone!
*Commercial links/Mainoslinkkejä.
Save
Save
Save
Save
Save
Save
Save
Save
Save
Save
Save
Save