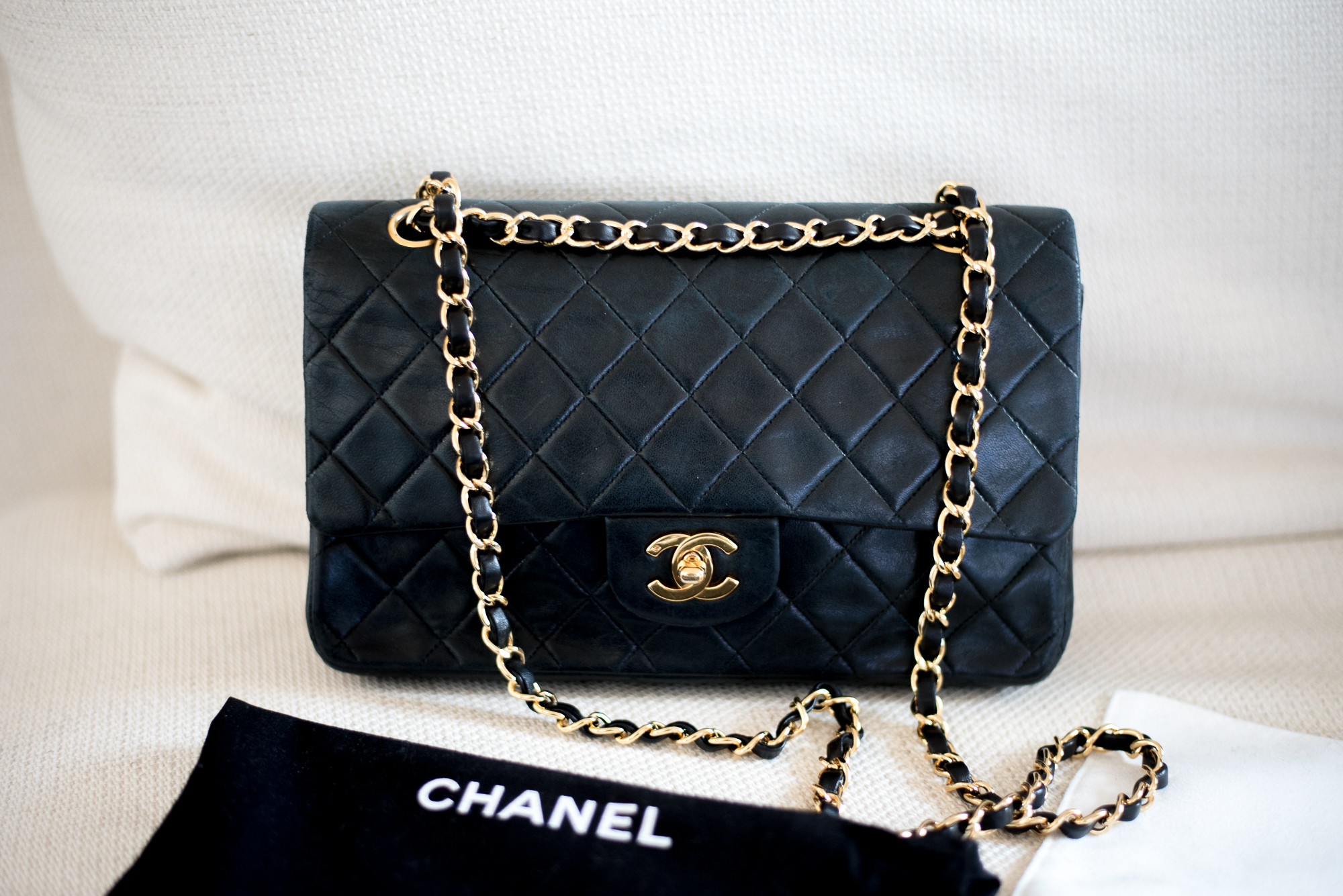 Olen ostanut Chanelini käytettynä ja laukku on jo lähes 30-vuotta vanha. Ostohetkellä se oli erinomaisessa kunnossa, mutta muutaman käytön jälkeen huomasin, että yksi olkahihnan ompeleista oli lähtenyt purkaantumaan. Mietin, että veisin sen suutarille korjattavaksi, mutta onneksi laitoin ensi sähköpostia Chanelille. Sieltä neuvottiin tuomaan se Pariisin myymälään, joten vein laukun Rue Cambonille. Myymälässä sain kuulla, että he korjaisivat ompeleen ilmaiseksi, mutta sain myös vaihtoehdoksi vaihdattaa koko sen nahkaisen osan siitä hihnasta hintaan 65€. Laukku on jo sen ikäinen, että koin fiksummaksi vaihdattaa kerralla koko nahkaisen osan. Ilmeisesti myös sen ketjun voi vaihtaa, jos metalliosat ovat huonossa kunnossa.
Myymälässä sanottiin, että korjauksessa kestäisi n. 4-6 viikkoa ja noin kuukauden kuluttua kävin noutamassa laukun. Hihna on nyt siis kuin uusi ja olin erittäin tyytyväinen palveluun. Sitä jotenkin unohtaa, että tuollaista sen palvelun pitäisikin olla, etenkin luksusmerkeillä. Hintahan ei takaa laatua, mutta mitä kalliimpi tuote, niin sitä suuremmat odotukset ainakin itselläni on (etenkin kestävyyden suhteen).
Chanelin laukkujen laadusta olen kuullut pääsääntöisesti hyvää, mutta uskon, että laatu on pakostakin heikompaa, kuin mitä se oli 30-vuotta sitten, koska laukkuja tehdään nykyään huomattavasti suurempia määriä (ja valmistustavat varmasti muuttuneet). Siitä huolimatta "uskaltaisin" satsata vielä uuteen Chaneliin, kiitos tämän positiivisen kokemukseni!
I bought this Chanel second hand and it's nearly 30 years old. When I bough it it was in great shape (considering it's age), but after a while I saw that a stitching of the leather part of the strap had opened up. I thought about taking the bag to a local cobbler, but luckily I decided to send an email to a Chanel boutique in Paris. They told me that I should take it to their store for repair, so I took it to Rue Cambon. They told me that they can fix the stitching for free (would take two days) or then I had the option of renewing the leather part of the strap entirely (65€). Since the bag is so old, I decided the latter.
The sales staff told me that it will take around 4-6 weeks to get it repaired and after a month I got a message saying the bag was ready.The strap is now brand new (or at least the leather on it) and I have to say that I was very impressed with the service. I was also told that it's possible to change the metal part of the strap as well, which is good to know for the future. All in all, ten points to Chanel for taking such good care of their products still 30 years later!