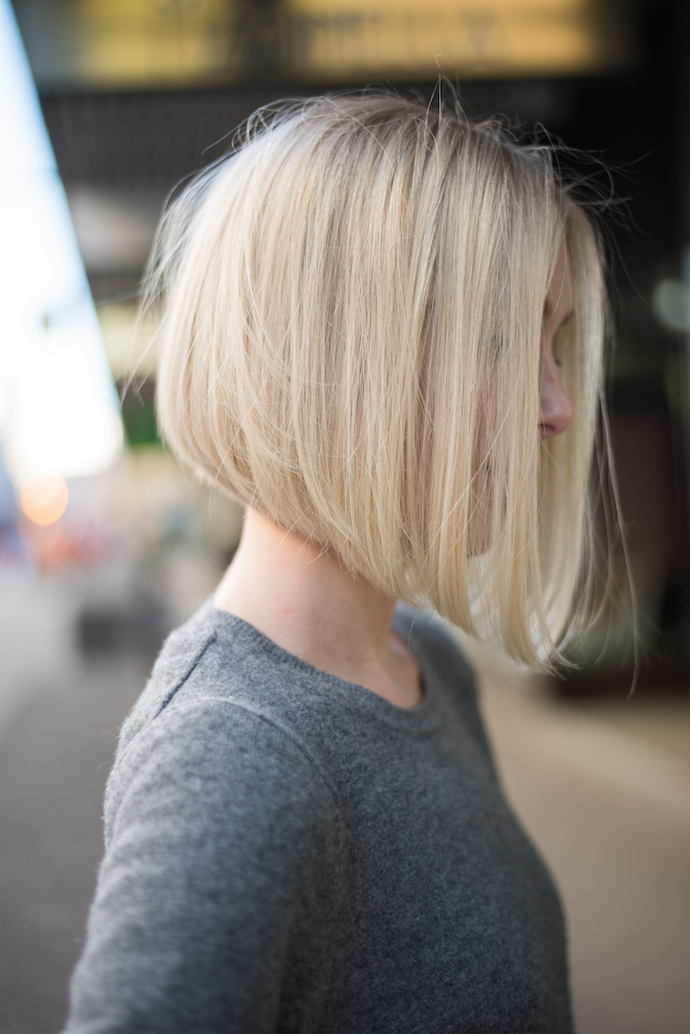 Tuntuu, että aina kun käyn Sedinillä Q Hairissa, niin haluan entistä lyhyemmät hiukset. Luulen kyllä, että tämä on se lyhin pituus mikä omassa päässäni toimii, joten tällä kertaa vedettiin ihan sinne tappiin asti. Viihdyn vain niin paljon paremmin lyhyissä hiuksissa ja mahtavaa tässä leikkauksessa on se, että se toimii vielä silloinkin kun se tuosta venähtää. Olen huomannut, että omat hiukseni kasvavat vähän liiankin kovaa tahtia, joten nyt kun ne ovat näin lyhyet, niin ei tarvitse ainakaan saman tien käydä niitä leikkauttamassa. Vielä se, että luottokampaajani löytyy Suomesta ja itse asun ulkomailla estää kampaajalla ravaamisen aika tehokkaasti. Siksi pidempi leikkausväli on enemmän kuin toivottua tässä tilanteessa!
Puhuimme muuten Sedinin kanssa, että ensi Suomen vierailulla kuvaisimme yhdessä muutamat inspiskuvat siitä, miten näin lyhyitä hiuksia voi muotoilla. Sedin on paitsi paras kampaaja, niin myös mahtava kuvaaja. Toivotaan siis, että meidän kuvaustreffit toteutuvat!
Täällä päivät menevät vauhdilla eteenpäin ja tänäänkin olen liikenteessä aamusta iltaan. Nautin kyllä kun saa touhuta ja mennä, joten ei voi valittaa yhtään. Etenkin kun eilinenkin oli niin kaunis ja aurinkoinen päivä Helsingissä! Olen tässä muutaman päivän sisällä käynyt Stockmannin pressitilaisuudessa Ranskan suurlähetystössä (olipa kotoisa olo, heh) ja eilen kävin Andiatan pääkonttorilla (missä menetin sydämeni etenkin merkin syysmallistolle aivan täysin). Tänään vuorossa on sitten Marimekko ja huomenna Balmuir. Inspiraation täyteinen viikko siis ja ihanaa, että Suomessa ollessa saan olla tekemisissä näiden upeiden kotimaisten merkkien kanssa!
Viikonlopun yritän pyhittää perheelle ja ystävilleni ennen paluuta takaisin Ranskaan. Omaa asuntoakin on tässä ajassa ehtinyt tulla sopivasti ikävä, joten innolla odotan kotiinpaluuta, vaikka täällä Suomessa viihtyisin aina pidempään.
Aurinkoista päivää kaikille!
Voilà, here is my new haircut! I wanted it really short this time, so Sedin from Q Hair made it happen. He really is the best hairdresser ever and it's such a great feeling to know that whatever he does will look amazing. As usual, I was a happy customer when leaving the salon. We were also talking about organizing a little shoot for next time I'm in town, so that we can show you guys (and I can learn at the same time) different ways of fixing and working short hair. Let's hope we get this shoot organized!
I'm so happy to be in Helsinki and all day I'm running around like a crazy person, but I love it. This week I've met with some of the biggest Finnish brands and it's been such an inspirational week. I'm also so happy that we have such great brands in this small Nordic country of mine and I'm even happier that a small blogger like me get's to work with them, heh!
I'll try to slow it down for the weekend, so I'll have time for my friends and family before heading back to France on Monday. I have to admit I'm already missing my boyfriend and our home, so it's going to be nice to go back, even though part of me wants to stay here. It's the feeling of wanting to be in two places at once. Luckily Finland and France are so close and knowing this helps. All I have to do is jump on a plane and I'll be in either country in three hours. Not bad at all.

Enjoy your day everyone!