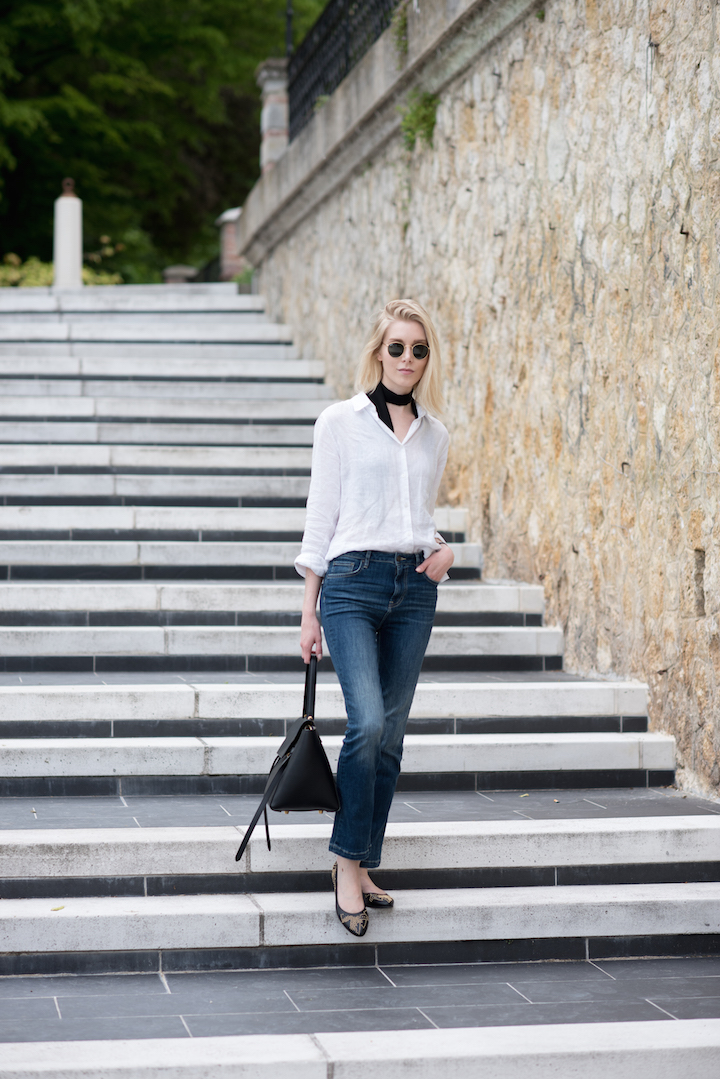 Ilmat ovat vähän viilentyneet, mutta se ei kyllä haittaa meikäläistä ollenkaan. Nyt voin taas vetäistä nahkahousut jalkaan ja neuleen päälleni. Olenkohan ainoa suomalainen, jota ei haittaa viileämmät kesäsäät? Sade on mielestäni se pahin, sillä se rajoittaa ulkona liikkumista ja pukeutumistakin, mutta niin kauan kuin aurinko paistaa taivaalta, niin en voi valittaa. Oli lämpötila sitten mikä tahansa!
Kerroinkin, että helteisellä ilmalla olen maailman huonoin pukeutumaan ja usein päälläni on farkut ja pellavapaita – aivan kuten tässäkin asussa. Onneksi valkoisia pellavapaitoja tuli ostettua Uniqlosta muutama kappale, sillä niitä on tullut todellakin käytettyä koko rahan edestä. Tilasin nyt Mangon ennakkoalesta sen valkoisen mekon, mistä jo aikaisemmin puhuin, ja jos se on hyvä, niin kaapista löytyy sitten toinenkin vaihtoehto seuraavien helteiden tullessa Suomeen.
Tänään iltapäivästä suuntaan Ranskan suurlähetystöön juhlistamaan Hanne Jurmun ja Anton Vartiaisen hienoa menestystä Ranskan Hyères Festivaaleilla. Menoa voi seurata parhaiten snapchatin kautta (kokeilen taas sen käyttöä ainakin nyt kesän ajan) tunnuksella styleplaza. Hyvää alkanutta viikkoa sinne ruudun toiselle puolelle!
The weather got a bit cooler here in Helsinki, but I definitely don't mind. Now I can wear my leather pants again and my favorite knits. Sometimes I think I'm the only Finnish person who doesn't mind the cooler temperatures during summer. The only thing that bothers me is rain, because it dictates what you can wear, but as long as the sun is shining, I don't really care about the temperatures.
As I told you earlier, summer is not my favorite time when it comes to dressing up (that's probably why I don't mind the cooler temperatures) and I often wear jeans and a linen shirt – my favorite summer combo. I'm glad I bought a few shirts from Uniqlo, as I've been wearing them for all their worth. I did order a white dress from Mango's pre-sale, so if the heat returns, I'll have another option (which is probably good heh). 
Today I'll be heading to the French Embassy to honor Hanne Jurmu and Anton Vartiainen for their great success in the Hyères Festival this year. I'll leave my camera at home, but you can see some sneak peeks though snapchat (styleplaza). Enjoy this new week!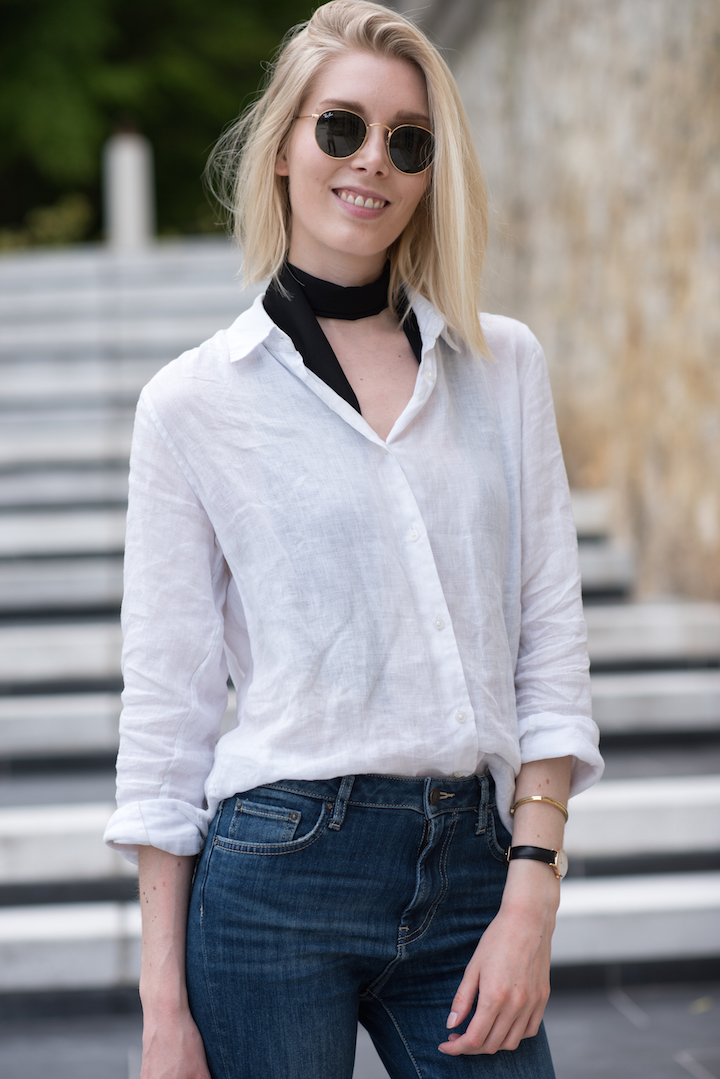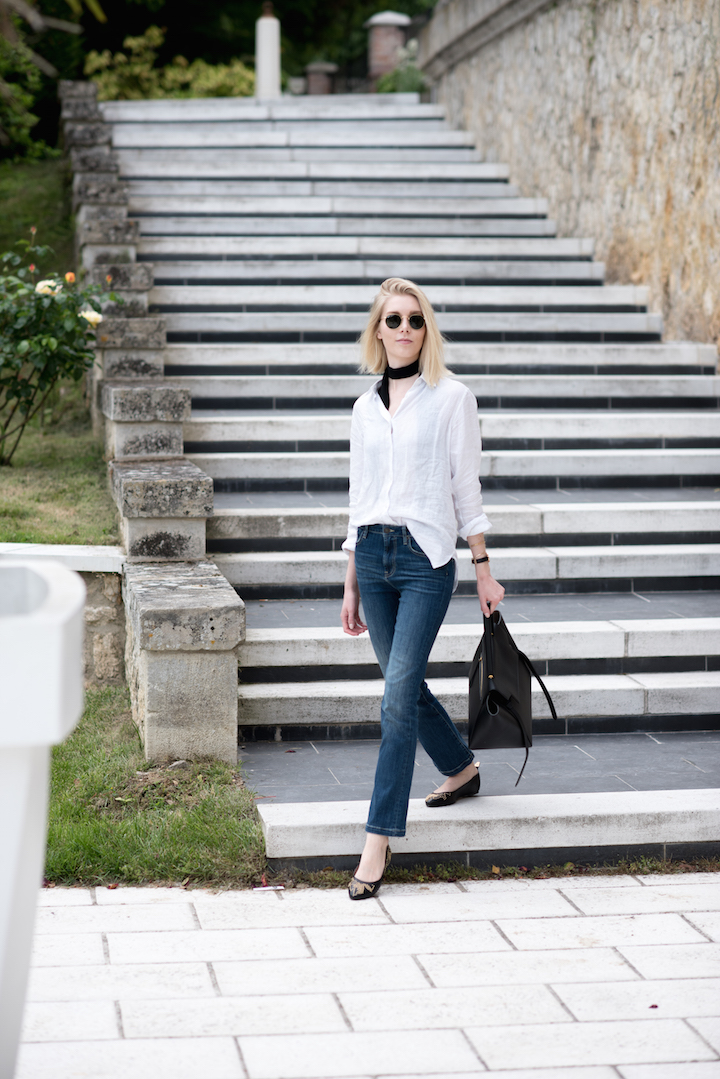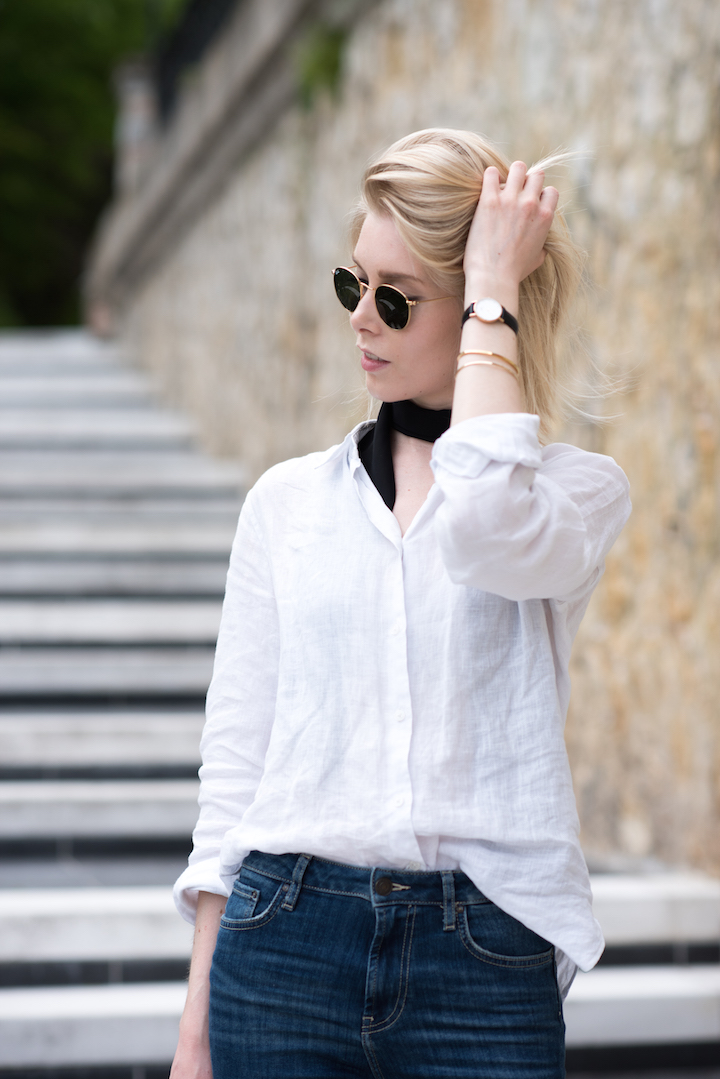 Linen shirt / Uniqlo (similar here*)
Jeans / Zara (similar here*)
Scarf / Andiata*
Sunnies / Ray Ban ( here*)
Bag / Céline
Flats / Chloé (similar here*)
Watch / Daniel Wellington*
*Gifted/Commercial links.