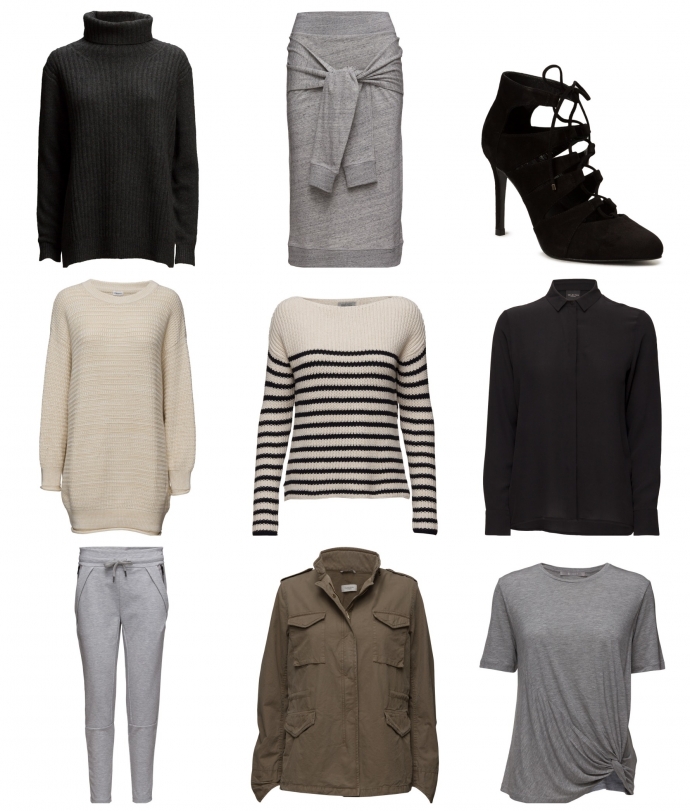 [spacer]
Grey knit / Ganni     Skirt / Back     Heels/ Pavement
Knit / Filippa K     Knit / Hunkydory     Silk blouse / Selected
Pants / Selected     Jacket / Hunkydory     T-shirt / Tiger of Sweden
[dropcap custom_class="normal"]Uusien mallistojen saapuminen liikkeisiin on aina varma kevään merkki, vaikka talvi onkin vielä ihan kesken. Onneksi nämä talvikuukaudet menevät nopeasti eteenpäin ja pian havahdutaan siihen, että maaliskuu häämöttää jo nurkan takana. Ah, miten ihanaa! Vaikka itselläni talvi ja kevät meneekin koulun ja työn tasapainottamisessa (taas kerran), niin yritän nauttia jokaisesta viikosta täysillä. Kouluakin on vain alle kuukausi ennen seuraavaa lomaa (miten onnekkaita opiskelijat ovatkaan heh) ja suuntaan silloin Helsingin lisäksi myös muihin maisemiin. Nämä viikot ennen reissua aion painaa täysillä koulussa ja tehdä blogia siinä rinnalla sen mitä pystyn. Varmasti sama tiuha postaustahti jatkuu, mutta jos ei, niin en ota siitä stressiä. "Kieli kuntoon" on tämän vuoden mottoni ja se menee nyt kaiken edelle. Huomenna palaan siis taas koulun penkeille oppimaan lisää ranskan kieltä. Here we go again![/dropcap]
Hyvää sunnuntaita kaikille!
When new arrivals start hitting the stores, it's a sign that spring is on it's way (even if we are still in the middle of winter). As I'm not of a fan of winter, I'm happy this season usually passes by quick. Before we know it, March is here and we are heading towards blooming nature and warmer days. For me, winter and spring are busy, as I'll try to balance between school and work. However, my next vacation is less than a month away (don't we just love being students) and then I'll have a complete change of scenery. Until then, my priority is the French classes. Of course I'll try to keep the same pace here as before, but in case that's not possible, then that's how it has to be. This year for me is finally mastering French completely and that's what I'll focus on, but don't worry, I love blogging and it gives me a break from everything else, so I'm not going anywhere. Tomorrow my classes start again, so I better get my folders and notebooks in order.
Enjoy your Sunday everyone!
*Commercial links/Mainoslinkkejä.