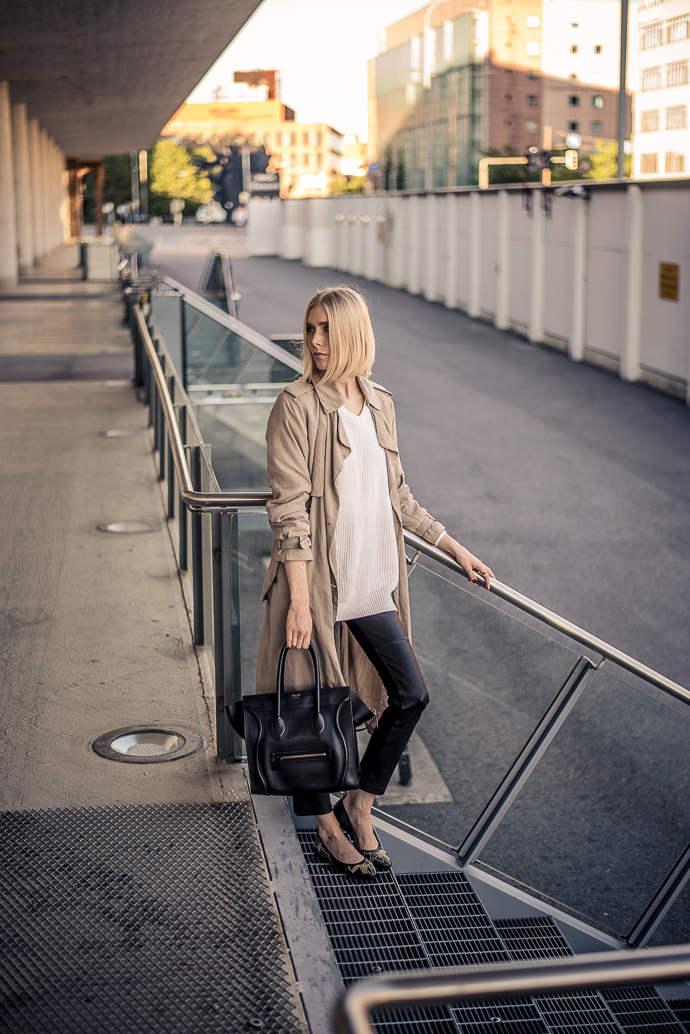 [dropcap custom_class="normal"]Kesäkuussa vein suurimman osan tavaroistani jo Ranskaan ja nyt mukaani lähtevät vielä ne vihoviimeiset jutut. Lähes kaikki vaatteeni ovat jo uudessa kodissamme, joten tiesin Suomeen tullessani, että täältä löytyy lähinnä muutamat farkut ja landekamat. Päätin ottaa mukaani  nämä Ranskan H&M:stä löytämäni nahkahousut ja niitä onkin tullut pidettyä oikein urakalla. Sain ne 70% alennuksella, eli ne taitavat olla tämän All Saints – takin kanssa kesän paras alelöytö.[/dropcap]
Tämän asun neule ja kengätkin ovat alelöytöjä ja hyviä sellaisia. Nuo Chloén balleriinat ovat ihan super hyvät jalassa ja niiden myötä himo Susanna – bootseja kohtaan on pelkästään kasvanut. Etenkin jos ne ovat yhtä hyvät jalassa kuin nämä!
Rentouttavaa viikonloppua kaikille! Itselleni tämä on viimeinen viikonloppu kesäisessä Suomessa ja seuraavasta visiitistä ei ole vielä tietoa, eli pian se on au revoir Finland taas pidemmäksi aikaa. Hieman haikea fiilis, mutta odotan innolla uusia tuulia!
In June I took most of my belongings to France and now I'm taking all the rest with me. Almost all my clothes are in France already and I remembered leaving some jeans and summerhouse stuff behind. I decided to take back to Finland these leather pants I bought in France on sale and it was a good decision since I've been wearing them almost non-stop since I arrived. I think they are this summers best sales find with this coat from All Saints.
The knit and shoes in this outfit are actually also sales finds and they have been great purchases. These Chloé flats are so comfortable that my hunger for the Susanna boots just grew even more. Especially if they're as comfortable as these!
Enjoy your weekend everyone! This is my last summer weekend in Finland, so soon it's time to say au revoir and head back home to France.
Trench coat / Zara
Leather pants / H&M
Knit / Bik Bok by Mary-Kate & Ashley Olsen

Bag / Céline
Shoes / Chloé
Ring / Cartier