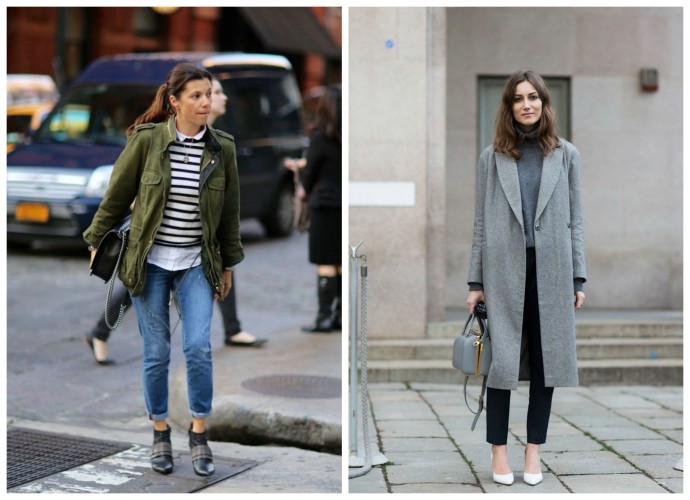 Army jacket
Olen koko kevään ja kesän yrittänyt löytää vihreää army-takkia, mutta sitä täydellistä ei ole vieläkään tullut vastaan. Tämä kuvan takki on silmääni täydellinen, joten toivon löytäväni vastaavanlaisen vielä jossain vaiheessa. Kaupoissa on tällä hetkellä paljon lyhyempiä malleja, mutta itse tykkään, että takilla olisi hieman enemmän pituutta. Takapuolen alapuolelle osuva olisi aivan nappi!
All spring and summer I have been looking for the perfect army jacket, but with no result. This one in the picture is perfect, so I'm hoping to find something similar. There are a lot of army jackets now in stores, but I would like mine to be a little longer. They are all too short in my opinion.
Grey wool coat
Harmaa pitkä takki on yhtä klassinen valinta, kuin beige villakangastakki. Omani löysin Zarasta (yllätys, yllätys)! Toivon tosin, että ilmat viilenisivät ihan kunnolla, jotta pääsisin vihdoin käyttämään sitä.
You cannot go wrong with a grey wool coat. It's just as classic as a camel coat. I found mine in Zara (surprise, surprise) and now I'm just waiting for the weather to cool down, so I can finally wear it!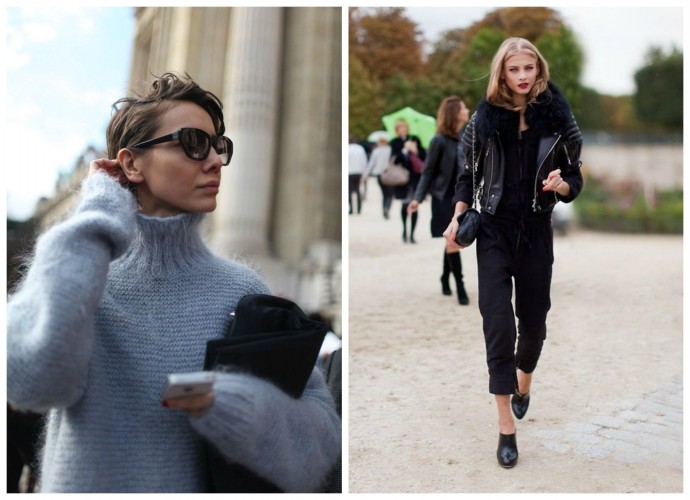 Chunky turtleneck knit
Kaapistani löytyy tummanharmaa poolokauluksellinen neule, joka on yksi vaatekaappini käytetyimmistä vaatteista. Jos löydän vastaavanlaisen vaalean harmaassa sävyssä, niin se muuttaa samantien kaappiini. COS:ilta on tulossa yksi täydellisen näköinen pooloneule, joten se on ainakin yksi vaihtoehto!
The most used piece of clothing in my closet is a chunky turtleneck knit from Joseph. I just love it! If I find something similar in a lighter tone this season, I won't hesitate getting it. Something similar will be in the F/W collection of COS, but I'm not sure if the color is grey. However, it's a great option.
Leather jacket
Rakastan kokomustia asuja ja ne ovat onnistuneita etenkin silloin kun materiaalit eroavat toisistaan. Mielestäni kokomusta asu pukee etenkin vaaleahiuksisia naisia (tuo kokonaisuuteen kontrastia). Kuvassa oleva kaunotar näyttää myös mallia siitä miten hyvältä punainen huulipuna näyttää mustan asun kanssa!
As you know, I love all black outfits. Especially when the materials of the clothes differ from each other. I also think all black outfits suit blondes better just because then there's at east some contrast in the look. The beauty above also shows how to rock red lips. Perfect combo!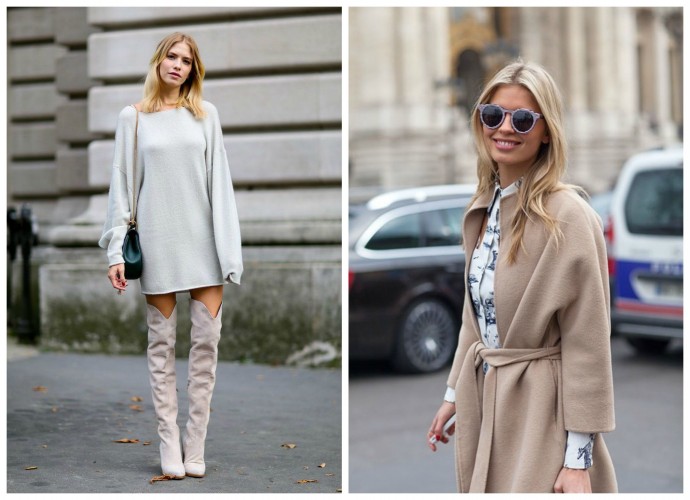 Over-the-knee-boots
Ylipolvensaappaat ovat edelleen ajankohtaiset ja hyvä niin, sillä rakastan kyseistä kenkämallia. Tässä Elena Perminova näyttää mallia siitä miten hyvältä neulemekko näyttää ylipolvensaappaiden kanssa!
Over-the-knee-boots are still in and I'm glad, because I absolutely love this shoe. Elena Perminova shows above how great OTKB look with a knit dress. Ten points!
Camel coat
Vyöllinen beige villakangastakki on varma ja tyylikäs valinta vuodesta toiseen. Max Maran kamelinkarvatakki on kyseisen mallin kuninkaallinen, mutta onneksi pienemmälläkin budjetilla voi löytää kauniita vaihtoehtoja! Kaapistani löytyy jo useampi beige villakangastakki, joten oma kiintiöni on nyt täynnä. Olisi ehkä järkevää luopua edes yhdestä niistä, mutta kun…
A belted camel coat is an elegant and classic choice from one year to another. The ultimate one is by Max Mara, but luckily you can find an alternative for way less. My closet has now several beige wool coats, so no more for me. In all honesty, I should probably let one of them go, but…
*Images; Pinterest.