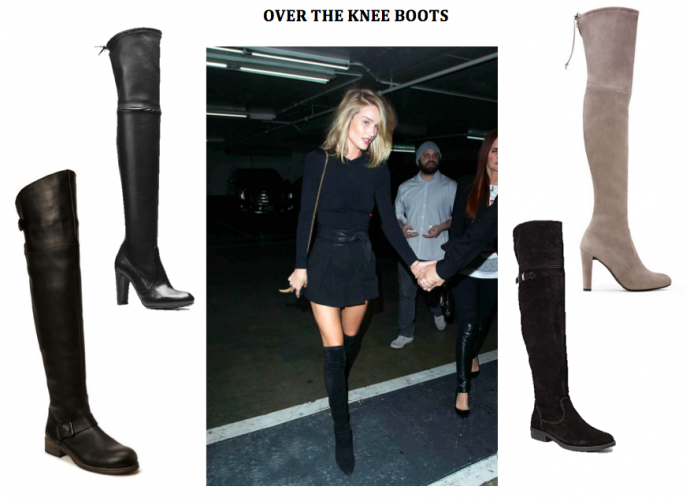 Stuart Weitzman  / Billi Bi (left)
Stuart Weitzman / Tamaris (right)
[dropcap custom_class="normal"]Muutaman viime vuoden ajan suosikki kenkäni ovat olleet ylipolvensaappaat. Mielestäni ne imartelevat sääriä erityisen hyvin ja ovat mahtavat viileällä ilmalla. Alle kun voi pukea vaikka pitkät villasukat lämmittämään varpaita ja jalkoja. Itseltäni löytyy kaksi paria matakorkoisia ylipolvensaappaita, mutta en pistäisi pahitteeksi myös korollista versiota![/dropcap]
My favorite shoes for this season are the over-the-knee-boots. They make the legs look longer, they'll keep you warm and they look great. What more could you ask for? I have two pairs in my closet with a low heel, so I wouldn't mind a pair of these high heeled Highlands from Stuart Weitzman!
Ivylee Copenhagen / Vagabond (right)
Nilkkureita käytän tähän aikaan vuodesta paljon. Ne näyttävät hyvältä kaiken kanssa ja normaalisti teetän niihin vielä tukevan pohjan, jotta niissä on mahdollisimman paljon pitoa myös talvella. Ei ole muuten sattumaa, että kaikki näista ylläolevista malleista ovat mustia. Tajusin nimittäin juuri, että kaikki nilkkurini on vain tätä yhtä ja samaa väriä. Pitäisi ehkä löytää joukkoon yhdet harmaansävyiset nilkkurit!
I guess every woman has a pair of ankle boots in their closet? They are the most useful shoe for the colder months and work well with all outfits. I usually take my ankle boots to the cobbler, because I want a sturdy sole. Especially during Finnish winters, a thick sole (with a lot of grip) is essential. 
Suomessa tennarit eivät toimi talvipakkasilla, mutta täällä Ranskassa niitä voi käyttää oikeastaan ympärivuoden. Tennarit ovat hyvä vaihtoehto etenkin silloin kun kilometrejä kertyy päivän mittaan useampi. Onneksi siellä Suomessakin voi käyttää tennareita ainakin syksyyn asti!
Mitkä ovat teidän lempi kenkänne tähän aikaan vuodesta?
I love sneakers as they are so comfortable. I'm happy to be living in a place where there is no "real winter" as I can use my sneakers year around. I usually always choose sneakers when I know I'll be running around the city all day. My feet always thank me afterwards!
What's your shoe pick for this season?
*Mainoslinkkejä/Commercial links.
**Images; Pinterest.