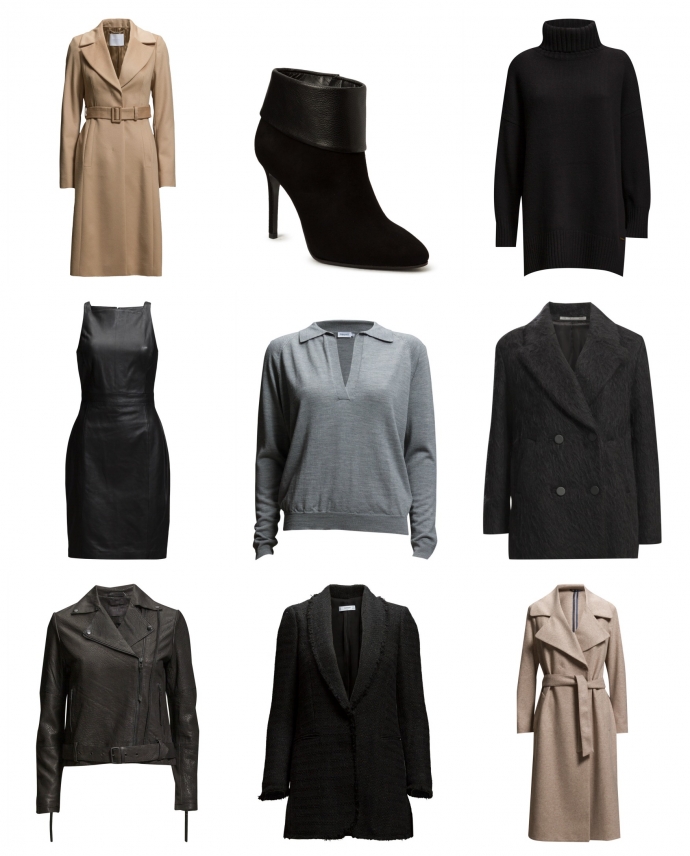 Beige coat / Boss     Boots / Filippa K     Knit / Polo Ralph Lauren
Leather dress / Mango     Knit / Filippa K     Jacket / Tiger of Sweden
Leather jacket / Tiger of Sweden     Blazer / Mango     Coat / Filippa K
Kävin viikonloppuna vielä kerran läpi alennusmyyntien tarjontaa ja tässä muutamia suosikkejani. Tänään Boozt.comin verkkokaupasta saa alennetuista tuotteista 15% lisäalen koodilla EXTRA15, eli jos jokin tuote jäi kaivelemaan mieltä, niin nyt se kannattaa napata.
Viikonloppu on mennyt talvisissa tunnelmissa ja perjantaina täällä satoi jopa lunta. Oli ihana katsoa muutamien opiskelutovereideni ilmeitä kun he näkivät lumisateen ensimmäistä kertaa elämässään. Ilmassa oli lapsenomaista riemua, joka kyllä tarttui, vaikka lumi ei ole varsinaisesti itselleni uusi juttu, heh. Lyhyen hetken maa oli valkoinen, mutta nopeastihan se suli muutamassa plus asteessa. Nyt täällä taas valmistaudutaan uuteen alkavaan viikkoon.
Rentouttavaa sunnuntaita kaikille!
This weekend I took one more look at the sales offers and chose some of my favorites. Today Boozt.com offers a 15% additional discount on all their sales items with the code EXTRA15. So if you had something in mind, you should get it now.
The weekend was weather wise "wintery", as it even snowed on Friday. Some of my classmates had never seen snow before, so their excitement was so fun to watch. Of course the snow didn't last very long, but at least it looked like real winter for a few minutes. 
Enjoy your Sunday everyone!
*Commercial links/Mainoslinkkejä.