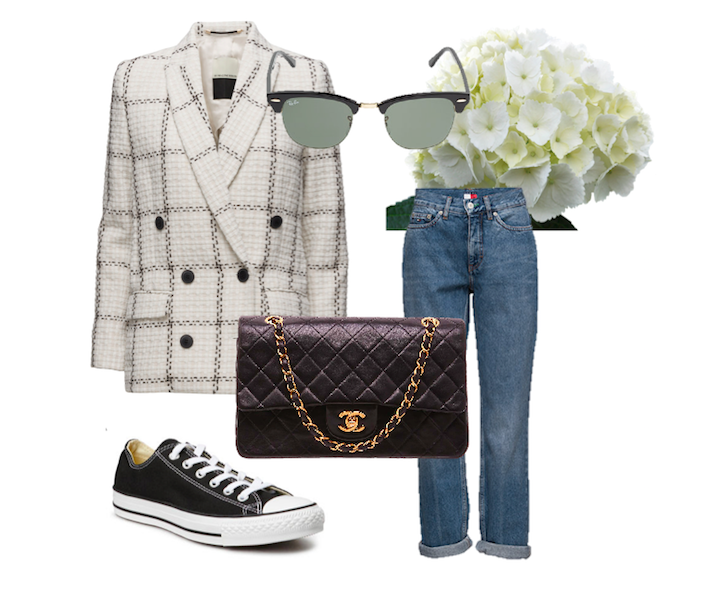 Blazer / By Malene Birger   Sunnies / Ray Ban
Jeans / Tommy Jeans   Sneakers / Converse Bag / Chanel
Tänä viikonloppuna pukisin mielelläni tämän asun päälleni. Ihastuin tuohon bleiseriin heti kun näin sen ja rennot farkut sopisivat sen pariksi mainiosti. Olen muuten jo muutaman kesän pähkäillyt Conversen tai Supergan tennareiden ostoa, mutta en ole vieläkään päässyt asiassa eteenpäin. Pitäisi varmaan lähteä kaupoille saman tien, koska koot myydään kesän lähestyessä nopeasti loppuun. Kangastennarit eivät vain tunnu jalkaan enää yhtä hyvältä nyt kun on tottunut kävelemään kunnon lenkkareilla. Kesällä sitä kyllä käyttäisi mieluummin hieman kevyempiä kenkiä, joten kangastennarit on hyvä vaihtoehto.
Tämä asu olisi itse asiassa ehkä turhan lämmin tälle viikonlopulle, sillä kesä ja +26 asteen lämpötilat tulivat ryminällä Orléansiin. Ihan hullua, että vielä viime viikolla takki oli visusti päällä ja nyt hypättiin sitten suoraan kesään. Ensi viikolle on tosin luvattu tasaisia +20 asteen lämpötiloja ja otan ne kyllä mielelläni vastaan (helle ei itseäni varten – ainakaan kaupungissa). Mutta me jatkamme viikonlopun viettoa ystäviemme kanssa ulkoilmasta nauttien. Palaillaan!
This is something I would love to wear this weekend. The blazer is so beautiful! I've been thinking about buying canvas sneakers for two summers now, without actually doing it, so maybe this year I'll finally find myself a pair  of them? Hope so!
This outfit would actually be a bit too much, as the temperatures are around +26 degrees here in Orléans. I feel like we went from winter directly to summer, but I can't complain. High temperatures are not my favorite (at least not while living in the city), but next week it should be around +20 degrees, which I'll take happily! In any case, I'll enjoy this heat as long as it lasts, so our plan is to be outside as much as possible this weekend. Enjoy everyone!