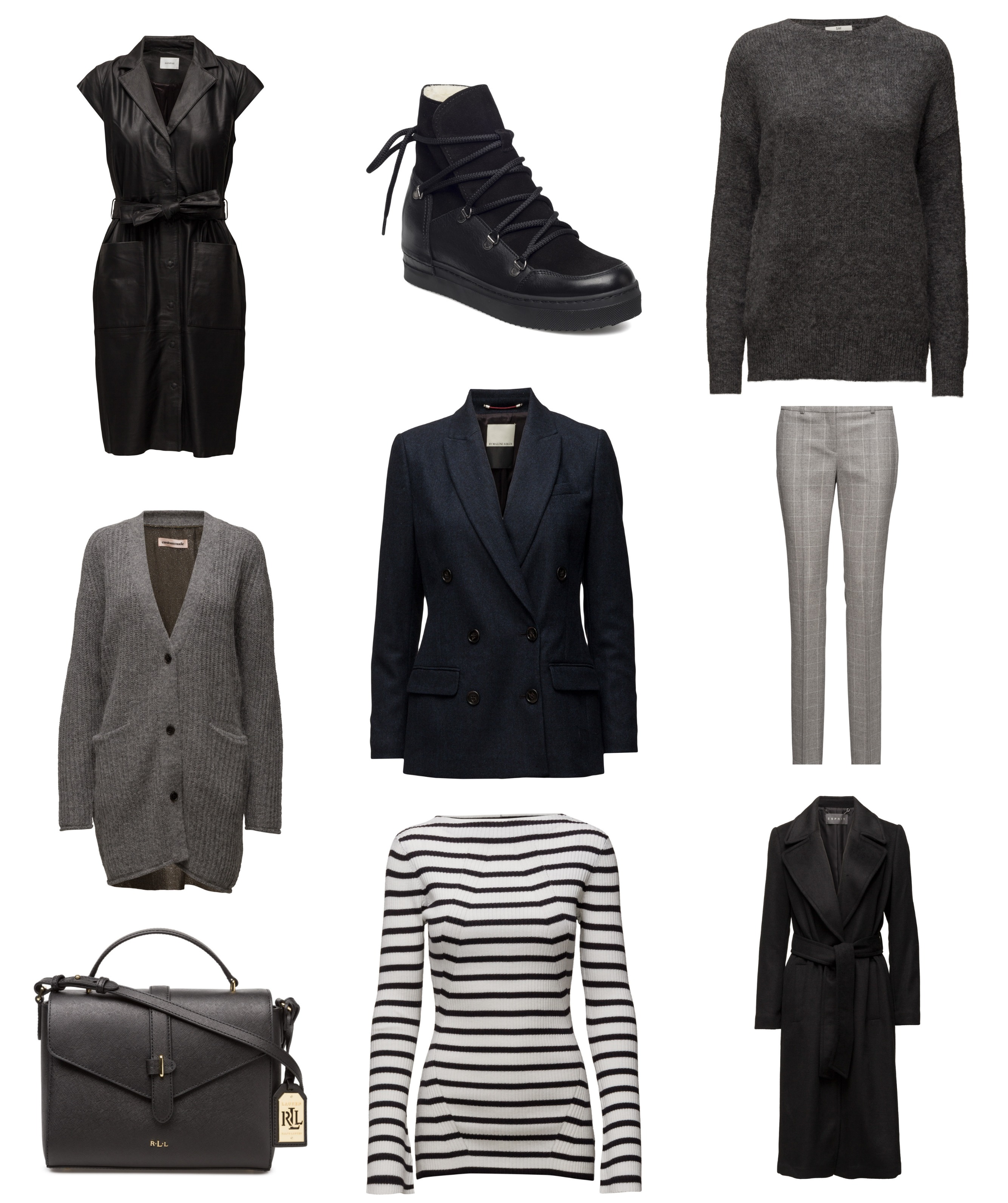 Dress / Gestuz   Shoes / Billi Bi   Knit / Day Birger et Mikkelsen
Cardigan / Custommade   Blazer / By Malene Birger   Pants / Boss
Bag / Lauren Ralph Lauren   Knit / FWSS   Coat / Esprit
Huomasin, että Booztille on jo alkanut tulemaan kevään mallistoja. Aika hurjaa miettiä, että katse on jo kiinni keväässä (ainakin muotimaailmassa). Tuntuu, että mitä vanhemmaksi tulen, niin sitä nopeammin aika menee eteenpäin. Ainakin näin muodista kiinnostuneen näkökulmasta mallistot ja sesongit vaihtuvat hurjaa vauhtia ja se vielä konkretisoi vuodenaikojen vaihtumisen ja ajan kulumisen. Olen kyllä edelleen sitä mieltä, että vaikka mallistot vaihtuvat hurjaa vauhtia, niin uutta ei todellakaan tarvitse ostaa joka sesonki. Vaikka muotia rakastankin, niin nykyään saan jo paljon inspiraatiota pelkästään katsomisesta. Selaan verkkokauppojen valikoimaa ja käyn myymälöissä, mutta ilman ostamistakin saan paljon irti. Esteetikolle pelkkä ihailu monesti riittää (onneksi).
Ei nyt ehkä paras "mainospuhe" ottaen huomioon, että saatte tänään 20% alennusta (koodilla NOW20) monista Booztin tuotteista, mutta uskon, että monella siellä ruudun toisella puolella on samanmoinen ostosfilosofia kun täälläkin. Uutta tulee siis ostettua (eikä aina tarpeeseen), mutta niitä ostoksia tulee mietittyä pidempään ja huolellisemmin. Mielestäni tuote on silloin tervetullut, jos sille tulee paljon käyttöä ja se on laadultaan sellainen, joka kestää käytössä pitkään.
Olen joskus miettinyt, että antaisin itselleni luvan ostaa uuden vaatteen/kenkäparin/laukun maksimissaan kerran kuussa. Se tarkoittaisi sitä, että uusia tuotteita olisi vuoden aikana tullut lisää 12 kappaletta. Mielestäni ihan kohtuullinen määrä (etenkin jos karsii jokaista vaatetta kohden jotain pois)? Toki tällä hetkellä saan yhteistyökumppaneilta niin ihania juttuja, että pärjäisin vallan mainiosti ostamatta yhtään mitään (ainakaan vaatteita ja asusteita). Ehkä pitäisikin ottaa se tavoitteeksi ensi vuodelle…
Boozt is offering you a special discount code today (NOW20) and with it, you can get a 20% discount from many things. I already saw that Spring fashion is arriving into online stores and it's crazy to think that soon all stores will be filled with lighter colors and materials.  The fashion cycle is so rapid and really just emphasizes how fast time flies. I just remember drooling over all the Fall newbies and now it's time to start looking at Spring clothing…when did all these months pass me by?
Well, we should first focus on Christmas and then start thinking about Spring wear…right? Enjoy your Sunday everyone!
*Commercial links/Mainoslinkkejä.
Save
Save
Save
Save
Save
Save
Save
Save