Viikonloppuna oltiin ystävien kanssa illallistamassa ja oli vaikeuksia päättää kahden laukun välillä. Vaihtoehtoina oli Miu Miun niittipussukka ja perinteinen clutch. Itse rakastan pussukkaani (pienestä koosta huolimatta), vaikka poikaystäväni mielestä se on enemmänkin vitsi 😉 Nyt hän on kylläkin alkanut tykästymään siitä vähän enemmän…ja niinhän siinä kävi että valitsin sen asuni seuraksi.
Kumpi laukku tiedän mielestä on asuun sopivampi?


I had troubles deciding which bag to put with my outfit. Both are from Miu Miu and I just love the little stud bag, despite it's small size. My boyfriend thinks this bag is a joke, but I really like it and chose it for the dinner we had 🙂 Which bag do you prefer?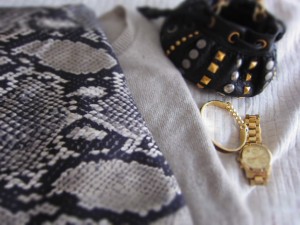 Mekko ja kengät Zara, kello MK, laukut Miu Miu, Neule Calvin Klein