Hyvää Äitienpäivää kaikille ja etenkin omalle äidilleni ja isoäideille! Lensin Suomeen viime viikolla ja tänään saan juhlistaa tätä päivää oman äidin ja isoäitien kanssa. Ihanaa!
Omalle, maailman parhaimmalle äidille vielä onnittelut tätäkin kautta ja iso kiitos kaikesta<3 Jos joskus saan omia lapsia ja osaan olla edes puoliksi sellainen äiti heille, kuin mitä omani on meille ollut, niin tiedän olevani onnistunut ja hyvä äiti.
Rentouttavaa sunnuntaita rakkaiden seurassa!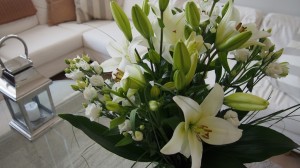 I flew to Finland last week and I'm happy to be here today, because it's Mother's Day here in Finland! So happy Mother's Day Mom!