Viime vuonna hankkimani sulkahame pääsi käyttöön Zaran valkoisen bleiserin kanssa (se bleiseri minkä löytäminen oli työnalla!) ja kyllä, hame on todella lyhyt, mutta mielestäni peittävä yläosa kompensoi sitä. Päiväkäyttöön hame on liian tynkä, mutta iltamenoihin se vielä menee. Oma "tyylisääntöni" on, että jos jalat on kunnolla esillä, niin sitten yläosa on peittävä ja toisinpäin.
Mitä mieltä te olette asusta ja onko tämä mini liian mini teidän mielestä? Kaikki mielipiteet otetaan vastaan! 🙂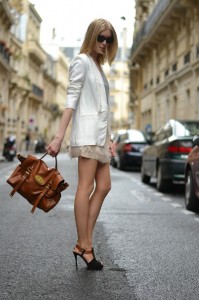 Blazer, Skirt/Zara, T-shirt/COS, Heels/Valentino, Bag/Mulberry, Sunglasses/Céline, Bracelets/Hermès, Lindex
Wearing a Zara feather skirt and the new white blazer, which I bought this season. The skirt is super short, but I think it works with the blazer and long sleeves. What's your opinion?