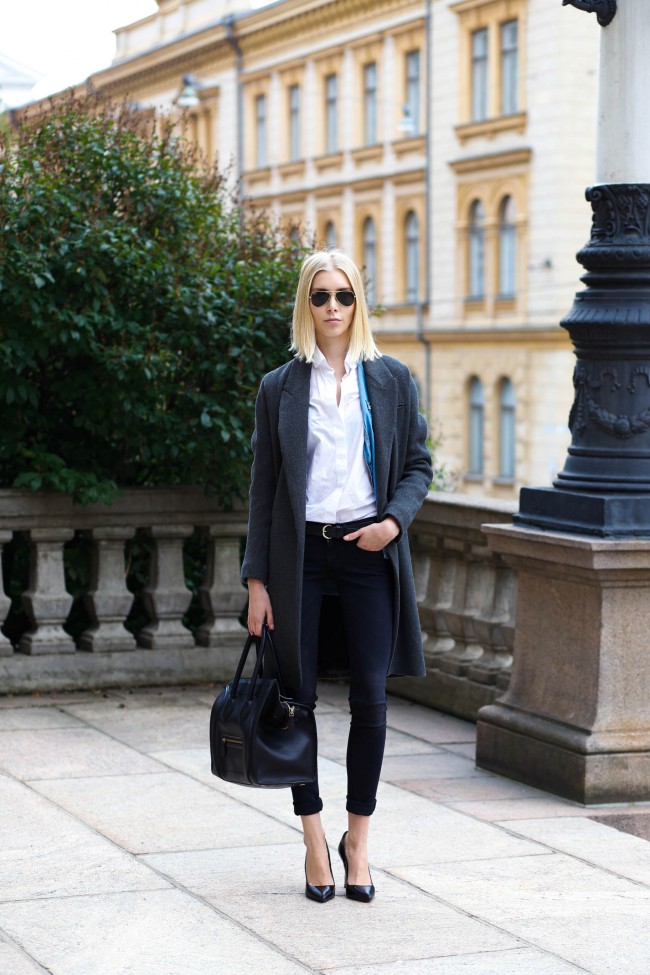 Olen etsinyt hyvin istuvia mustia farkkuja jo pitkään ja päätin kokeilla Seppälän farkkuja ensimmäistä kertaa kun heillä oli hyvä syyskamppis. Kaikki näissä toimii; väri, mitta, istuvuus ja hinta. Onko teillä millaisia kokemuksia Seppälän farkuista? Asukuvista muuten iso kiitos Alexalle jonka kameran eteen pääsin ensimmäistä kertaa. Naurettiinkin, että miten tajuttiin vasta nyt ottaa yhdessä asukuvia…höpöttämistä on riittänyt aikasemmin varmaan niin paljon, että kuvaaminen on jäänyt ihan toissijaiseksi. Ihan hyvä niin!
Käytiin muuten ensimmäistä kertaa kahvilla Katajanokan Johan & Nyström kahvilassa ja tykättiin siitä kovasti. Ihanan viihtyisä tila, laaja tee valikoima, hyvää suolaista syötävää (feta-artisokka piirakka – nam!) ja palvelu ihan huippuluokkaa. Rakastan vihreää teetä ja ostin kotiin mukaani mango-citrus luomu teetä. Se on ihan super hyvää! Se alkaakin olla jo lopussa, joten täytyy pian taas hakea täydennystä…
I have been trying to find black jeans for a while now and I finally found a great pair from Seppälä. Everything in them works; the color, cut, length, fit and price. Perfect find!  What do you think of this look? And a big thank you to Alexa for the photos!
Oh and I have to recommend you guys this amazing cafe in Helsinki. If you're here (living or visiting), you should definitely visit Johan & Nyström in Katajanokka. It's such a cozy cafe with a wide tea selection and amazing service.
Coat / Zara
Jeans / Seppälä
Shirt / Stella McCartney
Jean shirt / Zara
Heels / Zara
Bag / Céline