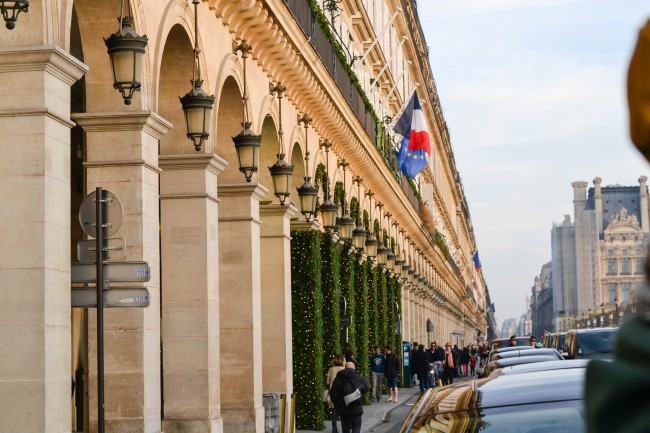 [dropcap custom_class="normal"]Terveisiä Pariisista! Lensin tänne siis perjantaina yllättämään poikaystäväni. Hänellä oli synttärit ja oltiin järjestettu ystäviemme kanssa yllätysjuhlat. Oli muuten tekemistä, että sain pidettyä suuni kiinni enkä paljastanut vahingossakaan mitään. Hän kyllä yllättyi ihan täysin, joten juhlat oli kyllä kaiken järjestelyn arvoiset! Perjantai ilta meni sitten juhliessa ja lauantaina meitä odottikin aurinkoinen Pariisi. Suomessa kun on ollut niin pimeätä viimeiset viikot, että aurinko ja sininen taivas tuntui ihan täydelliseltä. Lauantaille oltiin varattu aikaa shoppailulle.[/dropcap]
Bonjour from Paris! I flew in on Friday, because my boyfriend had his birthday and I surprised him. His friends helped me organize the party so on Friday night we celebrated my love and we had a great time. On Saturday we woke up to sunny weather, which was pretty amazing for me since it had been so dark in Finland for a few weeks straight. We (or I heh) had scheduled some time for shopping so that's what we did.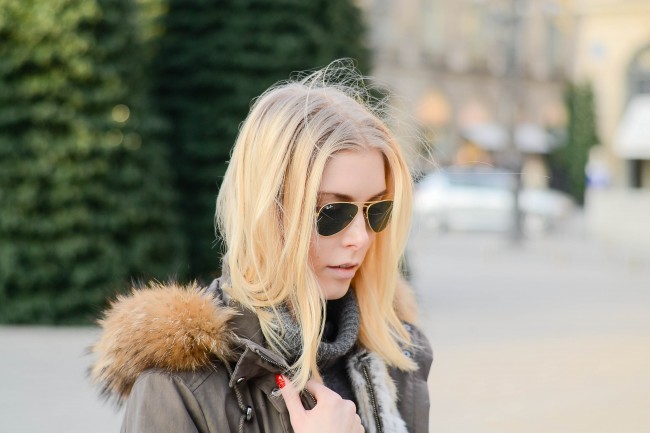 Pakko kyllä sanoa, että meidän hermoja koeteltiin sillä Pariisissa oli ihan järjettömät määrät ihmisiä ja mm. kaikki liikkeet joista mun piti hakea jotain oli niin täynnä ettei siitä tullut mitään. Lafayette oli tupaten täynnä ihmisiä ja piti jonottaa tungoksessa ennen kuin olisi edes päässyt rullaportaille asti. Pieni tuskan hiki ja pakokauhu nousi, joten päätettiin suosiolla jättää se ensi viikkoon. Sama ongelma oli Uniqlossa. Niin täynnä ihmisiä, että meininki oli kuin jossain suositussa baarissa ja kassa jonot oli niin pitkät, että siinäkin olisi mennyt pieni ikuisuus.
Our shopping didn't go according to plan, because there were so many people everywhere. Even getting inside Lafayette was difficult and inside it was so packed that we just decided to leave. I guess this time of the year and the weekend is not a good combo. I remembered why I loved our old neighborhood (the 6th) so much. It's calm and there are less tourists.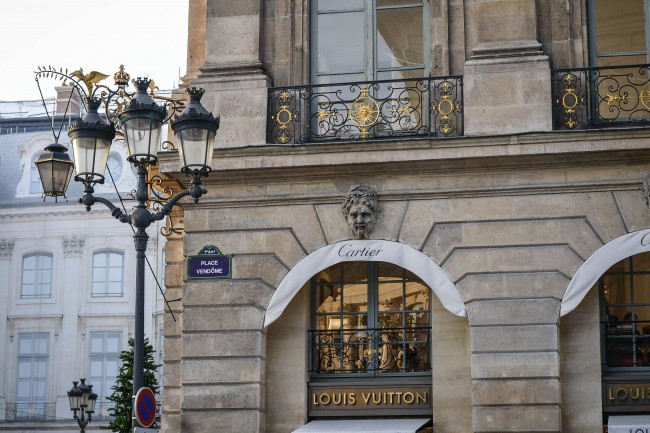 Päätettiin kävellä Place Vendome:lle, jossa oli ihanan rauhallista ja kaunista. Siellä oli upeat ja tyylikkäät joulukoristeet (toisin kun Champs-Élyséellä), joita ihailtiin ennen kuin siirryttiin suklaa ostoksille. Illemmalla illallistettiin vielä ystäviemme kanssa ja käytiin yhdessä hyvässä drinkkibaarissa vanhalla asuinalueellamme. Lisää näistä tällä viikolla!
From Boulevard Haussmann we decided to walk to Place Vendome and luckily it was quite empty. The Christmas decorations were beautiful and classy (unlike the decorations on Champs-Élysée's) so we stayed there for a while to enjoy it. In the evening we went for dinner and drinks with our friends and I'll tell you more about these places later!
On kyllä ihana olla taas Pariisissa, mutta en kaipaa tänne asumaan sitten alkuunkaan.  Mietin, että ikävä voisi tulla tämän reissun aikana, mutta jo heti ensimmäisenä päivänä muistin miksi en täällä enää viihtynyt, heh. Nyt pystyn onneksi ottamaan iisimmin ja nauttimaan kaupungista turistina, joten se tuntuu kivalta! Meillä on myös suunnitteilla tällä viikolla vierailla poikaystäväni vanhempien luona Pariisin ulkopuolella mikä on kivaa vaihtelua. Kuullaan!
I love being back in Paris, but I don't miss living here. I thought I might miss it actually, but as soon as I arrived I was happy to be here as a tourist and not as a resident. Now I can enjoy the city and only do nice things (that does not include taking the metro, heh), which is good! We are also going to my boyfriends parents place outside the city, which I'm looking forward to as well.