Yksi Pariisin kauneimpia aukioita on Place Vendome. Se toimikin täydellisenä kuvauslokaationa Pariisin reissulla. Päälle valikoitui yksi viime kevään käytetyimmistä takeista – tämä liehuva trenssi. Muistan miettineeni tämän takin palauttamista silloin kun ostin sen netistä, mutta onneksi en palauttanut. Mä olen vieläkin yhtä hullaantunut harmaaseen väriin ja mietin laantuukohan mun into sitä kohtaan ikinä? Toivottavasti ei! Harmaa on mun silmääni vaan niin kaunis väri. Toisen mielestä varmaan maailman synkin väri, mutta mun makuuni ihan täydellinen.
Mä en voi muuten uskoa, että jouluaatto on jo ensi viikolla! Ihan muutaman päivän päästä. Tänä viikonloppuna täytyy hankkia kuusi ja koristella se niin saa kotiinkin vähän joulutunnelmaa. Tänään illalla olen myös menossa Tapiolan kuoron joulukonserttiin, joten toivottavasti saan sieltä ison annoksen joulumieltä. Enköhän! Toivottavasti teillä on jouluvalmistelut hyvällä vauhdilla ja oikein hyvää viikonloppua kaikille!
 One of my favorite squares in Paris is Place Vendome. It was the backdrop of this shoot we did in Paris. I wore a light trench coat with an all grey look. Grey is still my favorite color! I love all different tones of grey and combining them together. Another love of mine are these over the knee boots. They are just perfect and for once I found a pair that works for skinny legs like mine!
By the way, I can't believe it's Christmas Eve next week. Where did this time go? I feel like we just started December! This weekend is all about getting the Christmas spirit on and what better way to do that then by getting the Christmas tree and decorating it. I'm also going to a Christmas concert today, which will surely lift my holiday spirit even more. Enjoy the weekend everyone!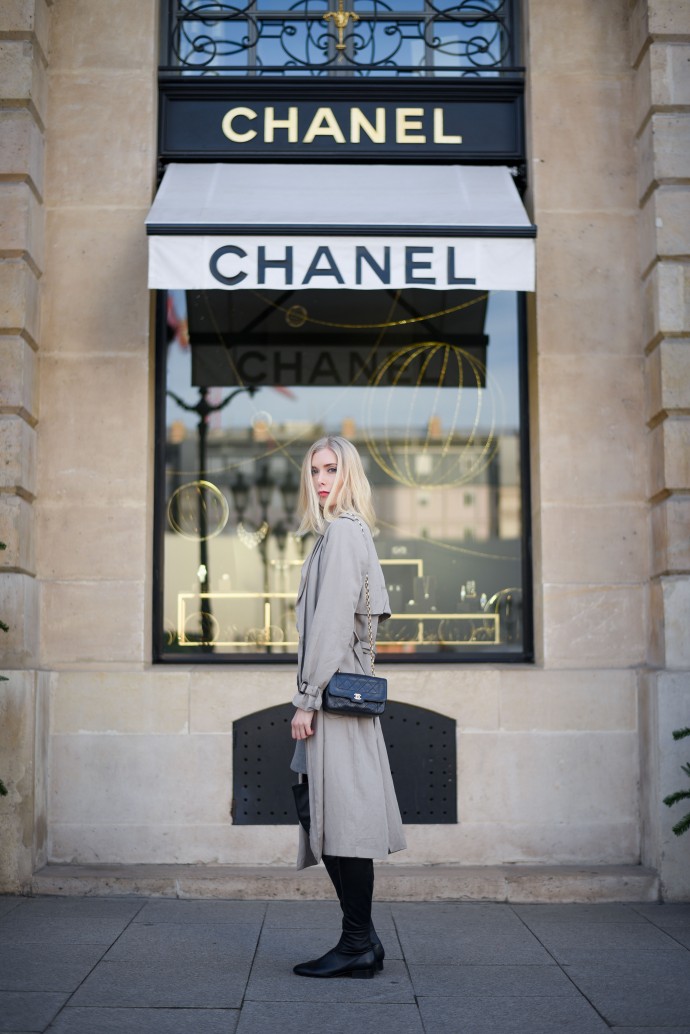 Trench coat / Zara
Knit / Cashmere Polo Club
Skit / T by Alexander Wang
Boots / & Other Stories
Bag / Chanel