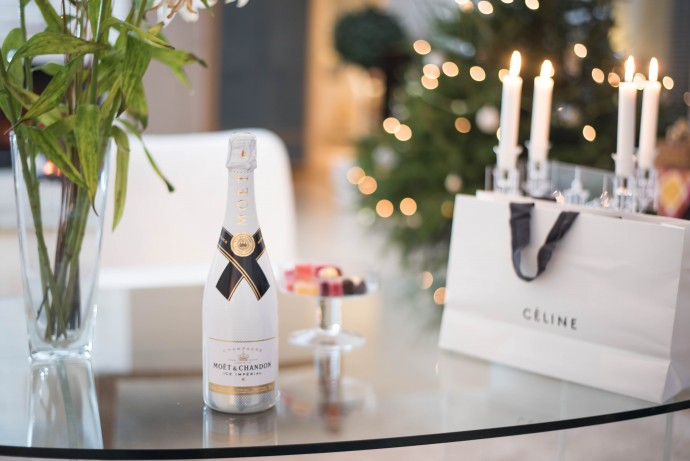 [dropcap custom_class="normal"]Kaikilla taitaa tulla jouluaiheiset postaukset jo korvista ulos, mutta tässä omalta osaltani viimeinen joulupostaus tältä vuodelta. Sain eilen poikaystäväni tänne Suomeen ja koska 24.päivä me oltiin erillämme niin juhlittiin eilen joulua sitten yhdessä pienimuotoisesti. Thomas yllätti mut pienellä paketilla ja skumpalla (mun suosikilla). Loppuilta menikin sitten loikoillen ja katsottiin monia sarjoja joista oltiin jääty jo paljon jälkeen. Meillä on yhteinen diili, että katsotaan yhdessä meidän lemppari tv-sarjat, joten niitä jaksoja tulee säästöön ihan kivasti kun vietetään nyt paljon aikaa erillämme. Ensimmäiset päivät yhdessä meneekin aina sarjoja tuijotellessa…kuinka romanttista, heh![/dropcap]
Nyt alkaa uudenvuoden juhlien järjesteleminen ja yritetään myös käydä tarkistamassa alennusmyynnit pikaisesti. Uudenvuodenasu on vielä mietinnässä, vaikka inspiraatiota siihen sainkin eräältä näyttelijättäreltä/muotisuunnittelijalta.. Saa nähdä jos valitsen jotain samanmoista. Huomenna luvassa sitten asuinspistä hänen yltään!
Are you already fed up with all these Christmas cposts? Well I am, but I still wanted to share with you guys these pictures. Thomas flew in from Paris last night and we celebrated Christmas together as we were apart on the actual day. He surprised me with a little gift and my favorite champagne (merci babe!). After that we just chilled for the rest of the evening and caught up on some TV shows. We have a deal that we only watch our favorite shows together so we have quite many episodes to watch…how romantic, heh!
Today we are starting to organize a small party for tomorrow and we'll also try to hit the sales later on. I'm still not sure, what to wear for New Year's, but I got inspired by a beautiful actress (turned into fashion designer). Any guesses? I'll post her look tomorrow morning and hopefully by then I have also decided on my look!