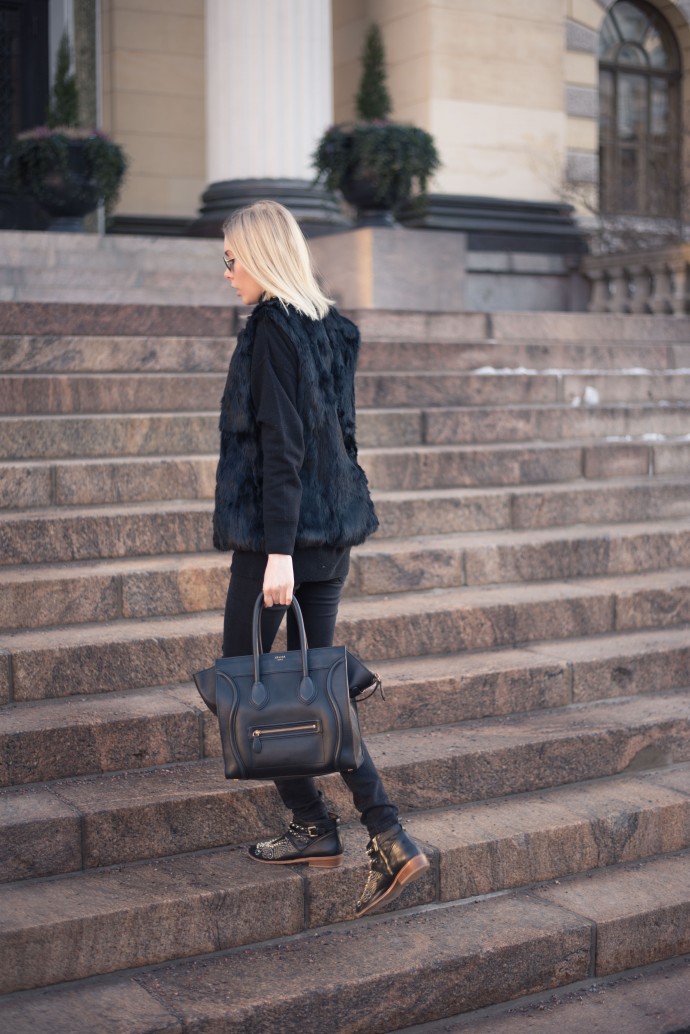 [dropcap custom_class="normal"]Mun olisi pitänyt lisätä siihen mun toivelistaan Chloén Suzanna bootsit. Ostin nämä Zaran versiot pari vuotta sitten ja ne kuuluu edelleen mun suosikkeihin. Mun oma tyyli on sen verran yksinkertainen, että tuollaiset särmikkäät jutut sopii hyvin piristämään. Nämä bootsit kun kerran on jalassa usein niin niihin Chloén versioihin uskaltaisi satsata. Mulla olisi ollut Pariisissa mahdollisuus hankkia ne 30% alennuksella ja nyt kyllä harmittaa etten käyttänyt tilaisuutta hyväkseni. Ne mustat perusversiot kun tulee harvemmin alennukseen ja vaikka tuliskin niin ne myydään nopeasti loppuun. No, ehkä vielä joku päivä nuo klassikot löytyy omasta kaapistani![/dropcap]
Meillä on tänään brunssi ystäväni luona ja otetaan hänestä samalla raskausajan kuvia. Mun mielestä raskaanaolevat naiset on niin upeita ja ystäväni on vielä extra hehkeä tapaus, joten odotan innolla tätä päivää! Hänen toinen prinsessa syntyy ensi kuun puolella ja saan kunnian olla kummitäti tälle pikkuiselle. Odotan jo kovasti, että hän syntyisi!
Viikonloppu menee muuten rennosti ystäviä tavatessa. Huomenna on luvassa postaus työpukeutumisesta lukijani pyynnöstä, joten pysykää kuulolla! Ihanaa viikonloppua kaikille!
I should have added Chloé's Suzanna boots on my wishlist for this year! I bought these Zara versions a few years back and have worn them a lot since. My style is very simple and this kind of  special pieces work well with it.  A simple camel coat and studded boots are a great combo for example or what do you think?
Today we are having brunch at my friends place and we are also going take some pregnancy pictures of her. She's expecting here second bébé and this little princess will be my goddaughter. I can't wait to meet her next month!
Other than that, this weekend will be all about meeting some friends and relaxing. What are you guys up to? Have a great weekend everyone!
Vest / MJM (here*)
Cashmere knit / & Other Stories (similar here*)
Jeans / Zara (similar here*)
Boots / Zara (similar here*)
Bag / Céline
Sunnies / Ray Ban
*Mainoslinkkejä.