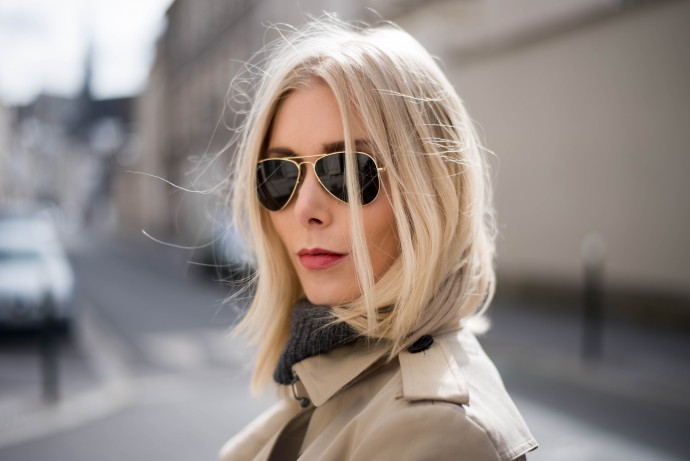 [dropcap custom_class="normal"]Päivä ennen Ranskaan lähtöäni kävin Q Hairissa Sedinin hemmoteltavana. Kerroinkin, että halusin hiusten etuosaan vähän kerroksia ja sitten tietenkin eroon kuivista latvoista. Sen lisäksi halusin kirkastusta väriin. Sedin heti tiesi mikä toimisi omissa hiuksissani ja ehdotti, että tehdään eteen pieni kevennys, jotta hiukset on kuohkeammat ja laskeutuu edestä kauniisti.[/dropcap]
Luotan Sediniin ihan täysin, joten annoin hänelle aika vapaat kädet. Lopputulos oli taas just eikä melkein ja nyt olen jo huomannut miten hyvin hiukset toimii ihan arjessakin. Kampaajalta lähtiessä hiukset on aina kivat, mutta kyllä niiden pitää toimia sen jälkeenkin. En ole mikään taikuri hiusten suhteen, mutta näiden kanssa pärjään hyvin. Kihartimella hiuksiin saa parissa minuutissa vähän taipuisuutta ja silloin ne on parhaimmillaan.
Myös väri on ihan nappi, sillä sävy on kirkkaampi, mutta seassa pilkistää sitä omaa tummempaa väriä, joten lopputulos on hyvin luonnollinen. Se on ainakin itselleni se tärkein mitä tulee värjäämiseen. Kiitos siis taas Sedinille mahtavasta lopputuloksesta!
Q Hairin blogia voi muuten seurata täältä!
Before flying to France I had an appointment with my hairdresser Sedin at Q Hair. I told him I wanted some layers in the front and lighten the color just a bit. Sedin knew exactly what would work for me as he cut the front a bit shorter so the hair frames my face in a good way.
I trust Sedin 100%, which is why I don't question his suggestions. I think it's super difficult to find a hairdresser that gets you, which is why I'm so happy I found Sedin all those years ago (actually thanks to my brother). The end result was yet again perfect and I love how effortless it looks. It's also easy to work on as some light curls make my hair look good. Curling them a bit is something I manage to do at home even if I don't consider myself an expert when it comes to hairdos.
I also love the color as it's clearly lighter, but still looks natural. So thank you again Sedin for giving my hair a new look!