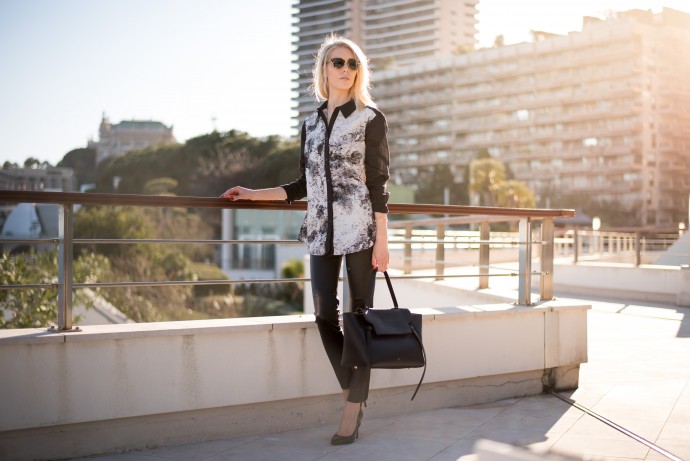 [dropcap custom_class="normal"]Sain Monacoon mukaani muutaman uutuuden IvyRevelin kevät mallistosta. Olen todella tarkka siitä mitä otan vastaan eri merkeiltä koska mitään turhaan en halua nurkkiini pyörimään. Mietin myös tarkkaan mistä merkeistä ja tuotteista täällä kerron koska luonnollisesti niiden pitää kiinnostaa itseäni myös ihan oikeasti.[/dropcap]
IvyRevel on merkki jonka kollareita olen etenkin ihastellut jo pidemmän aikaan, joten kun merkiltä otettiin yhteyttä ja kyseltiin olisinko kiinnostunut näkemään kevät malliston hieman ennakkoon ja valitsemaan muutaman suosikin niin olin heti messissä. Olen todella varma mun tyylistäni ja ihan rehellisesti sanottu, välillä liiankin kranttu mitä tulee uusiin vaatteiseen. Haluan kaappiini laadukkaita yksilöitä, jotka kestävät pitkään jolloin harvemmin ostan mitään erikoisempaa tai vähääkään omalta mukavuusalueeltani poikkeavaa.
Siksi tein päätöksen valita muutaman varman lisäksi pari sellaista vaatetta mitä en ehkä ihan ensimmäiseksi tulisi ostaneeksi. Ihan sen takia, että saisin puskettua itseäni tyylillisesti vähän vieraille vesille. Ja arvatkaa mitä? Tuntui hyvältä kokeilla välillä ihan uusia juttuja! Täytyy kyllä myöntää, että stailasin kaikki asut hyvin omannäköiseksi, joten te tuskin huomaatte suurta eroa, mutta esim. tämä printtipaita oli itselleni aikamoinen kynnys, heh!
Onko siellä ruudun toisella puolella muita pukeutujia, jotka pysyttelevät tiiviisti sen oman muavuusalueensa sisällä? Mun mielestä on pelkästään hyvä, että oma tyyli on selkiintynyt ja on varma maustaan, mutta välillä on kieltämättä hauska kokeilla uusia juttuja!
I'm very selective when it comes to the brands I work with. Only because I don't want to promote anything that I wouldn't like or wear in the real world. So when I got an email from IvyRevel asking if I was interested in small collaboration I was very excited as I was familiar with this brand and love especially their cool sweatshirts.
I'm very sure of my own style, but sometimes I feel that I'm almost too sure. Meaning that I'm perhaps too selective on the clothes I buy and very rarely choose anything outside my comfort zone. So when I saw the Spring collection of IvyRevel, I wanted to choose at least one or two pieces that would push me out of my comfort zone and make me try something new. Yes, I did choose a sweatshirt as well, which was one of the safe bets heh.
Of course I styled everything to fit my personal style, but let me tell you, this printed blouse was a stretch for me heh! Prints (except leopard) are far away from my comfort zone, but you know what, I actually ended up loving it! It just shows I should be a bit more experimental with my style and try different things, because you never know. Don't get me wrong, I'm happy with my own style, but sometimes it's fun to try something different. Don't you agree?
Blouse / Ivy Revel* (find it here)
Leather trousers / Zara
Heels / Zara
Bag / Céline
Sunnies / Ray Ban
Bracelet / & Other Stories
*Saatu blogin kautta.