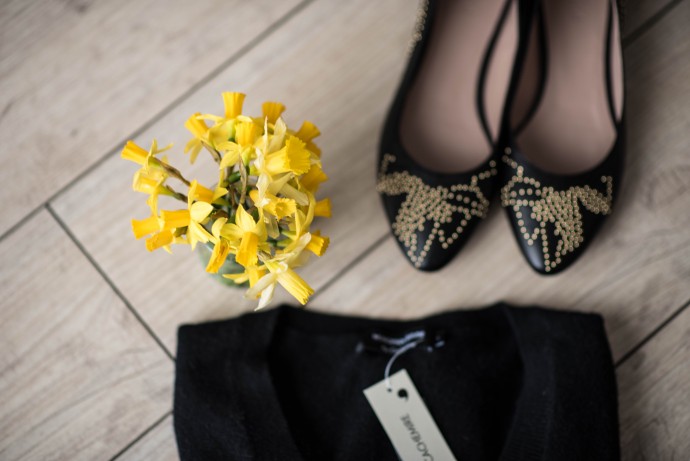 Ines de la Fressange on tunnettu ranskalainen moniosaaja, joka tuli aikoinaan tutuksi mallina ja Lagerfeldin muusana. Moni teistä varmasti muistaa Fressangen julkaiseman Parisian Chic-kirjan? Luin tätä kirjaa Pariisissa asuessani ja yksi shoppailuvinkki pisti silmään. Fressange nimittäin suositteli Monoprix:n kashmir neuleita.
Te tiedättekin, että kashmir on lempimateriaalini ja olen huomannut sen, että myös kohtuuhinnalla saa laadukkaita kashmir tuotteita. Olen aikoinaan ostanut mm. H&M:stä yhden kashmirvillaisen neuleen, joka on edelleen hyvässä kunnossa. Myös Massimo Duttin hinta-laatusuhde on loistava.
Pariisissa asuessani kävin muutamaan otteeseen meidän alueen Monoprix-myymälässä, mutta sielä oli  silloin huono vaatevalikoima. Nyt edellisellä Ranskan vierailullani kävin poikaystäväni kanssa Orleansin myymälässä ja sieltä löysin vihdoin tämän mustan v-aukkoisen kashmir neuleen. Sain siitä vielä 30% alennusta, eli sain kotiutettua sen hyvään hintaan.
Olen nyt ehtinyt käyttämään sitä muutamaan otteeseen ja ainakin näiden kertojen myötä voin sanoa, että olen ollut todella tyytyväinen. Neule tuntuu laadukkaalta ja istuvuus on juuri sellainen kuin neuleen pitäisikin olla – rento, mutta ei kuitenkaan roikkuva.
Eli ensi kerralla kun olette Pariisissa niin suosittelen vierailemaan tässä ruokakaupassa. Kannattaa myös tarkistaa miesten valikoima ja etenkin malliston neuleet!
As you know by now, I love cashmere. It's my favorite material – I guess I don't need to justify why that's the case. Cashmere is usually expensive, but I have noticed that you can get great deals from cheaper brands that offer a great price-quality ratio. For example, I have cashmere knits from Massimo Dutti and even H&M and these knits are still almost as good as new. So you don't have to spend a fortune to find a good cashmere knit. 
I'm sure most of you still remember Ines de la Fressange's book called Parisian Chic? I was reading it while living in Paris and my favorite part was her hotel tips as I found one of my favorite Parisian hotels through her recommendation. Another tip that I remembered was about the great cashmere knit selection at Monoprix (it's a store similar to Target).  I visited one Monoprix store in my neighborhood when living in Paris, but at the time, I didn't find anything good.
A few weeks ago when I was in France visiting my boyfriend, we walked by a Monoprix store in Orleans and I wanted to quickly go in to see if they had any cashmere knits. They did have a few items and they were all -30% off. I tried on a basic black v-neck knit and the fit was perfect. Now I have worn it several times and can say I've been very happy with the quality.
So, if any of you are looking for good cashmere knits for a good value, do check out Monoprix's selection. I also recommend you to check the men's selections as well!