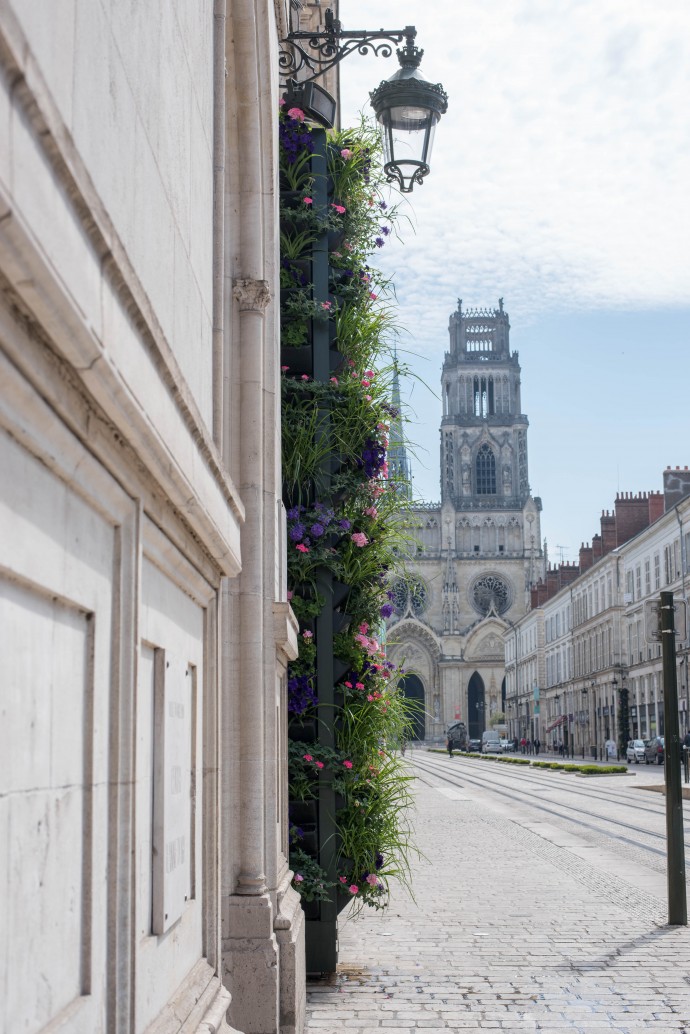 Ehdin käydä kuvailemassa kotikulmillani ja tältä täällä näyttää. Vanhaa ja kaunista. Ranskassa panostetaan niin paljon kaupunkien viihtyvyyteen – kaikki kukat ja viherpensaat luovat kyllä tunnelmaa hyvin. Orléansin keskusta on pieni ja kävellen pääsee kaikkialle. Pariisiin verrattuna siis iso muutos. Olen kyllä nauttinut siitä, että heti ulos astuessa kaikki on lähellä, eikä tarvitse ryömiä pimeään metroon. Se oli Pariisissa suurin inhokkini, heh.
Ihmiset ovat myös paljon ystävällisempiä verrattuna Pariisiin. Onkin ihana asioida paikallisissa putiikeissa koska täällä on paljon helpompi puhua ranskaa tällä tönköllä tavallani. Kaikki tsemppaavat ja arvostavat yritystä. Uskon siis, että kielen kannalta muutto juuri tänne oli erittäin hyvä juttu.
Tänään meiltä haetaan viimein asunnon omistajan huonekalut, mutta ihan kaikki eivät lähde, sillä saimme valita jos haluamme pitää jotain. TV-tason lisäksi meille jää ruokapöydän tuolit, makuuhuoneen lipasto ja vaatehuoneen isot kaapit. Voi olla, että ruokapöydän tuolitkin lähtevät vaihtoon kunhan löydämme itse pöydän, mutta saa nähdä.
Ja muuten, olen saanut monelta teistä palautetta siitä, että kun yrittää mennä seuraavalle sivulle niin blogi hyppääkin monen postauksen yli. Itse en ollut kokenut tätä ongelmaa kun vasta viime viikolla kun tulin tänne blogin puolelle poikaystäväni koneen kautta. Klikkasin toiselle sivulle ja kesäkuun sijaan vastassa oli toukokuun postauksia. Olen yrittänyt löytää vikaa sitä löytämättä, mutta nyt blogissa on toisenlainen sivulta siirtymispainike, joten ehkä se toimisi paremmin? Toivotaan näin!
Aurinkoista viikonloppua kaikille!
I had some time to go take pictures of my new neighborhood and this is what it looks like. Old and beautiful. I love how some of the cities in France put a lot of effort into making everything look nice. Flower arrangements and all that makes everything look better. The center of Orléans is very small and it's fast to walk almost anywhere. This is a major change for me as in Paris I always took the metro. I prefer walking to be honest, so I can't complain.
People are also friendlier than in Paris, which is great for me as I can easily talk in my bad French and people are patient enough to listen. This means I'm not as shy to speak the language and hopefully I'll improve faster.
Today the owner of our apartment comes to pick up his furniture, but we are keeping a few pieces. After everything we don't need is gone, we can start building our new Ikea couch we got yesterday. Fingers crossed it will look good! I'm going to have a nervous breakdown if it doesn't, heh.
Oh and by the way. Some of my Finnish readers have told me about a bug here on the blog, which messes up the order of the posts. So when you click "next", it skips many posts in between. I tried to fix the problem now, so hopefully it works again normally. Please do let me know if you're still having problems with it.
Tonight we are going to open a bottle of wine (we so deserve it) and hopefully relax on our new beautiful couch. I'm wishing you all a great weekend!